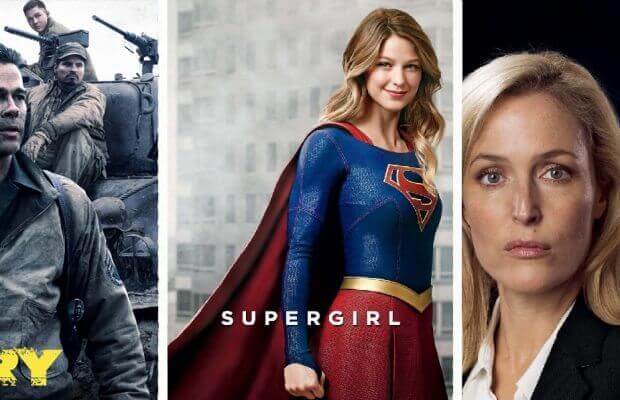 The end of October has brought a worthy amount of titles to Netflix Canada and definitely a few you've heard of before. We have highlighted 3 from this week that I think needs a mention:
The well-received first season of DC's Supergirl  is now available to stream. Kara (Supergirl) has started using her Kryptonian powers for good and needs to save the world from danger while still juggling her civilian life.
My next film is the Brad Pitt film 'Fury' that follows a tank crew in WWII on the front lines in Germany and their struggle to survive and adapt. The film portrays the close relation tank crews had together and how hard it was for an outsider (Logan Lerman) to fit in and cope with the harsh realities of war.
My Final pick is the Crime Drama 'The Fall' and its second season arriving on Netflix. After the first suspenseful and thrilling series about a Detective Superintendent Stella Gibson played by Gillian Anderson who is tasked with hunting down a serial killer on the streets of Belfast. If you haven't watched the first season we would recommend it as it supplies a chilling story that seems realistic, and that's what makes it even more thrilling.
Read on for the full list of this week's additions:
10 New Movies Streaming to Netflix CA:
I Saw the light (2015)
Joe Rogan: Triggerd (2016)
District 9 (2009)
October Kiss (2015)
The First Time (2012)
The Man Who Knew Infinity (2015)
Left Behind (2014)
I am Wrath (2016)
It's so Easy and Other Lies (2015)
Fury (2014)
2 New Documentaries Streaming to Netflix CA:
Gravity is Just a Habit (2016)
A Field Full of Secrets (2014)
10 New TV Series Streaming to Netflix CA
The Vampire Diaries (2015) [Season 7 Added]
Black Mirror (2016) [Season 3 Added]
Word Party (2016) [Season 1-2 Added]
The Mr. Peabody & Sherman Show (2016) [Season 3 Added]
The American Dream Project (2015) [Season 1 Added]
The Fall (2015) [Season 2 Added]
Real Rescues (2010) [Season 2 Added]
Wentworth Prison (2016) [Season 4 Added]
Supergirl (2015) [Season 1 Added]
Rectify (2016) [Season 4 Added]