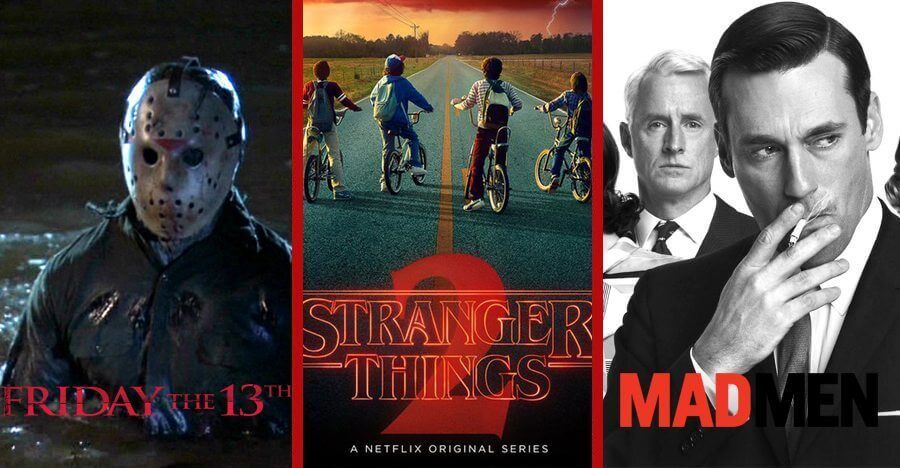 This past week has welcomed a total of 35 new titles. Consisting of 19 new movies, 3 Documentaries, 15 new TV series and a further 1 stand-up show. As Halloween comes ever-so-closer, Netflix is adding plenty of new and fresh Horror titles, perfect for a binge watch on the 31st. As usual, we have picked out a number of titles from the past week, and given a quick highlight.
The wait is finally over… Stranger Things has returned to Netflix. The highly anticipated second season has just debuted, to the pleasure of many, including all of us at What's on Netflix. The Drama, Horror is an 80's pop-culture gold mine, filled with references and clearly heavily inspired by the films of the time. The show mostly follows a group of nerdy kids living in the rural American town of Hawkins, a seemingly normal community. Best news of all Stranger Things has already been confirmed for season 3. Along with the release of the second season, Beyond Stranger Things has also been introduced to our screens, giving us fans a much-needed insight to the show, and all the wonderful actors who make it. Spoiler Alert though!
Our next pick for this week is the seventh season of Mad Men. The Drama has won 5 Golden Globes and follows advertiser executives during 1960's New York. The AMC show has been praised for its great writing and character development. Fans of the show will be pleased to see the 7th, but final season is now available to stream on Canadian Netflix.
Article Continues Below...
Our final mention this week is for Horror fans. Part 4,5,6 and 7 of Friday the 13th is now available to stream on Netflix. Even though the superstitious date has passed it doesn't mean you can't sit down and watch the classic series of horror movies on Netflix.
See the full list of 35 titles added to Netflix Canda this week:
16 New Movies Streaming to Netflix Canada
Another Forever (2016)
Patiala House (2011)
Karzzzz (2008)
Kajraare (2010)
Humko Deewana Kar Gaye (2006)
Aashayein (2010)
The Lovers (2017)
The Final Master (2015)
Ready (2011)
Godzilla (1998)
Strange Weather (2016)
Iceman (1984)
Friday the 13th: Part 4: The Final Chapter (1984)
Friday the 13th: Part 5: A New Beginning (1985)
Friday the 13th: Part 6: Jason Lives (1986)
Friday the 13th: Part 7: The New Blood (1988)
3 New Documentary Streaming to Netflix Canada
SHOT! The Psycho-Spiritual Mantra of Rock (2016)
Miss Representation (2011)
Joan Didion: The Center Will Not Hold (2017)

Netflix Original
15 New TV Series Streaming to Netflix Canada
The Vampire Diaries – Season 8 (2014)
The Liar – Season 1 (2013)
Mad Men – Season 7 (2014)
Wanted – Season 2 (2017)

Netflix Original

The Hunt – Season 1 (2015)
If Life Cheats You – Season 1 (2013)
Hey, Kids! – Season 1 (2016)
Good Time – Season 1 (2016)
First Love – Season 1 (2016)
Black – Season 1 (2017)

Netflix Original

Prince Jai Aur Dumdaar Viru – Season 1 (2017)
Argon – Season 1 (2017)

Netflix Original

Stranger Things – Season 2 (2016)

Netflix Original

Life in Pieces – Season 2 (2015)
Beyond Stranger Things – Season 1 (2017)

Netflix Original
1 New Standup Shows Streaming to Netflix Canada
Jack Whitehall: At Large (2017)

Netflix Original