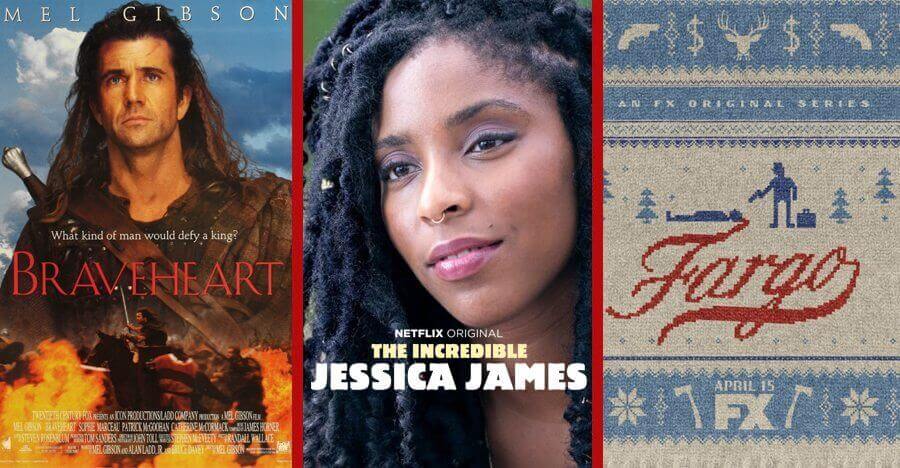 The end of July is almost upon us and this week welcomes a total of 28 new titles to Canadian Netflix. This may not seem a lot compared to some other weeks, but this is because Netflix prefers to release over 100 titles at the start of months, then slowly decreases the amount added weekly until the next month rolls around. This month includes 18 Movies, 1 Documentary and a further 9 new TV shows, all for you to enjoy.  If you spot anything on the list that you feel should have been mentioned individually, please tell us in the comment below.
Our first pick for this week is the classic 1995 film 'Braveheart' starring Mel Gibson. The film won a total of 5 Oscars and follows the revolt against King Edward I of England, led by Sir William Wallace of Scotland after his wife is murdered by an English soldier. This award winning film is now available to stream on Netflix.
Next, we have highlighted the 3rd season of 'Fargo', a Crime, Thriller that takes place in the cold state of Minnesota. The series includes a lot of well-known actors, including Billy Bob Thornton, Martin Freeman, Ewan McGregor, Patrick Wilson, Bob Odenkirk and many more. The show is very popular, and many people will be glad to hear that season 3 is now available to stream on Netflix.
Article Continues Below...
Our last highlight is the brand new Netflix Original 'The Incredible Jessica James', a comedy about an aspiring playwriter living in New York. She is recently heartbroken and after meeting someone on a blind date, things seem to be falling into place for her. Despite this, Jessica James (played by Jessica Williams) is a strong "Dope" woman who can be admired by anyone. Netflix is once again showing us is can produce comedy with new talent that will always keep us coming back for more.
This week's honourable mentions include: Terminator Genisys and the Daughters of Destiny.
Read on for the full list of all 28 new releases.
18 New Movies Streaming to Netflix Canada
Uncertain Glory (2017)
Railroad Tigers (2016)
Victor (2015)
The Ugly Truth (2009)
Detour (2016)
Vincent N Roxxy (2016)
Munroe Island (2016)
Joe Mande's Award-Winning Comedy Special (2017)

Netflix Original

Toni Erdmann (2016)
Coffee Shop (2014)
City of Tiny Lights (2016)
How Most Things Work (2015)
Braveheart (1995)
A Test of Love (1984)
The Untouchables (1987)
The Incredible Jessica James (2017)

Netflix Original

Sean Hughes: Right Side of Wrong (2007)
Terminator Genisys (2015)
1 New Documentary Streaming to Netflix Canada
I Called Him Morgan (2016)
14 New TV Series Streaming to Netflix Canada
The Great Escape – Season 1 (2016)
Samagri, Sampatti Aur Sauda – Season 1 (2015)
Lie to Me (2010)
Kissa Currency Ka – Season 1 (2015)
Buddha Sutra – Season 1 (2015)
Ithihas Ki Thali Se – Season 1 (2015)
Daughters of Destiny – Season 1 (2017)

Netflix Original

Fargo – Season 3 (2014)
The Adventures of Puss in Boots – Season 5 (2015)

Netflix Original