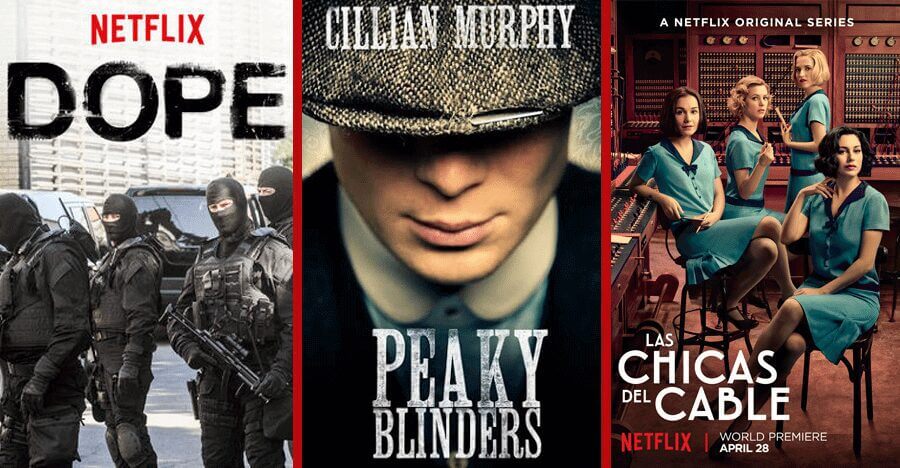 We hope you all had a fantastic Christmas and will have an even better new year. Netflix has continued to add great titles to Canadian screens over the Holiday, which you will find below. As usual, we have highlighted our favorite three titles from the past week. 13 movies, 6 documentaries, 10 new TV series, and an additional 2 standup shows have been added. Feel free to take a look at the list, and if you spot anything that you think we should have mentioned, let us know in the comments below.
Our first pick for this week is the fourth season of the popular TV show 'Peaky Blinders'. The BBC show stars Cillian Murphy as a member of the Peaky Blinders, a gang in 1919 who pretty much own the streets of Birmingham. Since the series started back in 2013 many people have fallen in love with the show, and will be pleased to see the 4th season now available to stream on Netflix.
Our second highlight is the second season of the Netflix Original 'Cable Girls'. The Spanish show, also known as 'Las chicas del cable' takes place in the 1920s, and follows four women who work as operators for a phone company. The first season released earlier this year and has been met with positive reviews, especially regarding its choice in music and script-writing. If you don't speak Spanish, remember that Netflix hosts a number of great services to help you, including dubbing and subtitles.
Article Continues Below...
Another Netflix Original that has been welcomed, is the new series 'Dope'. The series is filmed from a number of perspectives, including the police, dealers, and users of some of the most addictive and horrible drugs that circulate the world. This dark and gritty show follows the 'War on Drugs' unlike any other.
See the full list of 31 new titles available on Netflix Canada this week:
13 New Movies Streaming on Netflix Canada
You Can't Fight Christmas (2017)
The Women's Balcony (2016)
Mr. Roosevelt (2017)
Miss Me This Christmas (2017)
Inconceivable (2017)
Desire (2017)
Creep 2 (2017)
The Ottoman Lieutenant (2017)
My Life as a Zucchini (2016)
MindGamers (2017)
Correspondence (2016)
Chronically Metropolitan (2016)
Bibi & Tina: Tohuwabohu Total (2017)
6 New Documentaries Streaming on Netflix Canada
Meet the Patels (2014)
Madness in the Desert (2004)
Jeremiah Tower: The Last Magnificent (2016)
Fallen (2017)
A Gray State (2017)
McLaren (2017)
10 New TV Series Streaming on Netflix Canada
The Toys That Made Us – Season 1 (2017)

Netflix Original

Peaky Blinders – Season 4 (2014)
Part-Time Idol – Season 1 (2017)
Myths & Monsters – Season 1 (2017)
La casa de papel – Season 1 (2017)

Netflix Original

Grand Hotel – Season 3 (2013)
Dope – Season 1 (2017)

Netflix Original

Cable Girls – Season 2 (2017)

Netflix Original

72 Dangerous Animals: Latin America – Season 1 (2017)
Towies – Season 1 (2016)
2 New Standup Special Streaming on Netflix Canada
Russell Howard: Recalibrate (2017)

Netflix Original

Todd Barry: Spicy Honey (2017)

Netflix Original