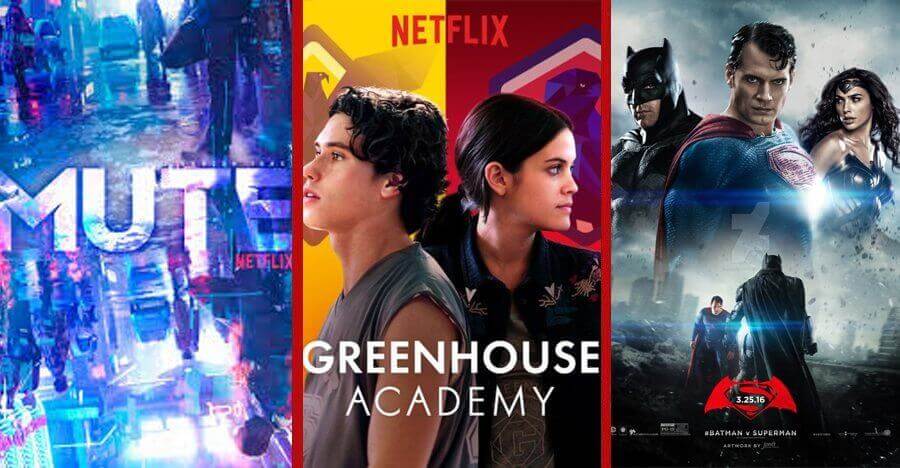 March has just begun already, and once again we are lucky enough to see loads of new and exiting tiles come to Canadian Netflix. A total of 54 titles have been added, consisting of 34 new movies, 9 documentaries, 10 TV shows and one standup show. If you're looking for something new to watch on Netflix, we know better than anyone that this can sometimes prove quite difficult. This is why we've gone ahead and picked three titles from this weeks list to briefly outline, and if it sounds like something you might be interested in, you should give it a go. Of course feel free to take your own look at the list below, and if you spot something that you think we were silly to not mention, please let us know in the comments below.
Out first pick for this week might be a controversial one. The 2016 DC movie 'Batman V Superman: Dawn of Justice' has arrived to Canadian Netflix, and although this blockbuster was met with mixed reviews upon release, many might be pleased to see it's now available. The movie stars Ben Affleck as the reimagined Batman along with Henry Cavill reprising his role as the Man of Steel. As the title suggests, they don't particularly get off on the right foot and Batman attempts to take on Superman for the safety of mankind.
Our second highlight is the new Netflix Original movie 'Mute'. The film takes place in the near-future and follows a mute bartender (Alexander Skarsgård) who after finding his girlfriend missing delves deep into the criminal underworld of Casablanca. Also including Paul Rudd and Justin Theroux, this Sci-fi Thriller is definitely worth a watch.
Article Continues Below...
Last but not least we are welcoming the second season of the popular Netflix Original 'Greenhouse Academy'. The series follows the students of the elite Californian boarding school Greenhouse Academy, which is renowned for teaching future leaders and powerful people. The Academy has two main rival groups who often complete and butt heads with each other. But after discovering a deadly plot involving the entire planet, they must work together for the first time. Many fans will be more than pleased to see the second season is now available to stream on Netflix.
See the full list of 54 new titles available on Netflix Canada this week:
34 New Movies Streaming on Netflix Canada
The Zookeeper's Wife (2017)
The Bachelors (2017)
Forgotten (2017)

Netflix Original

The Sense Of An Ending (2017)
Verónica (2017)
Begin Again (2014)
Mute (2018) Netflix Original
Batman V Superman: Dawn Of Justice (2016)
The Rift: The Dark Side Of The Moon (2016)
People You May Know (2017)
A Little Chaos (2014)
The Heyday Of The Insensitive Bastards (2017)
Burnt (2015)
Derren Brown: The Push (2018)

Netflix Original

Big Bear (2017)
Run (2004)
Sisters (2015)
Steve Jobs (2015)
The Forest (2016)
The Illusionist (2006)
Night Fare (2015)
Shanghai (2012)
The Silence (2015)
Tope: The Bait (2016)
True To The Game (2017)
The Chase (2017)
The Pirates Of Somalia (2017)
The Shaukeens (2014)
Haseena Maan Jaayegi (1999)
Shaurya (2008)
Hans Zimmer: Live In Prague (2017)
Past Life (2016)
Savage Dog (2017)
Miles (2016)
9 New Documentaries Streaming on Netflix Canada
Poh And Co.: Season 2 (2015)
History's Greatest Hoaxes: Season 1 (2016)
Mayday: The Passenger Who Landed A Plane (2014)
The Big Ward: Season 1 (2016)
Hitler's Bodyguard: Season 1 (2008)
A River Below (2017)
Kill Hitler! The Luck Of The Devil (2015)
Obesity: The Post Mortem (2016)
The Last Secrets Of 9/11 (2014)
7 New TV Series Streaming on Netflix Canada
Greenhouse Academy: Season 2 (2017)

Netflix Original

Bates Motel: Season 5 (2013)
Timeline: Season 1 (2014)
Money For Nothing: Season 1 (2015)
Nightmare Tenants, Slum Landlords: Season 1-2 (2015)
Mega Food: Season 1 (2013)
The Ugly Face Of Beauty: Season 1 (2010)
Beauty And The Beach: Season 1 (2015)
Love Your Garden: Season 1 (2011)
Big Dreams, Small Spaces: Season 1 (2015)
1 New Stand Up Shows Streaming on Netflix Canada
Marlon Wayans: Woke-Ish (2018)

Netflix Original