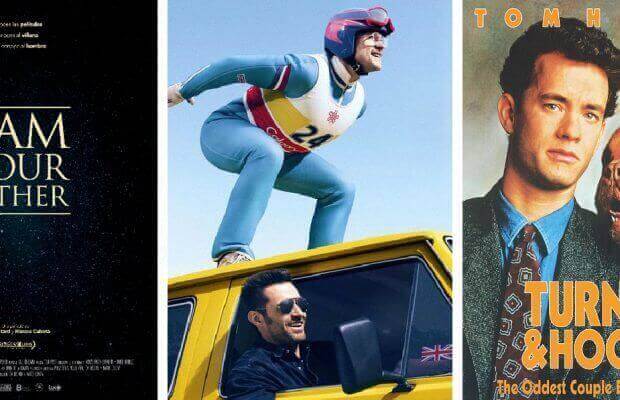 The start of November has brought 50 total new titles to Netflix Canada since last week and we've looked through and picked three stand-out titles that we think deserve attention.
Firstly is the classic 1989 film 'Turner and Hooch a Comedy about a police officer played by Tom Hanks who must solve a murder case, with the assistance of the only witness.. the victim's dog, Hooch. This film is probably one of Tom Hanks more underrated films but the story and chemistry with the duo make it worth an evening on Netflix for.
'I am Your Father' is a documentary that will appeal to any Starwars fans. It is about 'David Prowse' who is the real actor who played Darth Vader, one of the most iconic and best Villans in Movie History. The makers of this film wanted to pay more of a tribute and give him the glory he deserved.George Lucas both replaced David's voice and reshoot the moment in 'Return of the Jedi' when Darth Vaders mask is removed, with another actor. If you have a space in your heart for Starwars, you'll probably be interested in this touching documentary.
Our final pick is the more recent 2016 film 'Eddie the Eagle' based on the true story of Eddie Edwards a very determined British ski jumper who as an underdog competed in the 1988 Calgary Olympics and despite the odds being heavily against him successfully landed a jump and came last in the Olympics, but getting there was as good as a gold medal for Eddie. This film is touching and inspirational showing that if you try hard enough, you can make it.
34 New Movies Streaming to Netflix CA
The Jews (2016)
The African Doctor (2016)
AÑOS (2016)
West Coast (2016)
I am the Pretty Thing thay Lives in the House (2016)
SABRÁS QUÉ HACER CONMIGO (2015)
Anna and the King (1999)
As Above, So Below (2014)
Cleopatra (1963)
King's Faith (2013)
A Little Bit of Heaven (2011)
Reasonable Doubt (2014)
November Rule (2015)
Christmas Ranch (2016)
Baggage Claim (2013)
Turner & Hooch (1989)
The November Man (2014)
Over the Hedge (2006)
Misconduct (2016)
King Arthur (2004)
Jane Got a Gun (2016)
Inherent Vice (2014)
Fifty Shades of Black (2016)
Embers (2015)
Eddie the Eagle (2016)
The Poltergeist of Borley Forest (2013)
The Other Side of the Door (2016)
Mr. Right (2015)
Harvest Moon (2015)
Autum Dreams (2015)
Precious Cargo (2016)
American Poltergeist (2015)
The Bronze (2015)
Sun Choke (2015)
9 New Documentaries Streaming to Netflix CA
Into The Inferno (2016)
Lost for Life (2013)
I am Your Father (2015)
Floyd Norman: And Animated Life (2016)
The Confessions of Thomas Quick (2015)
Food Choices (2016)
Wildlife SOS (2010) [Season 2 Added]
When Two Worlds Collide (2016)
David Blaine: Real or Magic? (2013)
7 New TV Series Streaming to Netflix CA
Penn & Teller: Fool Us (2015) [Season 1 Added]
Trailer Park Boys: Out of the Park (2016) [Season 1 Added]
Skylanders Academy (2016) [Season 1 Added]
Chewing gum (2015) [Season 1 Added]
From Dust till Dawn (2016) [Season 3 Added]
The Pinkertons (2015) [Season 1 Added]
Wind North (2016) [Season 1 Added]