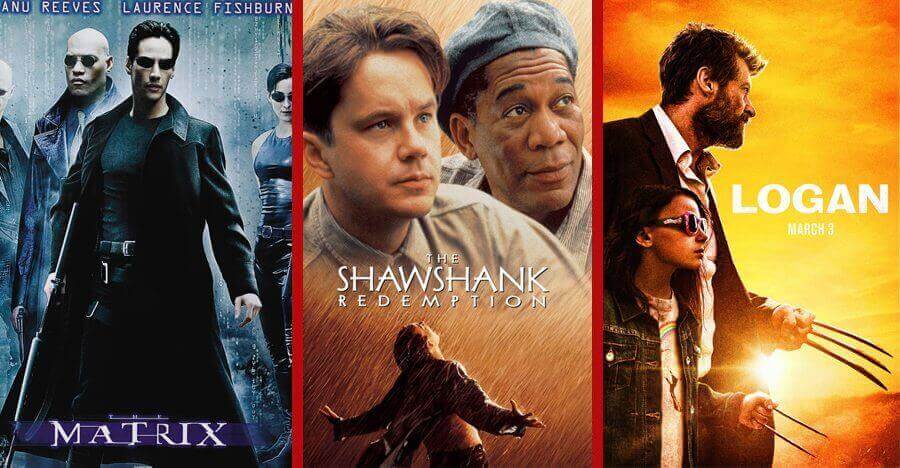 November has just begun, and along with it, 90 titles have been added to Canadian Netflix in the first week. 57 movies have been included, along with 11 documentaries and 21 TV series. As usual, we have picked out three titles from the week and highlighted then individually. If you spot something in the list below that you think merited a mention, please let us know in the comments.
Our first choice for this week is the 2017 blockbuster his 'Logan', the last film starring Hugh Jackman as the Wolverine. In the near future, most mutants have been wiped out and Logan, along with Professor X (Patrick Stewart) are in hiding on the Mexican Border. But after a new young mutant arrives at their doorstep, they are forced to protect her from the dark forces that pursue her. The film did amazing at the theatres and many will be pleased to see it coming to Canadian Netflix.
Our second film is often regarded as one of the best films ever made. 'The Shawshank Redemption' is a crime drama following the incarceration of Andy Dufresne, a banker who has been accused of murdering his wife. Inside the Shawshank prison, Andy quickly makes friends with Red (Morgan Freeman), who helps him smuggle contraband into the prison. The film was nominated for 7 Oscars, and although it didn't win any, it's still a fantastic film. If you've never watched it, you defiantly should.
Our last pick is another classic film; 'The Matrix'. Lilly and Lana Wachowski both directed and wrote the film that won 4 Oscars and captured the intrigue of millions. A computer hacker under the name Neo becomes aware of the true nature of his reality and is given the famous choice, Blue or Red Pill. Ignoring the criticised sequels, The Matrix is a great Action, Sci-fi movie that deserves a place on Netflix.
See the full list of 90 titles added to Netflix Canda this week:
57 New Movies Streaming to Netflix Canada
Pup Star: Better 2Gether (2017)
SPF-18 (2017)
Ripped (2017)
Ben's at Home (2014)
Young Frankenstein (1974)
Where the Day Takes You (1992)
Wall Street (1987)
Waking Life (2001)
Waarrior Savitri (2016)
Trip To Bhangarh: Asia's Most Haunted Place (2014)
The Shawshank Redemption (1994)
The Pursuit of Happyness (2006)
The Matrix (1999)
The DUFF (2015)
The Bittersweet (2017)
Silver Streak (1976)
Scooby-Doo 2: Monsters Unleashed (2004)
Sameer (2017)
Romeo Ranjha (2014)
Rivaaz (2011)
Punjab 1984 (2014)
Phantom Boy (2015)
Pettersson and Findus 2 (2016)
Office Christmas Party (2016)
Moor (2015)
Miss Hokusai (2015)
Mirror Game: Ab Khel Shuru (2017)
Men in Black II (2002)
Men in Black (1997)
Logan (2017)
Kis Kisko Pyaar Karoon (2015)
Kacche Dhaagey (2016)
Julia (1977)
In the Heart of the Sea (2015)
In a Valley of Violence (2016)
Hitch (2005)
High Anxiety (1977)
Hancock (2008)
Hajwala: The Missing Engine (2016)
Golden Time (2013)
Getaway Plan (2016)
Frank & Lola (2016)
Coffee with D (2017)
Charlie and the Chocolate Factory (2005)
Birdman or (The Unexpected Virtue of Ignorance) (2014)
Beiimaan Love (2016)
Beginners (2011)
Bad Boys (1995)
Bad Boys II (2003)
Ali (2001)
A Walk in the Woods (2015)
A United Kingdom (2016)
A Cure for Wellness (2016)
6-5=2 (2014)
American Girl: Isabelle Dances Into the Spotlight (2014)
All About the Money (2017)
Bandie (1978)
11 New Documentary Streaming to Netflix Canada
The B-Side: Elsa Dorfman's Portrait Photography (2016)
The Freedom to Marry (2016)
The Doors: When You're Strange (2009)
Roots (2016)
Romeo Is Bleeding (2015)
One Heart: The AR Rahman Concert Film (2017)
Le train d'Hitler – La bête d'acier (2017)
I Am Bolt (2016)
It's Not Yet Dark (2016)
Eventual Salvation (2008)
11/8/2016 (2017)
15 New TV Series Streaming to Netflix Canada
Lost Treasure Hunters – Season 1 (2014)
Forbidden History – Season 1 (2013)
Under Arrest – Season 7 (2015)
Together – Season 1 (2009)
The Truth – Season 1 (2008)
The Mind of a Chef – Season 5 (2014)
The Little Nyonya – Season 1 (2009)
The Killing – Season 3 (2014)

Netflix Original

The Golden Path – Season 1 (2007)
The Family Court – Season 1 (2010)
Stranger – Season 1 (2017)
Rebel Without a Kitchen – Season 2 (2013)
My Life My Story – Season 1 (2017)
Greenleaf – Season 2 (2016)
Criminal Mastermind – Season 1 (2015)
Brojects – Season 3 (2015)
A Christmas Special: Miraculous: Tales of Ladybug & Cat Noir – Season 1 (2016)
Call My Agent! – Season 2 (2015)
21 Thunder – Season 1 (2017)
The Big Family Cooking Showdown – Season 1 (2017)
Akulah Balqis – Season 1 (2015)
1 New Standup Shows Streaming to Netflix Canada
Judah Friedlander: America Is the Greatest Country in the United States (2017)

Netflix Original