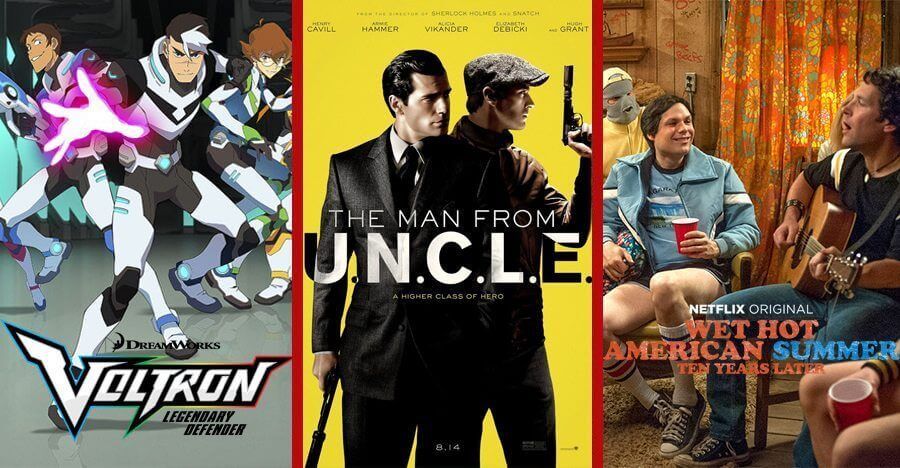 The first week of August has brought a mass of new titles to Canadian Netflix, a staggering total of 115 new TV shows and movies. To be exact 62 new Movies have been added, along with 10 new Documentaries and a further 43 new TV series. As usual, we have taken on the task of picking out three highlights that really individually stand out to us. If you spot anything in the list that you think we should have mentioned, please let us know in the comments below.
Our first pick for this week is the Netflix Orginal 'Wet Hot American Summer: Ten Years Later', which is a sequel to the 2001 cult classic Wet Hot American Summer. Netflix picked up this revival back in 2015 when they released a prequel to the classic, which brought back all the actors to reprise a slightly younger version of their original roles, even if it was 14 years later. All the characters that fans loved are now back and they must save camp firewood from imminent closure! Anyone who watched the original should defiantly think about giving this a go now it's available to stream on Netflix.
The Man from U.N.C.L.E is Action film set in the 1960s and follows the teaming up of a CIA and KGB agent, a specifically dangerous combination bearing in mind the Cold War was raging and tensions were quite high. They must now stop a criminal organisation from producing a nuclear weapon and threatening the end of the world. The movie is based on the original 1964 TV series of the same name, created by Ian Fleming (the writer of James Bond), Norman Felton and Sam Folfe. The 2015 film is full of comedic moments and amazing action which more than pleased viewers.
Article Continues Below...
Our last pick for this week is the Animated, Sci-Fi series 'Voltron: Legendary Defender' a remake of the classic 80s TV show. Five teens become the last line of defence for the galaxy after they are chosen by an ancient force to battle the evil alien forces of King Zarkon. The show has been watched and enjoyed by many and is widely regarded as an amazing reboot that is definitely worth a watch.
This week's honourable mentions include: Planet of the Apes (1969), Dawn of the Planet of the Apes (2014), Hook (1991) and The Truman Show (1998).
Read on for the full list of all 115 new releases.
63 New Movies Streaming to Netflix Canada
Arrival (2016)
Problem Child: Leslie Jones (2009)
Maz Jobrani: Brown and Friendly (2009)
loco love (2013)
Taking Earth (2017)
Check Point (2017)
After the Reality (2016)
Words and Pictures (2013)
Woman in Gold (2015)
Who Gets the Dog? (2016)
Walking with the Enemy (2013)
Tucker and Dale vs. Evil (2010)
Tie the Knot (2016)
The Wedding Party (2016)
The Man from U.N.C.L.E. (2016)
The Guest (2014)
The Choir (2014)
The Blind Christ (2016)
Still Alice (2014)
Scintilla (2014)
Rules Don't Apply (2016)
Rising Sun (1993)
Planet of the Apes (1969)
Nola Circus (2015)
Mountain Men (2016)
Maz Jobrani: Immigrant (2017)

Netflix Original

Max Manus: Man of War (2008)
Lake Placid (1999)
Kagemusha (1980)
Jessica Darling's It List (2016)
Jackie (2016)
It Follows (2014)
Incarnate (2014)
Hot Shots! Part Deux (1993)
God's Not Dead (2014)
Ex Machina (2015)
Downtown (1990)
Dawn of the Planet of the Apes (2014)
Copy and a Half: New Recruit (2017)
Astérix: The Mansion of the Gods (2014)
Annabelle Hooper And The Ghosts Of Nantucket (2016)
Anarkali of Aarah (2017)
After (2012)
Accidental Love (2015)
A Sort of Homecoming (2015)
The Founder (2016)
Justice League vs Teen Titans (2016)
Jab We Met (2007)
Hook (1991)
Varsity Blues (1999)
Tower Heist (2011)
The Truman Show (1998)
The Invisible Guardian (2017)
Raising the Bar (2016)
Land of the Lost (2009)
All Hallows' Eve (2016)
When a Snail Falls in Love – Season 1 (2016)
What's for Sale? With a View – Season 1 (2015)
Message from the King (2016)

Netflix Original

Insidious: Chapter 3 (2016)
Bhool Bhulaiyaa (2007)
Alan Saldaña: Mi vida de pobre (2017)

Netflix Original
10 New Documentary Streaming to Netflix Canada
The Women Who Kill Lions (2016)
The Bomb (2016)
Dancer (2016)
Cop Watchers (2016)
AWAKE, A Dream From Standing Rock (2017)
Secret Life of the Wombat – Season 1 (2016)
Secret Life of the Tasmanian Devil – Season 1 (2016)
Secret Life of the Koala – Season 1 (2016)
Secret Life of the Kangaroo – Season 1 (2016)
Icarus (2017)

Netflix Original
42 New TV Series Streaming to Netflix Canada
Daughters of Destiny – Season 1 (2017)
Vroomiz – Season 3 (2016)
Under Arrest – Season 6 (2015)
The In-Laws – Season 1 (2011)
Surviving Escobar – Alias JJ – Season 1 (2017)

Netflix Original

Ripper Street – Season 5 (2014)
Nurses Who Kill – Season 1 (2016)
Love Storm – Season 1 (2016)
Locust – Season 1 (2014)
Land Girls – Season 3 (2011)
Genius of the Modern World – Season 1 (2016)
Genius of the Ancient World – Season 1 (2015)
Fartsa – Season 1 (2015)
Everyday Miracles – Season 1 (2014)
Entangled – Season 1 (2014)
English – Season 1 (2009)
Empire of the Tsars – Season 1 (2016)
Crematorio – Season 1 (2011)
Bountiful Blessings – Season 1 (2011)
Aussie Gold Hunters – Season 1 (2016)
Winter Sun – Season 1 (2014)
Life plan A and B – Season 1 (2016)
Have You Ever Fallen in Love, Miss Jiang? – Season 1 (2016)
Gonul – Season 1 (2015)
Close Your Eyes Before It's Dark – Season 1 (2016)
The Hollywood Masters – Season 1 (2016)
Voltron: Legendary Defender – Season 3 (2016)
Taste of the Country – Season 1 (2016)
Strange Creatures – Season 1 (2015)
Reno My Reno (2015)
Release the Hounds – Season 3 (2014)
Rebel Without a Kitchen – Season 1 (2013)
Paranormal Survivor – Season 2 (2016)
Men on a Mission – Season 2 (2017)
How The World Ends – Season 1 (2017)
Endless Yard Sale Showdown – Season 1 (2015)
Chef & My Fridge – Season 2 (2016)
Buy Herself – Season 1 (2012)
Brojects – Season 2 (2015)
Backroad Bounty – Season 2 (2015)
Attack and Defend – Season 1 (2015)
100 Day Bach – Season 1 (2015)
Wet Hot American Summer: Ten Years Later – Season 1 (2017)

Netflix Original