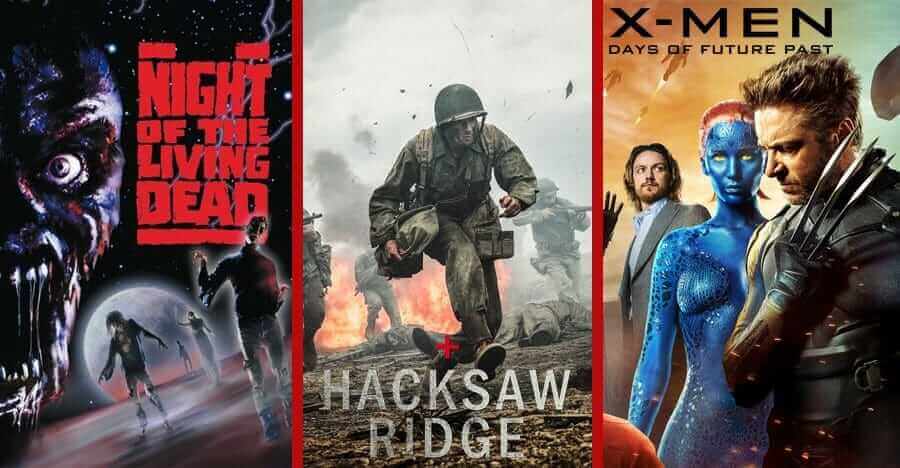 Over 100 new titles have arrived at Canadian Netflix this week along with 78 new movies, 5 new Documentaries and 28 new TV series. Because this is way too much to look though we have picked out three titles from this week that stand out specifically to us and we are going to briefly highlight them.
Our first pick for this week is the 2016 film 'Hacksaw Ridge' a part Biography about WWII Medic Desmond T. Doss who refused to use a weapon during the war due to his religion. He became the first man in American history to earn and receive the Medal of Honor without even firing a single shot. Mel Gibson directed the two-times Oscar-winning War movie and has been received incredibly well. The tear-jerker is defiantly not for the faint hearted but we defiantly recommend it.
Another film that has been added this month is 'X-Men: Days of Future Past'. This X-Men film mostly focusses on the aspect of Time travel and the majority of the plot takes place in the 70s after Wolverine is transported into his younger body. Now he must unite with the younger Xavier, who is battling between his powers and the degrading use of his limbs. They must prevent the assassination of Trask (Peter Dinklage) and in turn stop the annihilation of the Mutants.
Our third pick is a little different and is the remake of the classic horror 'Night of the Living Dead'. It's tough to follow up George Romero's 1968 cult classic which was one of the depictions of zombies how we know them. The film follows a number of survivors as they move from shelter to shelter desperately trying to find a safe haven to escape the seemingly endless horde of mindless Zombies. Some argue that this classic did not need remaking, but many still think that this 1990 follow-up is still great.
Read on for the full list of all 111 new releases.
78 New Movies Streaming to Netflix Canada
1 Chance 2 Dance (2014)
10 jours en or (2012)
A 2nd Chance (2011)
Aankhen (2002)
Ajab Prem Ki Ghazab Kahani (2009)
Akira (2016)
Albion: The Enchanted Stallion (2016)
Alibaba (2002)
Amrapali (1966)
Ankhon Dekhi (2013)
Are We Done Yet? (2007)
Are We There Yet? (2005)
Barton Fink (1991)
Batman: Bad Blood (2016)
Being Charlie (2015)
Bheja Fry 2 (2011)
Big Brother (2007)
Boyz n the Hood (1991)
Colombiana (2011)
Contratiempo (2016)
Dashavatar: Every Era Has a Hero (2008)
Day Watch (2006)
Dedh Ishqiya (2014)
Diamond Cartel (2017)
Dr. Seuss' The Cat in the Hat (2003)
DRAFT DAY (2014)
Easy Rider (1969)
Eloise (2017)
Equals (2015)
Hacksaw Ridge (2016)
Hans Teeuwen: Real Rancour (2016)
Heavy Metal (1981)
Here Alone (2016)
Hunterrr (2015)
Ishq Vishk (2003)
Ishqiya (2009)
Katt Williams Presents: Katthouse Comedy (2009)
Keeping Up with the Joneses (2016)
Lal Patthar (1971)
Legends of the Fall (1994)
Let's Be Cops (2014)
Liar's Dice (2013)
M.S. Dhoni: The Untold Story (2016)
Masti (2004)
Miller's Crossing (1990)
Miss Julie (2014)
Night Of The Living Dead (1990)
Night Watch (2004)
Once Upon a Time in Mexico (2003)
Players (2012)
Professor (1962)
Punch-Drunk Love (2002)
Raising Arizona (1987)
Sarkar (2005)
Shahid (2012)
Shortkut: The Con Is On (2009)
Snatch (2000)
Snowden (2015)
Son of Alladin (2003)
Southside with You (2016)
Stealing Beauty (1996)
Stripes (1981)
The Dirty Picture (2011)
The Last Word (2017)
The Newton Boys (1998)
The Patriot (2000)
The Riot Club (2014)
The Tenth Man (2016)
The Wedding Pact (2013)
They Call Me Jeeg (2015)
Tik Tok (2016)
Toy Maker (2015)
Walk of Fame (2017)
Welcome to Me (2014)
What We Do in the Shadows (2014)
Widows (2011)
X-Men: Days of Future Past (2014)
Yaar Gaddar (1994)
Zipi & Zape y la Isla del Capitan (2016)
5 New Documentary Streaming to Netflix Canada
Extraordinary: the stan romanek story (2017)
Given (2016)
Keep Quiet (2016)
Oasis: Supersonic (2016)
The Music of Strangers: Yo-Yo Ma and the Silk Road Ensemble (2015)
18 New TV Series Streaming to Netflix Canada
46 – Season 1 (2016)
Against The Tides – Season 1 (2014)
Breakout – Season 1 (2010)
Danny Dyers Deadliest Men – Season 2 (2009)
Dark Matter – Season 2 (2015)
El Barco – Season 3 (2013)
Hostages – Season 2 (2013)
Intersection – Season 3 (2016)
Learning Songs by Little Baby Bum: Nursery Rhyme Friends – Season 1 (2015)
Little Baby Bum: Nursery Rhyme Friends – Season 1 (2016)
Momo Salon – Season 1 (2014)
Mystic Whispers – Season 1 (2014)
Offspring – Season 6 (2014)
Olympus – Season 1 (2015)
Reggie Yates' Extreme – Season 1 (2017)
Sanjay and Craig – Season 1 (2013)
School of Rock – Season 2 (2016)
Spice Up – Season 1 (2014)
SpongeBob SquarePants – Season 2 (2013)
The Oath – Season 1 (2011)
The Standups – Season 1 (2017)
The Truth Seekers – Season 1 (2016)
The Ultimatum – Season 1 (2009)
Unriddle – Season 2 (2012)
Witnesses – Season 2 (2014)
World At Your Feet – Season 1 (2014)
Yes We Can! – Season 1 (2014)
Yours Fatefully – Season 1 (2012)