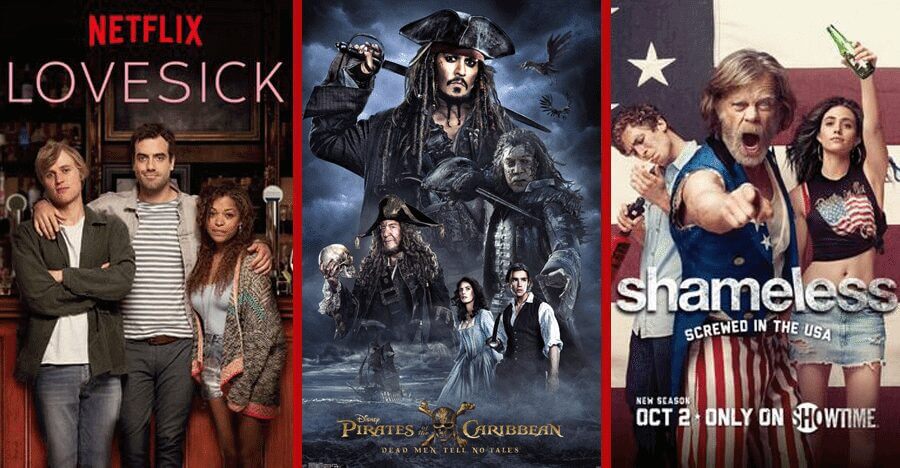 With the new year now upon us, there are plenty of new and great titles that are set to come to Netflix in 2018. But for now, we have a list below of all the titles that have been added over the past week. A staggering 120 shows and films have been added since the 29th, and with so many, it might be difficult to choose what to watch. That's why we're here. We have picked out three titles that have stood out to us, and briefly talked about them. Feel free to take a look yourself, and if you spot something that you think is too good to miss out, let us know in the comments below.
Our first pick for 2018 is the seventh season of 'Shameless (U.S)'. Originally based on the UK show of the same name, this is a rare example of an American TV show where they've actually done a good job compared to the original. Since it's release back in 2011 the show has picked up a large following. The show follows Frank Gallagher, an alcoholic father and his six children who pretty much look after and raise themselves. Fans of the show will be pleased to see the seventh season now available on Canadian Netflix.
Our next pick is a Disney film that's had an early release to Netflix. 'Pirates of the Caribbean: Dead Men Tell No Tales' is the latest film in the Pirates franchise. The film continues to follow the story of Captain Jack Sparrow (Johnny Depp) as he attempts to once again find a mythical artifact hidden in the deeps of the ocean. Those of you who are familiar with the franchise might be pleased to hear that more of Sparrow's backstory is revealed and the Will Turner/Elizabeth Swan storyline is given some closure.
Article Continues Below...
Our final highlight for this week is the Netflix Original 'Lovesick' (aka Scrotal Recall). The third season is here and stars Johnny Flynn, Antonia Thomas, and Daniel Ings as a group of friends who seem to struggle with their romantic lives. The first season follows Johnny's discovery that he has chlamydia, and how he tracks down and tells all his previous sexual partners. The show was originally broadcast on Channel 4, but has since been bought by Netflix.
See the full list of 120 new titles available on Netflix Canada this week:
73 New Movies Streaming on Netflix Canada
The Climb (2017)

Netflix Original

Sicario (2015)
Adam at the Wedding (2017)
Pokemon The Movie XY & Z "Borquenion and Magiana of Craftsmanship (2016)
You Can Tutu (2017)
Yanda Kartavya Aahe (2008)
Unleashed (2016)
Tracers (2014)
Time Please (2013)
The Vault (2017)
The Rehearsal (2016)
The Mummy: Tomb of the Dragon Emperor (2008)
The Mummy Returns (2001)
The Mummy (1999)
The Layover (2017)
The Kingdom (2007)
The Damned Rain (2009)
The Babadook (2014)
The Age of Shadows (2016)
Terminator 2: Judgment Day (1991)
Superbad (2007)
Super Dark Times (2017)
Suffragette (2015)
Straight Outta Compton (2015)
Spotlight (2015)
Shahanpan Dega Deva (2011)
Seducing Doctor Lewis (2003)
Sanai Choughade (2009)
Rent (2005)
Private School (1983)
Planetarium (2016)
Pirates of the Caribbean: Dead Men Tell No Tales (2017)
Open Season: Scared Silly (2015)
Murder on the Cape (2017)
Mr. Holmes (2015)
Mortdecai (2015)
Mi Shivajiraje Bhosale Boltoy (2009)
Maza Pati Karodpati (1988)
Maacher Jhol (2017)
Kill the Messenger (2014)
Kay Dyache Bola (2005)
K-9 (1989)
Jem and the Holograms (2015)
Infinity Chamber (2017)
Ideachi Kalpana (2010)
Hridaynath (2012)
Haze (2017)
Happy Hunting (2017)
Fun Mom Dinner (2017)
Fathers and Guns (2009)
Devrai (2004)
Dear White People (2014)
Dead Draw (2016)
Dazed and Confused (1993)
Crimson Peak (2015)
Chonda Pierce: Enough (2017)
Camp Cool Kids (2017)
Blue Ruin (2013)
BASEketball (1998)
Badha (2006)
America's Sweethearts (2001)
All Roads Lead to Rome (2016)
Aliens: Zone of Silence (2017)
Aata Pita (2010)
Aajcha Divas Majha (2013)
13 Minutes (2015)
The Scorpion King (2002)
Mustang Island (2017)
Jora 10 Numbaria (2017)
Heartthrob (2017)
Green White Green (And All The Beautiful Colours In My Mosaic Of Madness) (2016)
A Ghost Story (2017)
6 Days (2017)
17 New Documentaries Streaming on Netflix Canada
Twice (2010)
Treasures from the Wreck of the Unbelievable (2017)
The Jack King Affair (2015)
Residente (2017)
Numbered (2012)
Not Alone (2017)
Martin Luther: The Idea that Changed the World (2017)
Maddman: The Steve Madden Story (2017)
Haunters: The Art of the Scare (2017)
Functional Fitness (2016)
Empire of Scents (2014)
Elles ont toutes une histoire (2016)
Elles étaient en guerre (2014)
Dries (2017)
Born Strong (2017)
Blurred Lines: Inside the Art World (2017)
AlphaGo (2017)
29 New TV Series Streaming on Netflix Canada
Wadi – Season 1 (2015)
The Real Football Factories – Season 1 (2006)
La Mante – Season 1 (2017)

Netflix Original

Black Mirror – Season 4 (2014)
Bill Nye Saves the World – Season 2 (2017)
Zumbo's Just Desserts – Season 1 (2016)
Young Justice – Season 2 (2012)
The Last Man on Earth – Season 3 (2017)
The Frozen Dead – Season 1 (2017)

Netflix Original

The Fighting Season – Season 1 (2015)
The Deep – Season 2 (2015)
Super Wings – Season 1 (2014)
Splash and Bubbles – Season 1 (2016)
Shameless (U.S.) – Season 7 (2015)
Scrotal Recall – Season 3 (2014)

Netflix Original

Salvation – Season 1 (2017)
Rosewood – Season 2 (2015)
Penn & Teller – Season 2 (2015)
New Girl – Season 6 (2017)
Little Princess – Season 3 (2010)
Last Man Standing – Season 6 (2015)
Fullmetal Alchemist: Brotherhood – Season 5 (2010)
Fullmetal Alchemist – Season 1 (2003)
Eastsiders – Season 3 (2015)
Cheapest Weddings – Season 1 (2016)
Can't Cope, Won't Cope – Season 1 (2016)
Bob's Burgers – Season 7 (2017)
Bat Pat – Season 1 (2016)
Anne with an E – Season 1 (2017)

Netflix Original
1 New Standup Special Streaming on Netflix Canada
Dave Chappelle: Equanimity & The Bird Revelation – Season 1 (2017)

Netflix Original