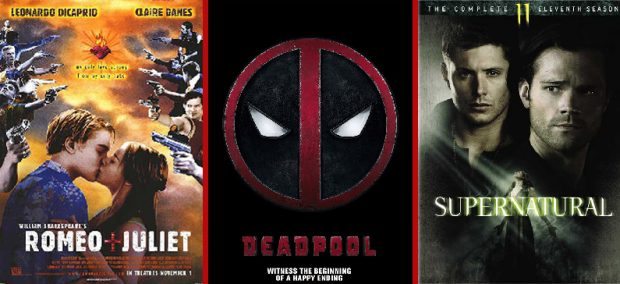 Netflix Canada has had 123 new titles hit its busy screens since the 29th of October. I am eagerly waiting to see what waits for us in the near future. I have picked 3 titles from the mass that I personally think need to be mentioned.
My first pick is the 1996 depiction of Shakespeare's classic play. The Drama, Romance "Romeo + Juliet" set in the modern suburb of Verona. Leonardo DiCaprio stars with Claire Danes as they pay homage to Shakespeare by retaining all the original dialogue.
My next choice is the incredibly successful but low-budget "Deadpool". A  'Merk with a mouth' with a morbid sense of humour and accelerated healing powers, who seems to be determined not to be the Hero. The forth wall breaking and humour which has always been staple Deadpool (Apart from X-Men Origins) was not left out of this Marvel Smash.
My final pick is the ever popular "Supernatural". The entire of season 11 in-fact. The two Winchester Brothers (Jared Padalecki, Jensen Ackles) are back doing what they do best, "Hunting". With the Apocalyptic fog looming, Sam and Dean realize they are out of options and make heart-breaking decisions that will change their lives forever.
Read on for the the full list of all 123 new releases:
70 New Movies Streaming on Netflix CA:
My Old Lady (2014)
11 Minutes (2015)
13 Hours: The Secret Soldiers of Benghazi (2016)
A Life Less Ordinary (1997)
Air Bud: Golden Receiver (1998)
All Good Things (2010)
And So It Goes (2014)
Approaching the Unknown (2016)
Australien Skies (2015)
Batman Unlimited: Animal Instincts (2015)
Batman Unlimited: Monster Mayhem (2015)
Be Somebody (2016)
Black Widow (1987)
Bleed (2016)
Bombshell (2016)
Bone Tomahawk (2015)
Broadcast News (1987)
Chatô, O Rei do Brasil (2015)
Dartmoor Killing (2015)
Deadpool (2016)
Drive Me Crazy (1999)
Eva Doesn't Sleep (2015)
High School Musical 3: Senior Year (2008)
Honeytrap (2014)
I Hope They Serve Beer in Hell (2009)
It Looks Pretty From a Distance (2011)
Joy (2015)
Kill Bill: Vol. 1 (2003)
Kill Bill: Vol. 2 (2004)
Kothanodi (2015)
Last Cab to Darwin (2015)
LEGO Jurassic World: The Indominus Escape (2016)
Lego: Justice League vs. Bizarro League (2015)
Mars Needs Moms! (2011)
Miracle (2004)
Much Ado About Nothing (2016)
My Big Night (2015)
Our Sister Mambo (20150
Parasite (2014)
Perfect Girl (2014)
Rams (2015)
Riphagen – The Untouchable (2016)
Romeo + Juliet (1996)
Saadey CM Saab (2015)
Saving Mr. Wu (2015)
Scooby-Doo! Moon Mosnter Madness (2015)
Slackers (2002)
Splash (1984)
The Adderall Diaires (2015)
The Bodyguard (2016)
The Boy and the Beast (2015)
The Counselor (2013)
The Debt (2015)
The Mighty Ducks (1992)
The Monkey King: Havoc in Heaven's Palace (2014)
The Mortal Instruments: City of Bones (2013)
The Parent Trap (1998)
The Prestige (2006)
The Town (2010)
The Trip to Italy (2014)
The Trust (2015)
The Vanishing (1993)
The Waterboy (1998)
Third Person (2013)
Traitor (2008)
Umrika (2015)
Under Arrest (2015)
Under the Tuscan Sun (2003)
Welcome Mr. Presidnet (2013)
Zoolander (2016)
54 New TV Series Streaming on Netflix CA:
Discovering Lucy Angel (Season 1)
Amanda Knox (2016)
Be with Me (Season 1)
Be with You (Season 1)
Burnistoun (Season 3)
Casanova (Season 1)
Chewing the Fat (Season 1)
Detectorists (Season 2)
Fall in Love with Me (Season 1)
Flintstones and the WWE: The Stone Age Smackdown (2015)
Food, Inc (2008)
Froning (2016)
Game of Silence (Season 2)
Heir Hunters (Season 2)
HooplaKidz (Season 1)
Jamaica Inn (1 Season)
Lessons of Darkness (1995)
Limmy's Show! (Season 3)
Little Dieter Needs to Fly (1998)
Love Bird (Season 1)
Love Cheque Charge (1 Season)
Magnificent Century (Season 1)
Man vs Snake: The Long and Twisted Tale of Nibbler (2015)
Marvel's Luke Cage (Season 1)
Mary's Land (2013)
Masha's Spooky Stories (1 Season)
Midsomer Murders (Season 18)
Murder Maps (2 Seasons)
Murphy's Law of Love (1 Season)
My Little Pony Equestria Girls: Legend of Everfree (2016)
No Tomorrow (Season 1)
Old Money (1 Season)
Oriented (2015)
Pac's Scary Halloween (2016)
Robotech (1 Season)
Saudi Arabia Uncovered (2016)
Skin Wars (Season 3)
Someone Like You (Season 1)
Steampunk'd (Season 1)
Still Game (Season 6)
Supernatural (Season 11)
Teen Titans Go! (Season 3)
The Big Interview with Dan Rather (2 Seasons)
The Divide (2015)
The Good Wife (Season 7)
The Grinder (Season 1)
The IT Crowd (Season 5)
The IT Crowd Manual (2014)
The Super (Season 2)
The Witness (2015)
Unchained: The Untold Story of Freestyle Motocross (2016)
Unsealed: Alien Flies (Season 4)
When I See You Again (Season 1)
X-Rated: The Greatest Adult Movies of all Time (2015)