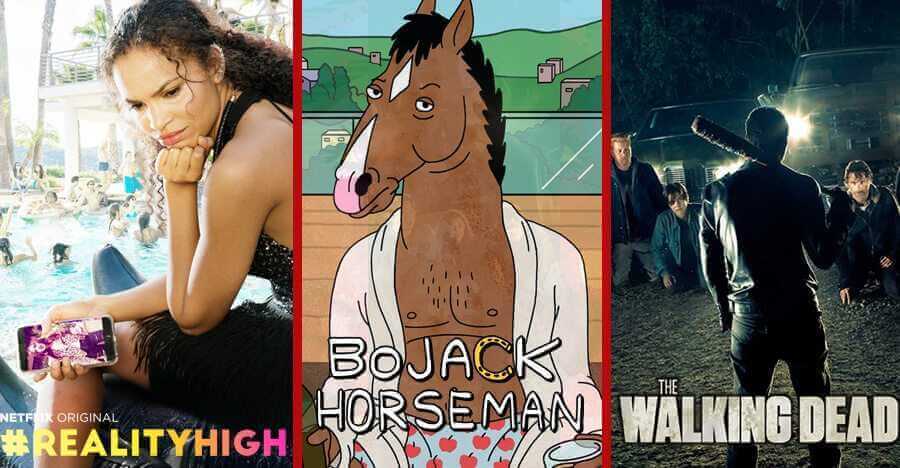 September is now in full flow and a total of 49 new titles have been introduced to Canadian Netflix this past week. 31 new Movies, 5 new Documentaries, and a further 13 new TV series have all been added. Interestingly an unusual, but welcome addition of 7 new Netflix Originals are amongst this weeks selection. As usual, we have decided to pick out three titles that we think deserve a special mention, along with some honorable mentions. If you see something in the list below that you think we should have pointed out, please tell us in the comments below.
Firstly we have chosen to talk about the seventh season of 'The Walking Dead' that has just found its way to Canadian Netflix. The show started back in 2010 and since then the Drama/Horror/Thriller has picked up millions of avid fans. The series follows the ex-Sheriff Deputy Rick Grimes and his group of survivors, attempting to find a place for themselves in this post-apocalypse world full of walkers (Zombies). Fans will be glad to see season 7 on Netflix, ready to be binged.
The return of the popular Netflix Orginal 'BoJack Horseman' is also among our highlights this week. The Animated comedy follows BoJack Horseman, a once beloved sitcom star from the '90s show "Horsin' Around." But now 20 years later he's a washed up Hollywood drunk trying to live off his past fame. The series was nominated for a Primetime Emmy and has been met positively by most. Season 4 is here and if you watched this show yet, now is your chance to get stuck in.
Our last pick for this week is the brand-new Netflix Orginal film '#Realityhigh', a comedy following a nerdy high-school student who dreams of getting into UC Davis, the worlds best veterinary school. But after attracting the attention of her crush she makes a deadly enemy that threatens to destroy everything Dani has worked towards.
This week's honorable mentions include: Scrooged (1988), The Confession Tapes (2017) and the new Netflix Original Greenhouse Academy.
Read on for the full list of all 49 new releases.
31 New Movies Streaming to Netflix Canada
Invasion 1897 (2014)
I Am Not Madame Bovary (2016)
Hop (2011)
Gbomo Gbomo Express (2015)
Bitcoin Heist (2016)
The Duplex (2015)
Out of Luck (2015)
Newsies: The Broadway Musical (2017)
Mike Epps: Under Rated & Never Faded (2009)
Marc Maron: Too Real (2017)

Netflix Original

Kicking and Screaming (1995)
Carrie Pilby (2016)
Patchwork (2015)
Ace Ventura: When Nature Calls (1995)
The Life of David Gale (2003)
Scrooged (1988)
Problem Child (1990)
Black Sea (2014)
The Space Between Us (2016)
Nocturama (2016)
Mighty Raju Rio Calling (2014)
Krish Trish and Baltiboy: Part II (2010)
Krish Trish and Baltiboy I (2009)
Krish Trish and Baltiboy – The Greatest Trick (2013)
Krish Trish and Baltiboy – Oversmartness Never Pays (2017)
Krish Trish and Baltiboy – Comics of India (2012)
Krish Trish and Baltiboy – Best Friends Forever (2016)
Krish Trish and Baltiboy – Battle of Wits (2013)
Joaquín Reyes: Una y no más (2017)

Netflix Original

Fabrizio Copano: Solo pienso en mi (2017)

Netflix Original

#realityhigh (2017)

Netflix Original
5 New Documentary Streaming to Netflix Canada
Incorruptible (2015)
Facing Darkness (2017)
A Good American (2015)
The Confession Tapes – Season 1 (2017)

Netflix Original

Deconstructing Dani García (2015)
13 New TV Series Streaming to Netflix Canada
Toast of London – Season 3 (2015)
Maniac – Season 1 (2015)
My Little Pony: Friendship Is Magic – Season 7 (2015)
Race of Life – Season 1 (2015)
Luxury Travel Show – Season 1 (2016)
Zig & Sharko – Season 1 (2010)
The Walking Dead – Season 7 (2014)
Spirit Riding Free – Season 2 (2017)
Oggy and the Cockroaches – Season 1 (2012)
Greenhouse Academy – Season 1 (2017)

Netflix Original

Fire Chasers – Season 1 (2017)

Netflix Original

BoJack Horseman – Season 4 (2015)

Netflix Original

Apaches – Season 1 (2016)