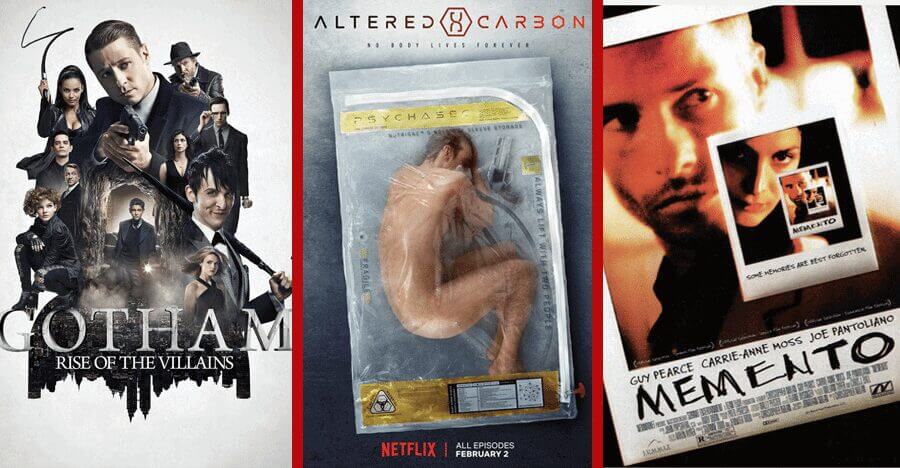 As another week of February passes, more and more interesting new titles have been coming to Canadian Netflix. Below we will be taking our weekly look at all the new shows, movies, and documentaries that have been welcomed. Among the new releases, we have chosen to pick out three titles specifically to highlight. A total of 33 titles have been added; including 12 movies, 2 documentaries, 18 TV shows and 1 new Netflix standup show.
Our first pick is the new Netflix Original show 'Altered Carbon' starring Joel Kinnaman (Robocop/Suicide Squad). The Sci-fi thriller is set in the far future in a world where a human consciousness can be downloaded and saved to a hard drive, and if you've got the money you can theoretically live forever in whatever body you desire. Takeshi Kovacs is a long-dead 'special-forces type' soldier who is brought back into the world in a new body in order to solve the murder of an extremely rich aristocrat. Since its release, this Original has been received quite well by Netflix viewers, who look forward to seeing where this series leads.
Another title that caught our eye was the 2000 film 'Memento'. This critically acclaimed mystery, thriller follows Leanard (Guy Pearce) as a man who is unable to make any new memories and must piece together the murder of his wife, which is the last thing he can remember. This is the sort of film to leave you for days after still thinking about it, and for any avid movie fan, it's a must-see. Especially as now it's available to stream on Netflix.
Article Continues Below...
Our final highlight from this week's additions is the third season of the popular TV shows 'Gotham'. The show focuses on the early career of Detective James Gordon, the rise of the Batman villains that we're so familiar with, and of course the early life of Bruce Wayne himself. Any Batman fan should be familiar with this show already and will be glad to see that season three is now available.
See the full list of 33 new titles available on Netflix Canada this week:
12 New Movies Streaming on Netflix Canada
On Body And Soul (2017) Netflix Original
Killing Salazar (2016)
The Bros (2017)
Memento (2000)
The Cloverfield Paradox (2018)
Princess Cyd (2017)
Holy Camp! (2017)
Thumper (2017)
Sharknado 5 (2017)
Midnight Special (2016)
Ingrid Goes West (2017)
Risen (2016)
2 New Documentaries Streaming on Netflix Canada
Under Arrest: Season 8 (2015)
FBI: Criminal Pursuit: Season 2 (2011)
18 New TV Series Streaming on Netflix Canada
Altered Carbon: Season 1 (2018)

Netflix Original

Coach Snoop: Season 1 (2018)

Netflix Original

The Adventures Of Puss In Boots: Season 6 (2015)

Netflix Original

Mr. D: Season 6 (2012)
Ollie & Moon: Season 1 (2018)
One Day At A Time: Season 2 (2018)

Netflix Original

Super Wings: Season 2 (2014)
When Calls The Heart: Season 3 (2014)
The Mindy Project: Season 6 (2012)
Gotham: Season 3 (2014)
Heartland: Season 10 (2007)
24: Legacy: Season 1 (2017)
Princess Cyd (2017)
Fred Armisen: Standup For Drummers (2018)
Geronimo Stilton: Season 1 (2009)
Queer Eye: Season 1 (2018)
Imposters: Season 1 (2017)
Chef & My Fridge: Season 2017
1 New Stand-up Shows Streaming on Netflix Canada
Kavin Jay: Everybody Calm Down! (2018)

Netflix Original