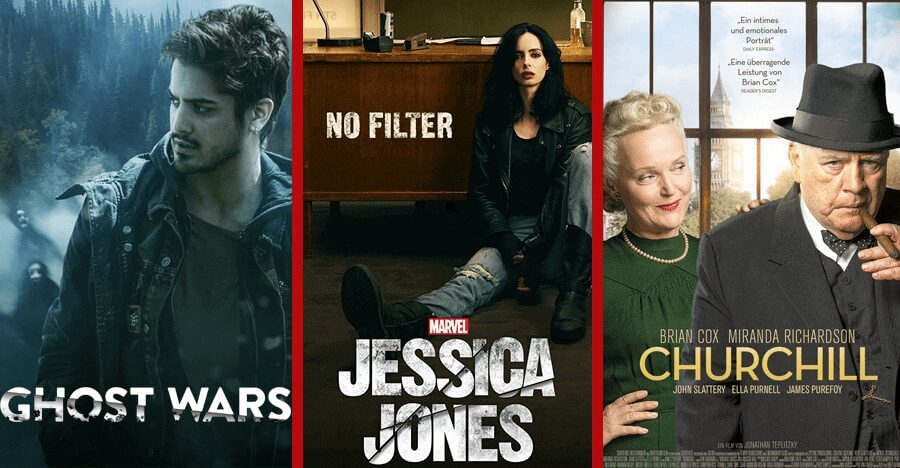 Another week of March has already flown past and if you're not concentrating it's more than possible you can miss all the great titles that have been coming to your Netflix screens. Below you will find a complete list consisting of all the titles that have arrived in the past week. 23 movies, 10 Documentaries, 12 TV series and an additional 2 standup shows are among this week's additions. As usual, we have taken some time to pick out three titles from this list and briefly outline them. Of course, if you take a look at the list and spot something you would like to recommend, please do in the comments below.
Our first pick is the 2017 film 'Churchill' starring Brian Cox as the famous English Prime minister that lead Britain through the Second World War. The film takes place 96 hours before 'Operation Overlord' (The Allied Invasion of Normandy), and depicts Churchills reservations with the operation and his discontent with his role in the war. Especially with the recent release of Darkest Hour, it might be an idea to revisit this depiction of Churchill.
Secondly, many Marvel fans will be glad to see the second season of 'Jessica Jones' is now available to stream worldwide on Netflix. The series follows Jessica, a private investigator attempting to build up a business, despite the tragic end of her short superhero career. The hot-tempered, borderline alcoholic must battle her demons, both figuratively and literally. The show was met with positive reviews and this second season marks the first Netflix-Marvel show to come in 2018.
Article Continues Below...
Our last pick for this week is the partial Netflix Original 'Ghost Wars'. Taking place in a remote Alaskan town that is slowly being overrun by ghosts and paranormal spirits, the series follows an outcast, Roman Mercer who must uncover his psychic powers in order to save the town. The Horror/Drama stars Avan Jogia, Vincent D'Onofrio (Daredevil) and Kim Coates. For anyone who fancies a new supernatural, horror show to get stuck into, this is a good choice for you.
See the full list of 54 new titles available on Netflix Canada this week:
23 New Movies Streaming on Netflix Canada
The Plan (2015)
Something Huge (2017)
Hide & Seek (2010)
The Stanford Prison Experiment (2015)
Keanu (2016)
Again Kasargod Khader Bai (2010)
Blood Money (2017)
Dismissed (2017)
Blood Stripe (2016)
Churchill (2017)
Memoir Of A Murderer (2017)
Beach Rats (2017)
Battle Drone (2018)
Grimsby (2015)
Judwaa 2 (2017)
For The Love Of Benji (1977)
F The Prom (2017)
Columbus (2017)
Brigsby Bear (2017)
Solo (2017)
Yaadein (2001
Deathgrip (2017)
Love Beats Rhymes (2016)
10 New Documentaries Streaming on Netflix Canada
Trophy (2017)
Flint Town: Season 1 (2018)

Netflix Original

Ugly Delicious: Season 1 (2018)

Netflix Original

Weekend Aristocrats: Season 1 (2013)
Strippers: Season 1 (2014)
Human Flow (2017)
Guy Martin's Spitfire (2014)
Girls Incarcerated: Season 1 (2017)

Netflix Original

Inside Jaguar (2015)
Ladies First (2018)

Netflix Original
12 New TV Series Streaming on Netflix Canada
B: The Beginning: Season 1 (2018)

Netflix Original

Mahi Way: Season 1 (2010)
Hitler's Circle Of Evil: Season 1 (2017)
Age Gap Love: Season 1 (2014)
Al's Fish'n With Mates: Season 1 (2015)
Best Lover: Season 1 (2016)
MegaTruckers: Season 1 (2012)
Kim's Convenience: Season 1 (2016)
I Am Innocent: Season 1-2 (2015)
Unveiled: Season 1 (2017)
Ghost Wars: Season 1 (2017)

Netflix Original

The Doll Life: Season 1 (2015)
Jessica Jones: Season 2 (2018)

Netflix Original
2 New Stand Up Shows Streaming on Netflix Canada
Adel Karam: Live From Beirut (2018)

Netflix Original

Gad Elmaleh: American Dream (2018)

Netflix Original