As it's the 31st, it's time to run through May 2015 once again picking out the highlights of what's been added to Netflix as well as give you the complete list of all the new titles added to Netflix throughout May 2015 on Netflix in the United States.
Highlights
Netflix Originals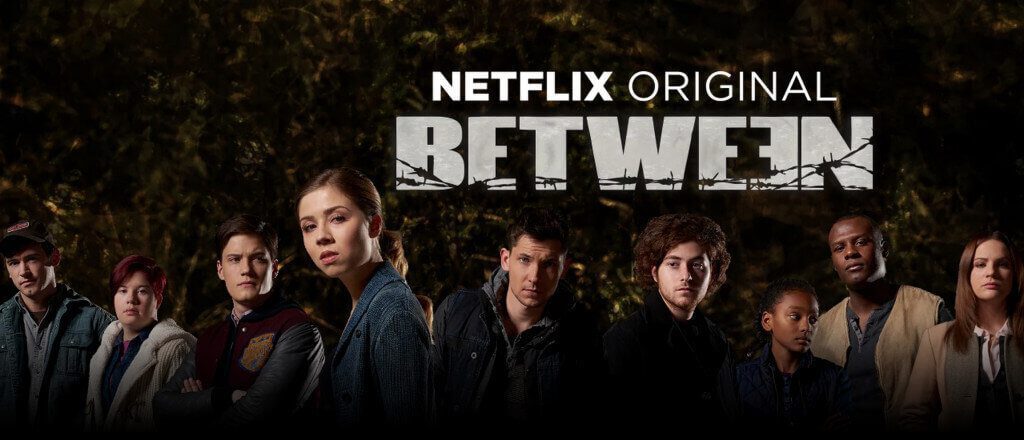 While this month cannot compete with Daredevil which launched in April and has since gone on to be the highest Netflix rated original we did get some new excellent additions. Starting off with the first two episodes of Between, a Canadian series based on a new disease which is infecting those above the ages of 21 is nail biting and a solid series which stars iCarly actress Jennette McCurdy. We'll be getting new episodes every Friday through June too.
Grace and Frankie also got its Netflix debut earlier on in the month. Met with a fairly average reception it was a little bit of a surprise when it's been given the green light for another series for next year. It's about two couples who's lives get turned upside down when the two husbands turn gay for each other.
Movies

Inglorious Basterds is by far the best highlight of the new additions for May. Directed by Quentin Tarantino the movie is rich in lore, setting and of course, gore. It's one of Tarantinos finest and serves justice to the fans which will instantly fall in love with this World War 2 flick.
Our next highlight is 2013's Welcome to the Punch which has X-men's James McAvoy break away from the Marvel series to star in a detective movie set in London where his character is granted a second chance to catch a notorious criminal who's returned to the city. It has all the hallmarks of a great action movie and delivers on most areas.
Finally if you have a tendency of seeing dead people then The Sixth Sense is probably a documentary on your life. The 1999 movie classic stars Bruce Willis as he attempts to make sense of his supernatural experiences.
TV Series

Deep from within the Disney vaults Netflix pulled out an excellent addition for the Netflix library. Bill Nye the Science Guy aims to entertain but teach in an engaging way for children and adults alike. It stands the test of time and will sure to be a nostalgia trip from millions.
Also making its debut to Netflix is Graceland an excellent action crime drama which saw 2 seasons added.
Complete List
New Movies
[REC] 4: Apocalipsis (2014)
1492: Conquest of Paradise (1992)
A Few Best Men (2011)
A Man Called Peter (1955)
After (2012)
All Is by My Side (2013)
Anna Karenina (1948)
Assassins (1995)
Author! Author! (1982)
Balto 3: Wings of Change (2003)
Bandslam (2009)
Before I Disappear (2014)
Before I Go to Sleep (2014)
Big Trouble in Little China (1986)
Blown Away (1992)
Blue Velvet (1986)
Boy Meets Girl (2014)
Bratz: Diamondz (2006)
Bratz: Good Vibes (2011)
Bratz: Pampered Petz (2010)
Bus Stop (1956)
Corky Romano (2001)
Cypher (2002)
D.L. Hughley: Clear (2014)
Death Warrant (1990)
Double Whammy (2001)
Extraterrestrial (2014)
First Period (2013)
Fist of Legend (1994)
Fists of Legend (2013)
From the Terrace (1960)
Fruitvale Station (2013)
Futuro Beach (2014)
Ghoulies Go to College (1991)
Girlhood (2014)
Harold and Maude (1971)
Hayride 2 (2015)
Heart of the Country (2013)
Hero and the Terror (1988)
Hoodwinked (2005)
Icetastrophe (2015)
In Dreams (1999)
In the Bedroom (2001)
Inglourious Basterds (2009)
Internal Affairs (1990)
Intersection (1994)
Iris (2001)
Jen Kirkman: I'm Gonna Die Alone (2015)
Jinn (2014)
Joe Dirt (2001)
Joyride 3: Road Kill (2014)
Kids from Shaolin (1984)
Kiss of Death (1995)
Knockout (2011)
La chambre bleue (2014)
Lalaloopsy: Festival of Sugary Sweets (2015)
Late Phases (2014)
Leap of Faith (1992)
Leapfrog Letter Factory Adventures: Amazing Word Explorers (2015)
Legally Blonde (2001)
Legally Blonde 2: Red, White & Blonde (2003)
Leon: The Professional (1994)
Liberty Stands Still (2002)
Love and Honor (2013)
Mad Hot Ballroom (2005)
Meet the Mormons (2014)
Men in Black II (2002)
Middle of Nowhere (2012)
Mundo Gaturro (2013)
Mysterious Ways (2015)
Nobody's Fool (1994)
North Dallas Forty (1979)
Northern Borders (2013)
Novocaine (2001)
Once Upon a Time in Brooklyn (2013)
Once Upon a Time in Mumbaai (2010)
Once Upon a Time in Mumbai Dobaara! (2013)
Payback (1999)
Rabbit Hole (2010)
Return to the Philippines, the Leon Cooper Story (2015)
Rush (1991)
Russell Madness (2015)
Santee (1973)
Saturday Night Fever (1977)
Say Ahh… (2014)
Shaolin Temple (1976)
Shriek If You Know What I Did Last Friday the 13th (2000)
Sin-ui Hansu (2014)
Slugterra: Slug Fu Showdown (2015)
Super Troopers (2001)
Tales from the Darkside: The Movie (1990)
The Amazing Wizard of Paws (2015)
The Animatrix (2003)
The Big Empty (2003)
The Blues Brothers (1980)
The Boxtrolls (2014)
The Cat's Meow (2001)
The Enforcer (1995)
The Exorcist (1973)
The Homesman (2014)
The House on Telegraph Hill (1951)
The Identical (2014)
The Inbetweeners 2 (2014)
The Killer (1989)
The Liberator (2013)
The Longest Week (2014)
The Mule (2014)
The Prince (2014)
The Prize Winner of Defiance, Ohio (2005)
The Puffy Chair (2005)
The Real Blonde (1998)
The Sixth Sense (1999)
The Sleepwalker (2014)
The Soccer Nanny (2011)
Tinker Bell and the Legend of the NeverBeast (2015)
Tip Top (2013)
Tracers (2014)
Turnaround Jake (2014)
Tyler Perry's A Madea Christmas (2013)
Underclassman (2005)
Unstable Fables: 3 Pigs and a Baby (2008)
Welcome to the Punch (2013)
Wes Craven's New Nightmare (1994)
Wet Hot American Summer (2001)
What's the Worst That Could Happen? (2001)
White Haired Witch (2014)
Winter Sleep (2014)
Wolfy: The Incredible Secret (2013)
Would You Rather (2013)
Zombeavers (2014)
New TV Series & Documentaries
#chicagoGirl: The Social Media Network Takes on a Dictator (2013)
12 Horas 2 Minutos (2012)
30 for 30: Sole Man (2015)
A Pope for Everyone (2013)
Anita (2013)
Anthony Bourdain: Parts Unknown – Season 4 (2015)
Bandidos Lengendarios de Mexico (2010)
Barbie Life in the Dreamhouse – (New Episode) (2012)
Between – Season 1, Episode 1 (2015)
Between – Season 1, Episode 2 (2015)
Beyond Clueless (2014)
Bienvenida Realidad – Season 1 (119 Episodes) (2011)
Bill Nye, the Science Guy – 1 Collection (1993)
Canciones de la granja: Vol. 1 (2011)
Canciones de la granja: Vol. 2 (2014)
Chasing Life – Season 1 (2013)
Clean Spirit (2014)
Concerning Violence (2014)
Cyber-Seniors (2014)
Dance Moms: Collection (Season 2) (2011)
Dawg Fight (2015)
Earthquake of Mexico (2008)
El Asesinato de Trotsky (2007)
El Carnaval de Barranquilla (2008)
El Dorado (2008)
El Escape de Hitler (2011)
Elephants: Spy in the Herd (2003)
En la boca del lobo – Season 1 (80 Episodes) (2014)
Farmland (2014)
Fishtronaut – 2 Seasons (2009-2013)
Galinha Pintadinha – Season 1 (2009)
Gargantia on the Verdurous Planet – Season 1 (2013)
Gaturro, the Series (2014)
Give Me Shelter (2014)
Grace and Frankie (Netflix Original) – Season 1 (2015)
Graceland – 2 Seasons (2013-2014)
Granite Flats – 3 Seasons (2013-2015)
Grizzly Man (2005)
H20: Mermaid Adventures – Season 1 (2015)
Hoarders: Collection (2010)
Hot Girls Wanted (2015)
Irreplaceable (2014)
K – Season 1 (2012)
Kickin' It – Season 4 (2014)
La Batalla de Zacatecas (2012)
La Masacre de Tlatelolco (2008)
La Prepago – Season 1 (61 Episodes) (2013)
La Red Nazi en Mexico (2010)
Lab Rats – Season 3 (2014)
Lagrange: The Flower of Rin-ne – 2 Seasons (2012)
Las Canciones del zoo (2013)
Little Einsteins – 2 Seasons (2005-2007)
Little Hope Was Arson (2013)
Liv & Maddie – Season 1 (2013)
Longmire – Season 3 (2014)
Lottie Dottie Chicken – Season 1 (2014)
Magical Universe (2013)
Magnicidios (2010)
Magnicidios II (2014)
Maidan (2014)
Mako Mermaids – Season 3 (2015)
Maria la del Barrio – 90 Episodes (1995)
Melissa & Joey – Season 4 (2014)
Mengele, the Angel of Death (2010)
Metastasis – 62 Episodes (2014)
Mighty Med – Season 1 (2013)
Modern Marvels: Collection – 22 Episodes (1995)
Mother Goose Club (5 Episodes) (2011)
Mysteries of the Unseen World (2013)
Naruto – 3 Seasons (2002-2007)
Nature's Weirdest Events – Season 1 (2012)
No No: A Dockumentary (2014)
Nura: Rise of the Yokai Clan: Demon Capital – Season 1 (2011)
Oh No! It's an Alien Invasion – 2 Seasons (2013-2014)
Pancho Villa, Aqui y Alli (2008)
Porque el amor manda – Season 1 (182 Episodes) (2012)
Puss in Boots (Netflix Original) (Season 1, Episodes 6-10) (2015)
Revolucion Mexicana (2007)
Richie Rich – Season 2 (2015)
Road to the NHL Stadium Series – Season 1 (2015)
Rondas y Clasicos Infantiles (2012)
Royal Pains – Season 6 (2014)
Sagrada: The Mystery of Creation (2012)
Shameless – Series 10 (2013)
Shut Up & Let's Go – 16 Episodes (2012)
Sofia the First – Season 1 (2012)
Special Agent Oso – Season 2 (2010)
Stripped (2014)
Switched at Birth – Season 4A (2015)
Taxi Brooklyn – Season 1 (2014)
TED Talks: The Best of TED Talks in Espanol (10 Episodes) (2015)
Temporada de Zopilotes (2009)
The Cardenas Era (2010)
The Epic of Everest (1924)
The F.B.I. Files – Season 1 (1998)
The Fosters – Season 2B (2014)
The Last Waltz (1978)
The New Detectives: Case Studies in Forensic Science – Season 1 (1996)
The Other One: The Long Strange Trip of Bob Weir (2015)
The People vs. George Lucas (2010)
The Quest – Season 1 (2014)
The Universe: Collection – 25 Episodes (2007)
Toobys (2013)
Transporter: The Series – Season 1 (2012)
Unplanned America – Season 1 (2014)
When Calls the Heart – Season 1 (2014)
Witnesses – Season 1 (2014)
Young & Hungry – Season 1 (2014)
Zapata, Lives (2009)