November has been a very quiet month for new Netflix releases but let's be honest, it's always going to be hard to top the additions that come in October. We're going to pick out a few highlights below but we strongly suggest you go through the top 10 releases that came throughout the month. These highlights are ones that didn't quite get included.
This month there were 112 new movies and 110 new TV series and documentaries added to Netflix US.
Highlights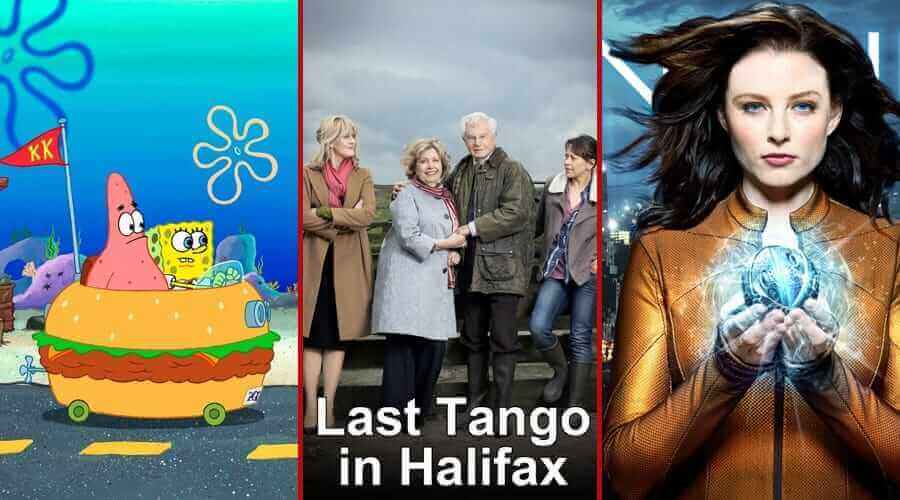 With titles like River, W/ Bob and David there's a lot of competition for the best titles added in November so what we've picked out three titles that narrowly missed out on our top 10 list. The first title is the first movie for the Nickelodeon long running show – Spongebob Squarepants. The 2004 movie gave us a story where Spongebob looks to save Bikini Bottom from Plankton after he tries to enslave everyone with buckets.
The latest season of the BBC/PBS Last Tango in Halifax is now streaming on Netflix. The British show tells the story of an elderly couple falling in love later into their lives but both have daughters who aren't too happy about it. Finally and most were surprised we didn't include this we got the final season of Continuum. The mind-bending Canadian show is now completely available on Netflix – go watch this.
Complete List of Titles Added to Netflix in November 2015
New Movies
11 Blocks (2015)
A Christmas Kiss (2011)
A Hard Day (2014)
A Perfect Man (2015)
A Pigeon Sat on a Branch Reflecting on Existence (2014)
Abominable Noel (2012)
Addams Family Values (1993)
Amapola (2014)
Amour Fou (2014)
And They Call it Summer (2012)
Angel Heart (1987)
Anna and the King (1999)
Anna Karenina (2012)
Bang Bang! (2014)
Beethoven's Christmas Adventure (2011)
Big Eden (2000)
Black Coal, Thin Ice (2015)
Blue Caprice (2013)
Bound to Vengeance (2015)
Buen Dia, Ramon (2013)
Can't Hardly Wait (1998)
Candyman 2: Farewell to the Flesh (1995)
Christmas Hercules Saves (2011)
Comeback Dad (2014)
Cong Cong Na Nian (2014)
Dawn Patrol (2014)
Desert Dancer (2014)
Desk Set (1957)
Doomsdays (2013)
Dos Hermanos (2010)
Dude, Where's My Car? (2000)
Felt (2014)
Five Star (2014)
Full Frontal (2002)
Gloria (2015)
Goodbye Gauley Mountain (2013)
Gothika (2003)
Guidance (2014)
Half Baked (1998)
Harbinger Down (2015)
Harry and Tonto (1974)
Home (2014)
Huang jin shi dai (2014)
Impostor (2001)
John Mulaney: The Comeback Kid (2015)
Kate & Leopold (2001)
Kuch Kuch Hota Hai (1998)
Leon: The Professional (1994)
Magic City Memoirs (2015)
Major League (1989)
Mandie and the Forgotten Christmas (2011)
Marie's Story (2014)
Marry Me for Christmas (2013)
Men in Black II (2002)
Mike Birbiglia: What I Should Have Said Was Nothing: Tales from My Secret Public Journal (2008)
Mortal Kombat: Annihilation (1997)
My Dad's a Soccer Mom (2014)
Naked Among Wolves (2015)
Naomi and Ely's No Kiss List (2015)
No Ordinary Hero (2013)
Open Season 2 (2008)
Open Season 3 (2010)
People, Places, Things (2015)
Plush (2013)
Princess of France (2014)
Qin ai de (2014)
Rain Man (1988)
Redeemer (2014)
Robot Overlords (2014)
Rouge Amargo (2012)
Safelight (2015)
Saturday Night Fever (1977)
She's Lost Control (2014)
Shi Gu (2015)
Starlet (2012)
Stephen King's Thinner (1996)
Stewart Lee: 41st Best Stand Up Ever (2008)
Stuck in Love (2012)
Stung (2015)
Tengo Ganas de ti (2012)
The Best Offer (2013)
The Brothers Solomon (2007)
The Dempsey Sisters (2013)
The Devil's Advocate (1997)
The Enemy Below (1957)
The Gambler (2013)
The Haunting (1999)
The Last Shift (2014)
The Last Time You Had Fun (2014)
The Legend of Hell House (1973)
The Little Death (2014)
The Love Letter (2013)
The Midnight Swim (2014)
The Newton Boys (1998)
The Pardon (2013)
The Runner (2015)
The Spongebob SquarePants Movie (2004)
This Isn't Funny (2015)
Thomas & Friends: A Very Thomas Christmas (2012)
Thomas & Friends: Holiday Express (2010)
Thomas & Friends: Merry Winter Wish (2010)
Thomas & Friends: Merry Winter Wish (2010)
Thomas & Friends: The Christmas Engines (2014)
Thomas & Friends: Ultimate Christmas (2009)
Thomas & Friends: Ultimate Christmas (2009)
Un Oso Rojo (2002)
Upside Down (2012)
Wasp (2015)
What Maisie Knew (2012)
Xin hua lu fang (2014)
You yi ge di fang zhi you wo men zhi dao (2015)
Zipper (2015)
New TV Series/Documentaries
30 for 30: Trojan War (2015)
America's Secret D-Day Disaster (2014)
Angelo Rules 3D – Season 1 (2009)
Apocalypse: World War II – Season 1 (2009)
Atencion Atencion – Season 1 (2010)
Awake: The Life of Yogananda (2014)
Best of Enemies (2015)
Black Books – 3 Series (2004)
Black Mamba: Kiss of Death (2013)
Black Wings (2012)
Blondie's New York (2014)
Bob the Builder: White Christmas (2008)
Bombs, Bullets and Fraud (2007)
Call Me Lucky (2015)
Care Bears & Cousins – Season 1 (2015)
Chaos on the Bridge (2014)
China's Forbidden City (2008)
Civil War 360 – Season 1 (2013)
Civil War 360 – Season 1 (2013)
Continuum – Season 4 (2015)
Cristela – Season 1 (2015)
Dark Star: H.R. Giger's World (2014)
David Attenborough's Rise of the Animals: Triumph of the Vertebrates – Season 1 (2013)
Dear Jack (2009)
Death Beach (2012)
Dinotrux 5 Minute Favorite: Big Build (2015)
Dinotrux 5 Minute Favorite: Tarpit Rescue (2015)
Dinotrux 5 Minute Favorite: Tortool's Surprise (2015)
Dior and I (2014)
Do I Sound Gay? (2014)
El Clon – Season 1 (2010)
Electric Boogaloo: The Wild, Untold Story of Cannon Films (2014)
Everybody Street (2013)
Fireplace for Your Home – Season 1 (2010)
Fireplace for Your Home: Winter Wonderland for Your Home (2013)
Frontline: My Brother's Bomber – Season 1 (2015)
Girlfriends' Guide to Divorce – Season 1 (2015)
Goodbye Gauley Mountain (2013)
Gringolandia – 3 Seasons (2014)
Hip Hop: The Furious Force of Rhymes (2012)
Hitler's Riches (2014)
Hunt for the Super Predator (2014)
I Touched All Your Stuff (2015)
I'm Still Here (2010)
Jessie – Season 4 (2015)
Journey to the Safest Place on Earth (2013)
Julius Jr. – Season 2 (2015)
Ken Burns: The Roosevelts: An Intimate History – Season 1 (2014)
Kumare (2011)
Laid – 2 Seasons (2012)
Last Days in Vietnam (2014)
Last Tango in Halifax – Season 3 (2015)
LeapFrog Letter Factory: Great Shape Mystery (2015)
Leopard Fight Club (2014)
Little Lunch – Season 1 (2015)
Liv and Maddie – Season 2 (2014)
Mala Mala (2014)
Malaysia 370: The Plane That Vanished (2014)
Mandela, My Dad and Me (2015)
Manson's Missing Victims (2008)
Master of None – Season 1 (2015)
Meet the Fokkens (2011)
Midsomer Murders – Series 16 (2013)
Moving Art: Underwater (2015)
Moving Art: Waterfalls (2015)
Nature: Animal Homes – Season 1 (2015)
Ninja: Shadow Warriors (2012)
Pasion de Gavilanes – Season 1 (2003)
Power Rangers Dino Charge – Season 1 (2015)
Psychic Investigators – Season 1 (2009)
Reel Injun (2009)
River – Season 1 (2015)
Samurai Headhunters (2013)
Secrets of the Third Reich – Season 1 (2014)
Secrets: Golden Raft of El Dorado (2013)
Seymour: An Introduction (2014)
Silenced (2014)
Sin senos no hay paraiso – Season 1 (2008)
Slingshot (2014)
Soaked in Bleach (2015)
Still Game – 5 Series (2007)
Switched at Birth – Season 4 (2015)
The Da Vinci Detective (2006)
The Day Kennedy Died (2013)
The Gospel According to Mac (2015)
The Gospel of Jesus's Wife (2014)
The Prince of Pennsylvania (2015)
The Real Beauty and the Beast (2014)
The Red Road – Season 2 (2015)
The Seven Deadly Sins – Season 1 (2015)
The Seven Dwarfs of Auschwitz (2013)
The Sparticle Mystery – Season 1 (2011)
The Thread (2015)
The Wolfpack (2015)
Top Boy – 2 Series (2013)
Treblinka: Hitler's Killing Machine (2014)
Truly Strange – Season 1 (2014)
Turf War: Lions and Hippos (2009)
Twinsters (2015)
Ultimate Spider-Man – Season 3 (2015)
Urban Legends – Season 3 (2010)
Utopia – Season 2 (2015)
Venom Islands (2012)
W/ Bob & David – Season 1 (2015)
Wanted 18 (2014)
Whores' Glory (2011)
Woody Allen: A Documentary – Season 1 (2011)
World War II Spy School (2014)
Worst Year of My Life, Again – Season 1 (2014)
Yuki Yuna Is a Hero – Season 1 (2014)