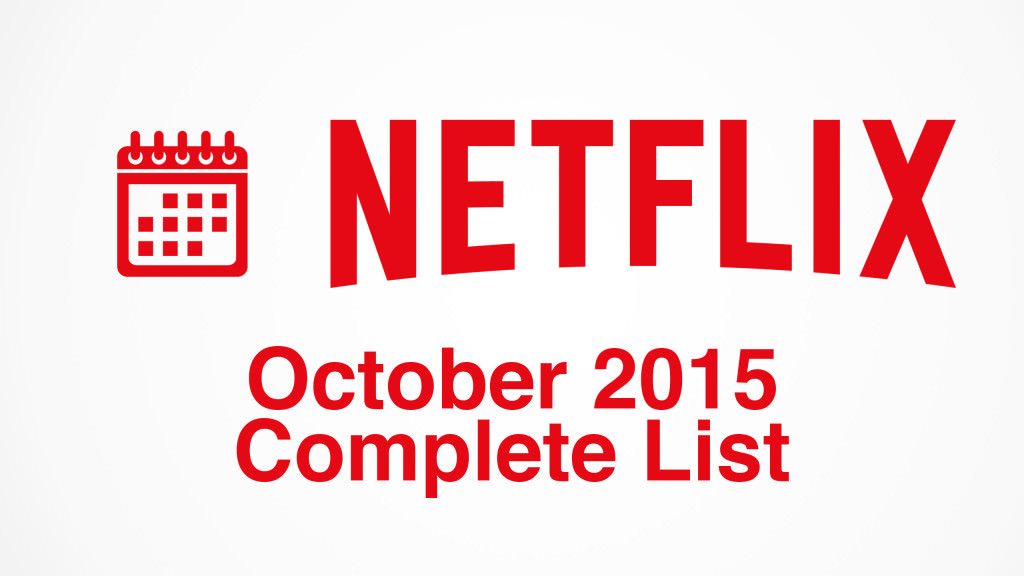 Happy Halloween everyone and welcome to the complete list of titles which headed to Netflix throughout the month of October 2015. Traditionally, October is a quiet month here on What's on Netflix just because of the amount of awesome new releases that've started streaming and is the month of most of the television series you love getting their yearly updates too.
This month, 155 new movies were added to Netflix along with 121 new seasons of TV series and documentaries were added.
Highlights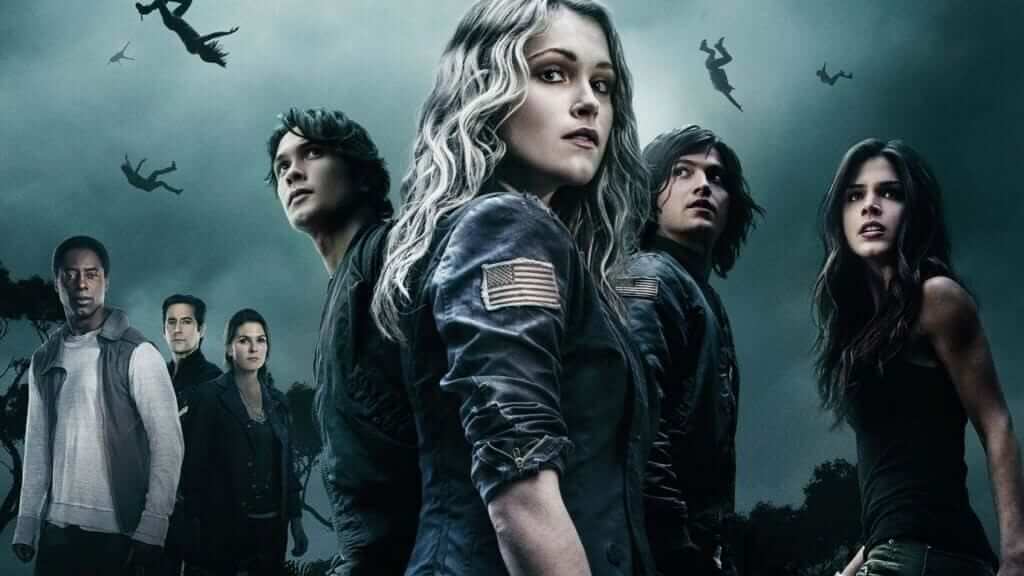 We've covered our top 10 favourites of the new additions in this post here but there are a few more highlights which we left out of that list. The big CW update came this month with updates to series such as Arrow, Supernatural, The Vampire Diaries, The 100 (pictured above) and debuts for iZombie, Jane the Virgin and The Flash.
The great TV series update continued with the latest season of American Horror Story which sees our favorite cast join a freak show. For our documentary lovers out there there was lots of PBS documentaries renewed as well as a chilling Netflix Original documentary following the events in Ukraine throughout the protests against the government in charge.
Complete List of New Additions for October 2015
New Movies
10.0 Earthquake (2014)
1001 Grams (2014)
2001: A Space Odyssey (1968)
3-Headed Shark Attack (2015)
A Borrowed Identity (2014)
A Christmas Carol (1938)
A Clockwork Orange (1971)
A Necessary Death (2008)
About Alex (2014)
Ain't Them Bodies Saints (2013)
Alexander: Theatrical Cut (2004)
Alexander: Theatrical Cut (2004)
All American High: Revisited (2014)
Alpha and Omega: Family Vacation (2015)
American Heist (2014)
American Pie (1999)
American Wedding (2003)
Anchors Aweigh (1945)
Anjelah Johnson: Not Fancy (2015)
Anna and the King (1999)
Anthony Jeselnik: Thoughts and Prayers (2015)
Around the World in 80 Days (2004)
Around the World in 80 Days: Special Edition (1956)
August: Osage County (2013)
Bachelor Night (2014)
Batman Begins (2005)
Beasts of No Nation (2015)
Boogie Nights (1997)
Bunks (2014)
Carousel (1956)
Cats & Dogs (2001)
Charlie and the Chocolate Factory (2005)
Cheatin' (2013)
Circle (2015)
Corpse Bride (2005)
Coyote Ugly (2000)
Crippled Avengers (1978)
Cru (2014)
Cruel & Unusual (2014)
Curse of Chucky (2013)
Daddy Long Legs (1955)
Dark Was the Night (2014)
Dear Dracula (2012)
Djinn (2013)
El viaje de la nonna (2007)
Ferocious Planet (2011)
First Comes Love (2013)
Five Elements Ninjas (1982)
Gardeners of Eden (2014)
Georgia (1995)
Glass Chin (2014)
Glengarry Glen Ross (1992)
Gueros (2014)
Gulaab Gang (2014)
HALO Legends (2009)
Heartbreakers (2001)
High Society (1956)
Hotel Rwanda (2004)
Hum Aapke Hain Koun (1994)
Hum Saath-Saath Hain (1999)
Humpty Sharma Ki Dulhania (2014)
Hungry Hearts (2014)
I Believe in Unicorns (2014)
Innocence (2013)
Invincible Shaolin (1978)
Jack Strong (2014)
King Kong (1976)
Kingpin (1996)
Kristy (2013)
Kung Fury (2015)
La Leyenda de la Nahuala (2007)
Laura (1944)
Lazarus (2015)
Let Us Prey (2014)
Little Loopers (2015)
Lou! Journal Infime (2014)
Man from Reno (2014)
Manson Family Vacation (2015)
Masked Avengers (1981)
Max Dugan Returns (1983)
Mea Culpa (2014)
Million Dollar Baby (2004)
My Monkey Baby (2009)
Northless (2009)
On the Town (1949)
Pal Joey (1957)
Pentatonix: On My Way Home (2015)
Pepe (1960)
Pernicious (2014)
Police Story: Lockdown (2013)
Pressure (2015)
Rear Window (1998)
Reasonable Doubt (2014)
Results (2015)
Return to Sender (2015)
Return to the 36th Chamber (1980)
Risky Business (1983)
Road (2014)
Robert Kelly: Live at the Village Underground (2014)
Robin Hood: Prince of Thieves (1991)
Runoff (2014)
Set Fire to the Stars (2014)
Seventeen Again (2001)
Sin senos hay paraiso (2008)
Snow Girl and the Dark Crystal (2015)
Some Came Running (1958)
Someone Like You (2001)
Sphere (1998)
Strangerland (2015)
Suburra (2015)
Sunset Edge (2015)
Take Me Out to the Ball Game (1949)
The Beast of Xmoor (2014)
The Blood Lands (2014)
The Bourne Identity (2002)
The Bourne Supremacy (2004)
The Butcher's Wife (1991)
The Chambermaid (2014)
The Christmas Card (2006)
The Devil at 4 o'clock (1961)
The Face of an Angel (2014)
The Five Venoms (1978)
The Girl is in Trouble (2015)
The Good Thief (2002)
The Graduate (1967)
The Gunman (2015)
The Guvnors (2014)
The Human Centipede 3: The Final Sequence (2015)
The Impostors (1998)
The Inn of the Sixth Happiness (1958)
The Journey Home (2014)
The Lesser Blessed (2012)
The Lesson (2014)
The Maneater (2012)
The Odd Couple (1968)
The Punisher (2004)
The Relic (1997)
The Sitter (2007)
The Stranger (2015)
The Wedding Singer (1998)
The Wild Bunch (1969)
There's No Business Like Show Business (1954)
This Must Be the Place (2011)
Three Stars (2010)
Tremors 5 (2015)
Trick or Treaters (2007)
Tu dors Nicole (2014)
Uncertain Terms (2014)
Unexpected (2015)
United Passions (2015)
Walt Disney Animation Studios Short Films Collection (2015)
White Rabbit (2013)
Wild Horses (2015)
Wolf Warrior (2015)
Z Storm (2014)
New TV Series / Documentaries
A Sinner in Mecca (2015)
Adaalat – Season 1 (2013)
Aldnoah.Zero – Season 1 (2014)
All Hail King Julien – Season 2 (2015)
America's Test Kitchen – Season 1 (2014)
American Experience: The Poisoner's Handbook (2014)
American Horror Story: Freak Show (2014)
Arrow – Season 3 (2014)
Art & Copy (2009)
Back in Time (2015)
Ballet 422 (2015)
Barefoot Contessa: Back to the Basics Collection – Season 1 (2011)
Beachfront Bargain Hunt Collection – Season 1 (2013)
Big Men (2013)
Bigger Than T. Rex (2014)
C.I.D. – Season 1 (2013)
Chasing Life – Season 2 (2015)
Chuck's Eat the Street Collection – Season 1 (2012)
Dear Genevieve Collection – Season 1 (2011)
Design on a Dime – Season 1 (2011)
Dinotopia: The Mini-Series – Season 1 (2002)
Durarara!! – Season 1 (2010)
Durarara!!X2 – Season 1 (2015)
e-Dreams (2002)
El asombroso mundo de Zamba – Season 1 (2013)
Emperor's Ghost Army (2014)
Escape from a Nazi Death Camp (2014)
Extreme Homes Collection – Season 1 (2012)
Famous Nathan (2014)
Finding Jesus: Faith, Fact, Forgery – Season 1 (2015)
First Man on the Moon (2014)
Fixer Upper – Season 1 (2014)
Flor Salvaje – Season 1 (2011)
Genevieve's Renovation – Season 1 (2014)
Girl Eat World – Season 1 (2015)
Glen Campbell: I'll Be Me (2014) (10/11)
Hemlock Grove – Season 3 (2015)
House Hunters Renovation Collection – 1 Collection (2012)
How We Got to Now with Steven Johnson – Season 1 (2014)
Huntik – 2 Seasons (2011)
If You Build It (2013)
Inside the Court of Henry VIII (2015)
iZombie – Season 1 (2014)
Jane the Virgin – Season 1 (2014)
John Denver: Country Boy (2014)
Ken Burns: Cancer: The Emperor of All Maladies – Season 1 (2015)
La Casa de al Lado – Season 1 (2011)
Lalaloopsy: Band Together (2015)
Last Man Standing – Season 4 (2014)
Legends – Season 1 (2014)
Lego DC Comics: Batman Be-Leaguered (2014)
Maharana Pratap – Season 1 (2013)
Marvel's Avengers Assemble – Season 2 (2015)
Medialuna y las noches magicas – Season 1 (2012)
Million Dollar Rooms Collection – Season 1 (2011)
Monkey Thieves – 3 Seasons (2011)
Monumental Mysteries Collection – Season 1 (2013)
My First Place Collection – Season 1 (2007)
Nature: A Sloth Named Velcro (2014)
Nature: Animal Misfits (2014)
Nature: Invasion of the Killer Whales (2014)
Nature: Mystery Monkeys of Shangri-La (2015)
Nature: Owl Power (2014)
Nature: Penguin Post Office (2015)
Nature: The Last Orangutan Eden (2014)
Never a Neverland (2014)
Nova: Ben Franklin's Balloons (2014)
Nova: First Air (2014)
Nova: Killer Landslides (2014)
Nova: Rise of the Hackers (2014)
Nova: Surviving Ebola (2014)
Nova: Vaccines Calling the Shots (2014)
Nowitzki: The Perfect Shot (2014)
Popples – Season 1 (2015)
Property Virgins Collection – Season 1 (2011)
Queens & Cowboys (2014)
Reign – Season 2 (2015)
Richard Pryor: Icon (2014)
Robin Williams Remembered – A Pioneers of Television Special (2014)
Salvage Dawgs – Season 2 (2012)
Secrets of Her Majesty's Secret Service (2014)
Secrets of the Underground London (2014)
Seeds of Time (2013)
Selling New York Collection – Season 1 (2010)
Sex in the Wild – Season 1 (2014)
Shushybye – Season 1 (2013)
Small Space, Big Style Collection – 1 Collection (2005)
Some Assembly Required – Season 2 (2015)
Supernatural – Season 10 (2014)
Sword Art Online II – Season 1 (2014)
Tales from the Royal Bedchamber (2014)
Tell Spring Not to Come This Year (2015)
The 100 – Season 2 (2014)
The Black Kungfu Experience (2012)
The Day the '60s Died (2015)
The Five People You Meet in Heaven – Season 1 (2004)
The Flash – Season 1 (2014)
The Great British Baking Show – Season 1 (2014)
The Great Food Truck Race Collection – 1 Collection (2014)
The Great Museum (2014)
The Hacker Wars (2014)
The Mr. Peabody & Sherman Show – Season 1 (2015)
The Navy SEALs: Their Untold Story (2014)
The Nightmare (2015)
The Originals – Season 2 (2014)
The Otherworld (2013)
The Physics of Light – Season 1 (2015)
The Principal – Season 1 (2015)
The Tiger and the Monk (2006)
The Time in Between – Season 1 (2013)
The Vampire Diaries – Season 6 (2014)
The Vanilla Ice Project – 4 Seasons (2014)
Throwdown with Bobby Flay Collection – 1 Collection (2006)
Twice Born: Stories from the Special Delivery Unit – Season 1 (2015)
Uncle Grandpa – Season 1 (Episodes 27-52)
Voltron Force – Season 1 (2011)
Wakufu – Season 1 (2014)
Why Planes Vanish (2014)
Winter on Fire (2015)
Worst Cooks in America Collection – Season 1 (2014)
Zoboomafoo – Season 2 (2001)