With August literally just a day away we thought we'd give you the entire round-up of the new additions which have been added to Netflix US from July 1st to July 31st. As always, keep an eye out on our website for news of the daily additions so you can keep ahead of the rest by knowing what's now streaming on the service. If you're looking for everything that's coming to Netflix in August you may want to check out our August Preview.
Here's the statistics :
163 New Movies
82 New TV Series/Documentaries
Highlights
Movies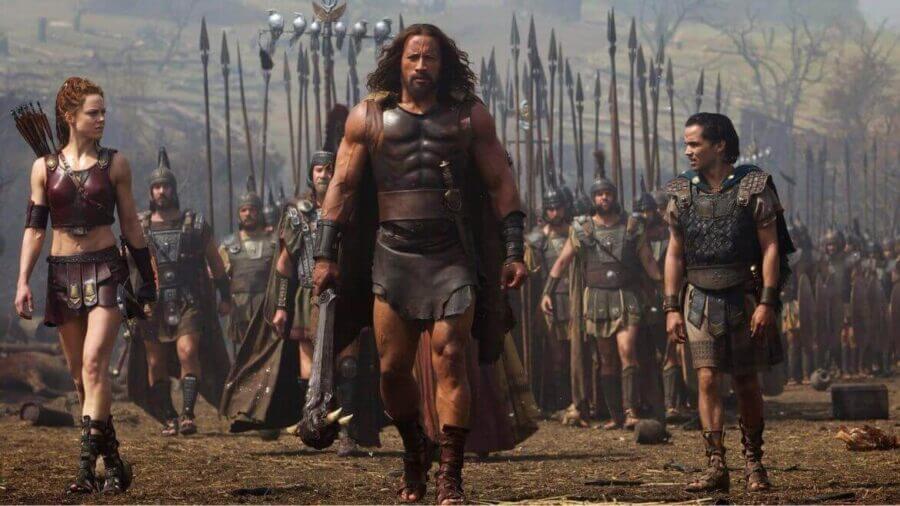 A fairly average month for new additions in the movie department, but there's a few here worth mentioning.
Kicking off with a true golden oldie is Butch Cassidy and the Sundance Kid. Set in the wild west, the 1969 movie really shows off its age but is a great look into cinema in the late 60's. Redford, a frontier gunslinger and his side kick Butch Cassidy set out to find riches as the old ways of the wild west are dying. With four academy awards under it's belt its hard to ignore this old classic.
Batman is our next pick and while we wish it was one of the newer Christian Bale movies, we'll easily settle for the 1989 Jack Nicholson version. In this movie Batman faces his toughest enemy yet, The Joker and redefines the superhero movie genre.
If you're looking for something newer, why not give Dwayne 'The Rock' Johnson's 2014 movie Hercules a try. While it may not be as good as the Disney equivalent it's still a visual spectacle that deserves a watch by fans of the era.
TV Series/Documentaries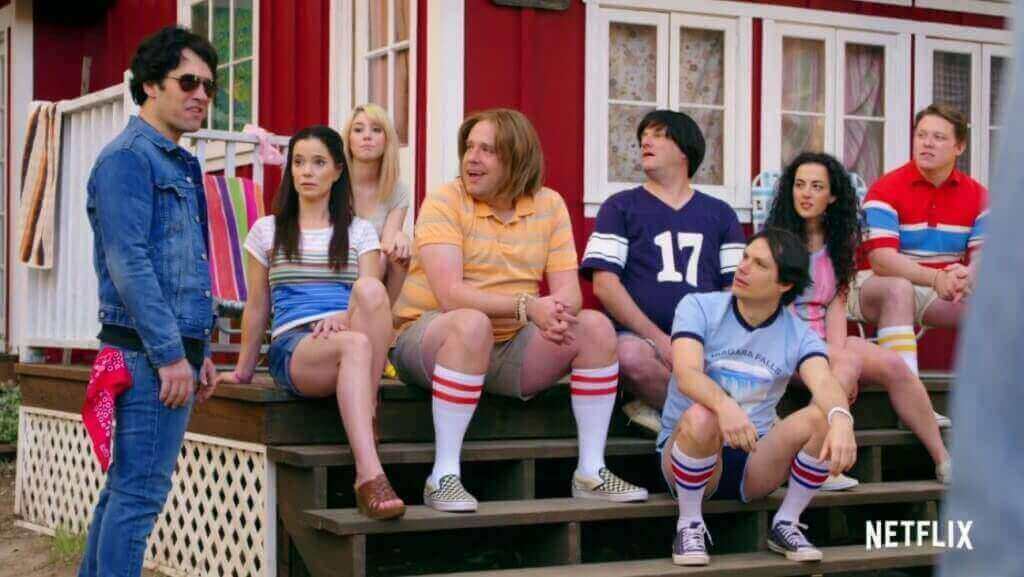 On the other side of the coin, Netflix delivered some great updates to existing TV series as well as introducing a few new ones too. We've got a lot of highlights so here goes.
Updates to popular shows such as Hell on Wheels, Glee and Velvet all saw their latest seasons come to the service.
We also got re-introduced to the guys at camp fireword in Wet Hot American Summer First Day of Camp which came to Netflix a few hours ago. We pick up where we left of (kind of) back at the camp in 1981. Not everyone is going to 'get it' but there's enough big stars here to make it worth a watch.
For the kids, a new season of Turbo FAST raced onto Netflix as well as an update to Marvel's Hulk and the Agents of S.M.A.S.H.
Complete List
Movies
24 Days (2014)
48 Hrs. (1982)
52 Tuesdays (2014)
A Doll's House (1973)
A Nightmare on Elm Street (1984)
Adventures of Pepper and Paula (2015)
Alien Outpost (2014)
Alive (1993)
Almost Famous (2000)
Almost Mercy (2015)
An Act of War (2015)
An Amish Murder (2013)
Anacondas: The Hunt for the Blood Orchid (2004)
Analyze That (2002)
Analyze This (1999)
Ararat (2002)
Archipelago (2010)
Baby Boom (1987)
Bad Hair Day (2015)
Bandits (2001)
Batman (1989)
Below Dreams (2014)
Big Daddy (1999)
Bill & Ted's Bogus Adventure (1991)
Bionicle: The Legend Reborn (2009)
Bulworth (1998)
Burning Secret (1988)
Butch Cassidy and the Sundance Kid (1969)
Cantinflas (2014)
Captive (2012)
Changeling (2008)
Chocolat (2000)
Chris Tucker: Live (2015)
Christie's Revenge (2007)
Come Drink with Me (1966)
Comet (2014)
Complicit (2013)
Conan the Barbarian (1982)
Creep (2014)
Da Sweet Blood of Jesus (2014)
Dancer and the Dame (2015)
Dancing in the Light: The Janet Collins Story (2015)
Dark Summer (2015)
Dave Attell: Road Work (2014)
Days and Nights (2014)
Deep in the Darkness (2014)
Dial a Prayer (2015)
Drive Me Crazy (1999)
Dutch (1991)
El Crimen del Cacaro Gumaro (2014)
Eugene Mirman: Vegan on His Way to the Complain Store (2015)
Faults (2014)
Flashdance (1983)
Foreign Letters (2012)
From Here to Eternity (1953)
From the Dark (2014)
Gerontophilia (2013)
Goodbye to All That (2014)
Grandma's Boy (2006)
Hard Drive (2014)
Hell is for Heroes (1962)
Hercules (2014)
Hombre (1967)
Hostage (2005)
House of the Rising Sun (2011)
How to Marry a Millionaire (1953)
Imaginary Friend (2012)
In Enemy Hands (2004)
Interview with the Vampire (1994)
Jail Caesar (2012)
Java Heat (2013)
Jim Norton: Contextually Inadequate (2015)
Kangaroo Jack (2003)
Keys to Freedom (1988)
Knights of Sidonia – Season 2 (2015)
Kung Fu Hustle (2004)
La Ciudad (1998)
Lady in a Corner (1989)
Loitering with Intent (2014)
love and other catastrophes (1996)
Man Up (2015)
Man Up (2015)
Martial Arts of Shaolin (1986)
Mary Kom (2014)
Monster High: Scaris, City of Frights (2013)
Monsters: Dark Continent (2014)
Mr. Mom (1983)
Of Girls and Horses (2014)
Out of the Dark (1995)
Pastor Brown (2009)
Peace After Marriage (2013)
Pee-wee's Big Adventure (1987)
Penguins of Madagascar: The Movie (2014)
Perfect Stranger (2007)
Pi (1998)
Piglet's Big Movie (2003)
Plague (2014)
Priest of Love (1981)
Renaissance (2006)
Rob Roy (1995)
Rocky (1976)
Rocky II (1979)
Rocky III (1982)
Rocky IV (1985)
Rocky V (1990)
S. F. W. (1995)
Saw V (2008)
Scary Movie (2000)
Serena (2014)
Set Fire to the Stars (2014)
Shaolin Martial Arts (1974)
Shooting Fish (1997)
Silence of the Lambs (1991)
Some Kind of Hero (1982)
Star Trek: Insurrection (1998)
State Fair (1945)
Staten Island Summer (2015)
Still (2014)
Strange Voices (1987)
Street Smart (1987)
Superfast! (2015)
Sweet Blackberry Presents: Garrett's Gift (2007)
Sweet Blackberry Presents: Henry Box Brown (2005)
Sword of Vengeance (2014)
Teacher of the Year (2014)
Teeth (2007)
The Avenging Eagle (1978)
The Beverly Hillbillies (1993)
The Comedian (2012)
The Concert (2009)
The Delta Force (1986)
The Expendables 3 (2014)
The Father's Love (2014)
The Forgotten Kingdom (2013)
The Getting of Wisdom (1978)
The Guest (2014)
The Keys of the Kingdom (1944)
The Krays (1990)
The Last Unicorn (1982)
The Mystic Masseur (2001)
The Mystic Masseur (2001)
The Net (1995)
The Pact 2 (2014)
The Physician (2013)
The Secret of Roan Inish (1994)
The Shaolin Temple (1982)
The Skeleton Twins (2014)
The Terminator (1984)
The Turning Point (1977)
The Unwanted (2013)
The Warriors (1979)
These Final Hours (2014)
Thumbelina (1994)
Todd Barry: The Crowd Work Tour (2014)
Uncommon Valor (1983)
Underworld: Evolution (2006)
Vandal (2013)
War Games (1983)
When Day Breaks (2012)
Wild Canaries (2014)
Worms (2013)
You Got Served (2004)
Zero Motivation (2014)
TV Series/Documentaries
A Gesar Bard's Tale (2014)
A Year in Champagne (2014)
An Honest Liar (2014)
Bad Ink – Season 1 (2013)
Barbie Life in the Dreamhouse – 2 New Episodes (11 & 12) (2012)
Bible Secrets Revealed – Season 1 (2013)
Bitten – Season 2 (2015)
BoJack Horseman – Season 2 (2015)
Carita de Angel – Season 1 (2000)
Chicken Town – Season 1 (2011)
Corvette Nation – 2 Seasons (2014)
Death in Paradise – Series 3 (2013)
Donde Esta Elisa – Season 1 (2010)
El Cartel – Season 1 (2008)
El Cartel 2 – Season 1 (2010)
El Chavo Animado – 4 Seasons (2010)
El Internado – 7 Seasons (2010)
El Secretario – Season 1 (2011)
Genocide (1981)
Glee – Season 6 (2015)
God, Guns & Automobiles – Season 1 (2013)
H2O: Mermaid Adventures – Season 2 (2015)
Hell on Wheels – Season 4 (2014)
Hjordis – Season 1 (2015)
How I Got Over (2014)
Human Planet – Season 1 (2011)
Human Planet: Behind the Lens – Season 1 (2011)
Hurricane of Fun: The Making of Wet Hot (2015)
I Have Never Forgotten You (2006)
Inami – Season 1 (2007)
Invizimals – Season 1 (2013)
Je suis Femen (2014)
Joanna (2013)
La Promesa – Season 1 (2012)
La Ruta Blanca – Season 1 (2012)
La Usurpadora – Season 1 (1998)
Las munecas de la mafia – Season 1 (2009)
Lost Soul: The Doomed Journey of Richard Stanley's Island of Dr. Moreau (2014)
Love & Engineering (2015)
Made in Cartagena – Season 1 (2012)
Marvel's Hulk and the Agents of S.M.A.S.H. – Season 2 (2015)
Monster Quest – 2 Seasons (2010)
My Little Pony: Friendship Is Magic – Season 5 (2015)
Octonauts – Season 3 (2013)
Operacion Jaque – Season 1 (2010)
Opposite Field (2012)
Pancho Villa, Aqui y Alli (2008)
Pantani: The Accidental Death of a Cyclist (2014)
Plot for Peace (2014)
Preachers' Daughters – Season 2 (2014)
Rebelde – Season 1 (2004)
Relaciones Peligrosas – Season 1 (2012)
Rubi – Season 1 (2004)
Scaredy Squirrel – Season 1 (2011)
Sirius (2013)
Storage Wars: Texas – Season 1 (2011)
The Bible Rules – Season 1 (2014)
The Human Experiment (2013)
The Immortalists (2014)
The Killer Speaks – Season 2 (2014)
The Killer Speaks – Season 2 (2014)
The Long Way Home (1997)
The New Black (2013)
The Prime Ministers: The Pioneers (2013)
The Road to Fallujah (2009)
The Search for General Tso (2014)
The True Cost (2015)
The Widowmaker (2015)
The Wrecking Crew (2008)
Tig (2015)
Turbo FAST – Season 2 (2015)
Underwater Dreams (2014)
Velvet – Season 2 (2014)
Victoria – Season 1 (2007)
Violetta – 2 Seasons (2012-2013)
Wet Hot American Summer – Season 1 (2015)
Winston Churchill: Walking with Destiny (2010)
Witches of East End – Season 2 (2014)
WWII From Space (2012)
XH Derbez – Season 1 (2002)
Xiaolin Chronicles – 2 Seasons (2014)
Yakari – Season 1 (2007)