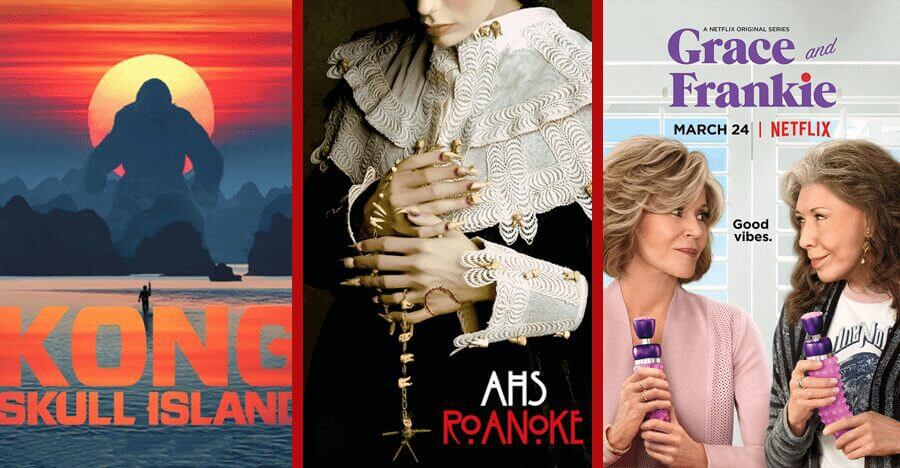 The first month of 2018 is almost over and this past week has welcomed a total of 30 new titles to Australian Netflix. This may not seem like a large amount, but we feel it's more about quality than quantity. 12 new movies, 17 new TV shows and 1 new standup special have been added to your screens. And we're going to cover them all below. As usual, we have picked out three titles specifically to briefly highlight, in the hope of giving you a better idea of where to start watching.
Our first highlight for this week is the 2017 blockbuster 'King Skull Island' starring Tom Hiddleston, Samuel L. Jackson and Brie Larson. The film is the latest adaptation of King Kong and is set in the 1970's following a military expedition to a mysterious island in the South Pacific. The group, led by a team of scientists discover way more than they had bargained for, and must now survive in the very hostile domain of the mighty Kong. The film was received reasonably well upon release and was even nominated for an Oscar.
Another great addition this week is the fourth season of the popular Netflix Original 'Grace and Frankie'. This comedy stars Jane Fonda and Lily Tomlin who become two unlikely friends after discovering that their husbands have actually been romantically involved for 20 years. The show has built up quite a popularity since the first season was released in 2015 and many will be glad to see the 4th is now available.
Lastly, we are happy to say that the sixth season of  'American Horror Story' is now available on Netflix. Also known as Roanoke, this anthology TV show features a returning cast who play a different character from season to season. This 6th season is darker than it's previous installment (Hotel) and is set around the infamous disappearance of the Roanoke Colony, one of the first attempts of a permanent English colony in Northern America. Fans of the show will be pleased they can now binge the 6th season on Netflix.
This week's Honourable mentions include: The 2017 comedy film 'CHIPS', 'The Girl with the Dragon Tatoo', and the 2017 Marvel film 'Guardians of the Galaxy Vol. 2'.
Here is the full list of 30 titles added to Netflix Australia this week:
12 New Movies Streaming to Netflix Australia
Miss You Already (2015)
The Girl with the Dragon Tattoo (2009)
The Girl Who Kicked the Hornet's Nest (2009)
Kong: Skull Island (2017)
CHIPS (2017)
Born to Be Blue (2015)
Blackway (2015)
Bad Day for the Cut (2017)
The Open House (2018)

Netflix Original

Step Sisters (2018) Netflix Original
Guardians of the Galaxy Vol. 2 (2017)
American Hustle (2013)
17 New TV Series Streaming to Netflix Australia
Rita – Season 4 (2015)
Tiempos de guerra – Season 1 (2017)
Gunslinger Girl -Il Teatrino – Season 1 (2008)
Gunslinger Girl – Season 1 (2003)
Godzilla – Season 1 (2017)

Netflix Original

FBI: Criminal Pursuit – Season 2 (2011)
Extreme Animal Obsessions – Season 1 (2013)
Eat Your Words – Season 2 (2015)
Confessions: Animal Hoarding – Season 1 (2010)
American Horror Story – Season 6 (2013)
Drug Lords – Season 1 (2018)

Netflix Original

Grace and Frankie – Season 4 (2018)

Netflix Original

Chelsea – Season 2 (2016)

Netflix Original

Love and Hong Kong – Season 1 (2017)
Monkey Life – Season 8 (2007)
The Naked Truth – Season 1 (2016)
Chef & My Fridge – Season 2 (2014)
1 New Standup Shows Streaming to Netflix Australia
Harith Iskander: I Told You So (2018) Netflix Original