There is a lot of good binging to be had this weekend on Netflix.
Happy Friday the 13th. I have an easy way for you to avoid walking under ladders or stepping on cracks: spend time with Netflix. Pop some popcorn (don't spill the salt), pick up a penny, and binge because you have some great options this weekend. From misplaced space travelers to cake, there truly is something for everyone this weekend. Plus, it's a well-known fact that binging brings you good luck. Seriously.
Below are some highlights of must-add titles for your queue. For your convenience, a full list of the titles added to Netflix this week is at the end of this article. To keep up with additions, be sure to follow our What's New page. It's updated daily.
---
Come Sunday
Netflix Original
Based on a true story, this is a film about faith and doubt. Chiwetel Ejiofor is Carlton Pearson, a Tulsa minister and protégé of evangelist Oral Roberts. When he questions church doctrine, he finds himself branded a heretic. Ejiofor puts forth a marvelous performance and is joined by some pretty great actors. Martin Sheen, Danny Glover, Condola Rashad (Money Monster), Jason Segal, and Lakeith Stanfield (Get Out) all make this a very watchable film. Interesting side note: If you're an NPR fan, this story comes from an episode of This American Life.
---
24 Hours to Live (2017)
This is a movie I turned on just for the sake of saying I looked at it to see if it was watchable and I ended up staying for the whole thing. (Remember: I watch so you don't have to.) Ethan Hawke stars in this revenge thriller as a mercenary who is killed but, through a new procedure, gets a chance to live 24 more hours. It's a great popcorn movie—a tale of redemption with explosions, car chases, fighting and all the other good stuff you look for in a mindless action movie.
---
Greg Davies: You Magnificent Beast
Netflix Original
Greg Davies may be more familiar to our British readers, but you might recognize him as Ken from the Netflix Original show Cuckoo. In his first Netflix standup special he talks about family (the source for his jokes), doing unspeakable things to a stuffed animal, and other cheeky stuff. The bits about his family are hilarious and even a little sentimental. Overall it's a special well worth watching.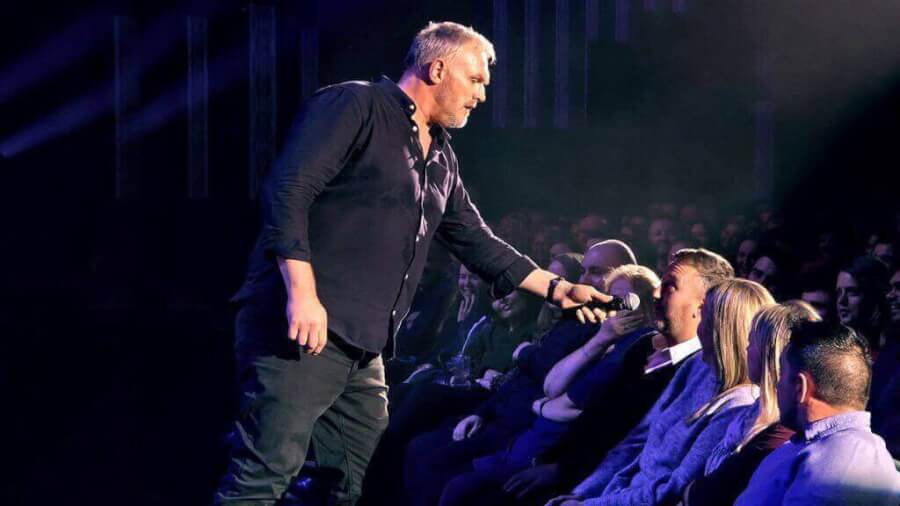 ---
Chef's Table: Pastry
Netflix Original
Since its debut, David Gelb's Netflix series Chef's Table has raised the bar considerably for food documentaries. In fact, the series has earned two James Beard Awards. Now after four seasons of focusing on the savory, we finally get the sweet. The Pastry season features Italian gelato star Corrado Assenza, Spanish chef Jordi Roca, chef Christina Tosi, and dessert tasting-menu guru Will Goldfarb. Netflix really knows how to make food look stunning. You'll definitely be left wanting more.
---
Lost in Space
Netflix Original
This is a pick the whole family can enjoy. As someone who is generally not a fan of this genre, I can tell you I was hooked from the first episode. A reboot, it's about the Robinson family who, after crash-landing on an alien planet, must fight against all odds to survive and escape.
Everything about this show is great, most notably the cast. You connect with every character. Parker Posey particularly stands out in her role as, well, I don't want to spoil it for you. But she is as unhinged as you love her to be. And, as great as the grown-up cast is (Molly Parker from House of Cards and Toby Stephens from Black Sails), the kids are superb. Penny (Mina Sundwall), the middle child, and Judy (Taylor Russell) are especially great. I feel another season is in the future of this show. This is easily the best series Netflix has produced in a while.
---
Complete List of New Titles Added This Week
New Movies
24 Hours to Live (2017)
American Heist (2014)
Come Sunday (2018)

Netflix Original

I Am Not an Easy Man (2018)

Netflix Original

Paheli (2005)
Phir Bhi Dil Hai Hindustani (2000)
The Tiger Hunter (2016)
New TV Series
AMO (Season 1)

Netflix Original

Club Friday To Be Continued – My Beautiful Tomboy (Season 1)
Lost in Space (Season 1)

Netflix Original

New Girl (Season 6)
The Magic School Bus Rides Again (Season 1)

Netflix Original

The Ollie & Moon Show (Season 1)
Unsealed: Alien Files (Season 3)
New Documentaries
Chef's Table: Season 4 (Pastry)

Netflix Original

Fix It and Finish It (Season 1)
New Standup Special
Greg Davies: You Magnificent Beast (2018)

Netflix Original
---
Looking ahead? We publish highlights of the upcoming week each Sunday. Catch it on our Facebook page or in the Coming Soon section of our website.