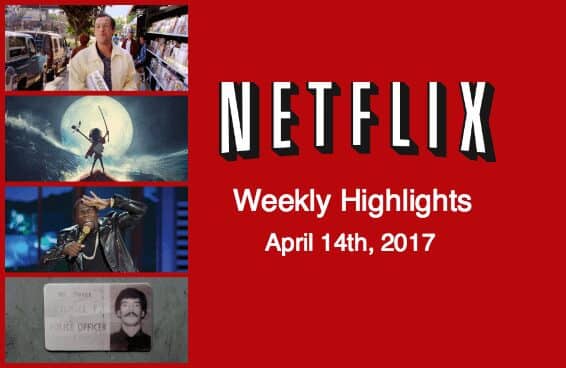 Oh, hello. We've had another week and have some new titles. First, let's talk Chelsea. She's back and apparently she has been going a  lot places in the name of the show. There's also a change to the format this year—a longer show, airing at 8pm on Fridays. She is as political as ever, if that's your cup of tea. If not, well…what can I say?
I feel like I'm typing "love it or hate it" a lot whenever this topic comes up. Melissa McCarthy is on (She talks a little SNL. She's always a hoot.) along with the cast of Nobodies which, after seeing the cast interviewed, is a show I'm going to check out. This new shift in the schedule is going to give Handler more time to cover specific topics and to incorporate her worldwide travels into each hour. I'm looking forward to it.
Now let's look at a few other things you should be adding to your queue for your allotted bingey time. There are quite a few good ones to choose from.
---
Kevin Hart: What Now?
By now we have all gotten used to the lengthy beginning comedians have been adding to their specials. Guest stars, maybe a little story, all wrapped up quickly and introducing the show. I'm not a fan of this new trend, but I digress. This blows them all out of the water. We are treated to a little mini-movie, packed with stars and as funny as the special itself. This was also a record-setting performance. It was filmed outdoors in front of 50,000 people at Philadelphia's Lincoln Financial Field, the first time a comedian has ever performed to an at-capacity football stadium. He's an enteraining guy and I love the way he has incorporated the background screens into his story telling. It adds a whole other element of funny.
---
Kubo and the Two Strings
If you must blink, do it now. The animation house that brought you Coraline and The Boxtrolls now offers you this tale of  a young boy in Japan who accidentally summons a vengeful spirit from his past and sets out to save his family.  Fans of animation and stop-motion craftsmanship are going to love this movie. The attention to detail is magnificent. The texture of the characters and feeling is so alive you feel as if you can reach out and touch it. It's a site to behold and worthy of your time, adults and kiddos alike.
---
 Sandy Wexler
I really wanted to hate this movie. Adam Sandler likes to play dress-up and he likes to make the planet watch it. I know he has enough money at this point to make a movie about grass growing and it wouldn't ding his pocketbook one way or the other. Sandy Wexler has some glimpses of the old Sandler we knew and loved. It makes you nostalgic for those days when he was the tops.  There are glimpses of the fun in there. Like when he's (spoiler alert) in the tree talking on the phone with dogs nipping at his shoes. That was the definition of the things that made Sandler movies Sandler movies: the things in the background. That funny joke as you were pulling away to another scene. He makes the mistake that most reboots and sequels are making—he stretches it out. They take it one joke too far. Is it watchable? You betcha. Jennifer Hudson is wonderful. She really carries the movie. And it is jam-packed with stars. More than half the budget of this movie must have gone to the salaries of all those cameos. There were moments when I laughed out loud and enjoyed it. Watch Sandy Wexler. But maybe save it for a rainy day.
---
Party of Five
I had to add this into the mix. How could I not? Whether you're too young to remember or old enough to reminisce, this is required watching. This drama from the 90s centers on the Salinger siblings and their struggles to pull together and take care of each other after their parents are killed. It's the ultimate lazy day companion.
---
The Seven Five
This movie could have been taken straight from recent headlines. It looks at police corruption in the 75th precinct of the New York Police Department during the 1980s. It centers around Michael Dowd, a man called one of the most corrupt cops in New York City history. His arrest led to one of the largest police corruption scandals ever in NY. Using footage from the Mollen Commission investigation in 1992 and commentary from his partners in crime, it's an enticing watch for lovers of true crime stories.
---
Mystery Science Theater 3000: The Return 
Netflix Original
This show is delightful. Netflix has taken the things we all loved about the original, polished them up a bit, and brought us a new wave of hate-watching! The new cast includes comedian Jonah Ray as the movie watcher and Hampton Yount and Baron Vaughn as the new voices of robots Crow and Tom Servo, his snarky side-kicks. Felicia Day and Patton Oswalt are the evil scientists forcing them to watch movies that would make anyone wish for a quick and painless death. In addition to the primary cast, expect great guest stars including Mark Hamill, Jack Black, Neil Patrick Harris, Joel McHale, Bill Hader and Jerry Seinfeld. It's going to be a fun time!
---
Happy weekend and happy watching!