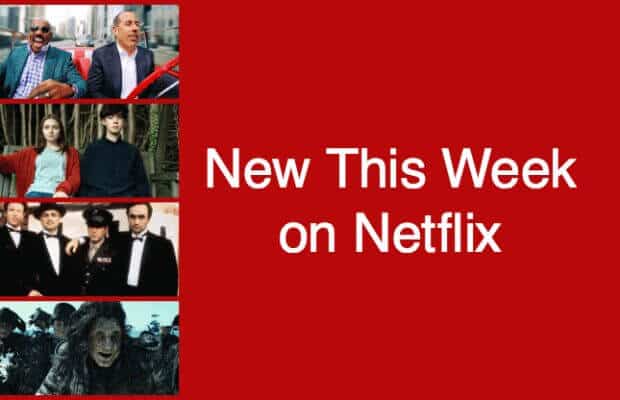 Stuck inside because of the arctic blast? No worries. Netflix has your back big time this weekend.
It's a new week and a new month which means lots of great new titles for you! Are you huddled by the fire trying to stay warm this weekend? Stay inside and put on your comfiest PJs. There are a ton of great new titles to carry you through the next few days including Apollo 13, The Shawshank Redemption, Caddyshack, The Crying Game, Defiance, Breakfast at Tiffany's, and more.
Below we take a look at some titles that should definitely have a spot at the top of your queue.
Article Continues Below...
The Godfather
Get ready to settle in for some high-quality binging. The Godfather trilogy hit Netflix. I know that third one is questionable, but even without it you still have several hours of The Corleone family to make you happy. Leave the gun. Take the cannoli.
---
Comedians in Cars Getting Coffee
Netflix Original
The internet's best show has found a new home at Netflix. The premise is simple: two funny people get in a cool car and go do things. It's a fun, bite-sized binge and all 59 episodes of the show are available along with new episodes with Kristen Wiig, Norm Macdonald, Cedric the Entertainer, Lewis Black, Christoph Waltz and Bob Einstein.
---
Like Water For Chocolate
Based on a novel by Laura Esquivel, Tita and Pedro are deeply in love. Forbidden to marry, Tita's powerful emotions begin to surface in magical ways through her cooking. It has been nominated for and won many awards, including a Golden Globe Award for Best Foreign Language Film.
---
It's The End of the F***ing World
Netflix Original
Imagine Wes Anderson and Quentin Tarantino got together and made a series. Based on the graphic novel, this is the story of two outcast teens who find each other and embark on a road trip. It's a sweet coming of age story. Did I mention one of them is a psychopath that wants to murder the other? Yeah. There's that.
---
The Frozen Dead: Season 1
Netflix Original
This dark French chiller is the story of Detective Martin Servaz who gets pulled back into a case that has haunted him for years. Called to investigate a grisly crime, he discovers it may be connected to his past and a string of current murders. It's a taught watch with plenty of twists. If you're a fan of murder mysteries and thrillers then this is for you.
---
Pirates of the Caribbean: Dead Men Tell No Tales
Disney Exclusive Early Release
This latest installment of the adventures of Jack Sparrow is the perfect popcorn movie. Johnny Depp and Geoffrey Rush return in this fifth film of the franchise which sees Capt. Jack Sparrow down on his luck. When deadly ghost sailors led by his old nemesis, the evil Capt. Salazar, escape from the Devil's Triangle, his only hope of survival lies in seeking out the legendary Trident of Poseidon.
---
Dave Chappelle: Equanimity & The Bird Revelation
Netflix Original
He's back and he has two new Netflix Original Specials. As controversial and reckless as ever, Chappelle explores the current climate of our country as only he can.
What will you be watching this weekend? Let us know in the comments!