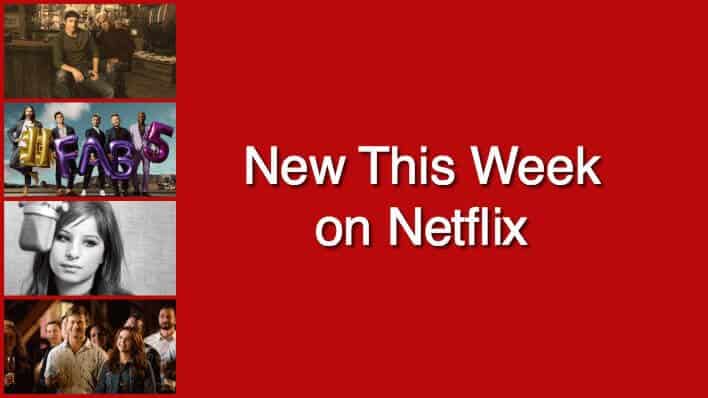 June has been hot and I'm not talking about the temperature. You have a lot of binging ahead of you this weekend with Netflix.
Happy Friday and a happy holiday weekend to all you dads! If all you're dreaming of for Father's Day is time to relax, then dream no more. There are so many binging options for you this weekend you won't know what to watch first. (I won't tell anyone you secretly love Grey's Anatomy.) The big news is added seasons of eagerly anticipated shows. There are several series that got a new season added this weekend. There is something for everyone. Kick back, everyone, and get your weekend started!
Below are my picks for the week. Generally, with each list, I have seen them all and would personally recommend them as individual titles. This week since there are several series, those will be listed together. For your convenience, a full list of the titles added this week is at the end of this article. To keep up with additions be sure to follow our What's New page, updated daily.
Article Continues Below...
---
Set It Up
Netflix Original
Netflix has really finally done it. They made an excellent movie with big stars that could easily be in theaters. This isn't to say they haven't made any good movies. (Gerald's Game springs to mind.) But let's not lie to each other: they haven't had a great track record as far as their original films go.
This film stars Glen Powell (Hidden Figures, The Dark Knight) and Zoey Deutch (Vampire Academy) as two beleaguered assistants who work for the world's most demanding bosses (Lucy Liu and Taye Diggs). They hatch a plan to get their bosses together so they are happier and therefore easier to work for.
These types of films generally try way too hard but I have to say Set It Up pulls it off. It's a fun movie and worth a spot in your weekend queue.
---
Barbra Streisand
If you're a big fan of Babs you are in so much luck. Netflix has just added enough titles that feature the singer/actress to keep you busy all weekend. Even if you aren't a big fan of her concerts, you should definitely check out A Star Is Born.
Barbra Streisand and Other Musical Instruments (1973)
Barbra Streisand: A Happening in Central Park (1968)
Barbra Streisand: The Concert (1994)
Barbra Streisand: Timeless: Live in Concert (2001)
Color Me Barbra (1966)
My Name Is Barbra (1965)
A Star Is Born (1976)
---
Cutie and the Boxer
This Academy Award-nominated movie is a moving account of the chaotic and unconventional 40-year love affair and creative partnership between action painter Ushio Shinohara and his wife, Noriko, also an artist. Ushio, who punches canvases with paint-laden gloves, is famous in Japan and in Manhattan's art circles, yet wider recognition has eluded him. Noriko, 21 years his junior, put her artistic ambitions on hold to be a wife and mother — and an assistant to her demanding husband. Now, Noriko's acclaimed "Cutie" series of drawings, depicting the relationship between the title character and a volatile figure named Bullie, is turning their world upside down.
---
New Seasons of Series
Queer Eye: Season 2
Netflix Original
The boys are back and changing lives.
Wynonna Earp: Season 2
Wynonna Earp keeps on fulfilling her destiny.
The Ranch: Part 5
Netflix Original
Last season ended with a lot of life-changing events and this season is bringing even more.
Portlandia: Season 8
It's still Portlandia and things are still weird. Awesome weird.
Grey's Anatomy: Season 14
Available June 16
Doctors. Drama. What more could you want?
Marvel's Agents of S.H.I.E.L.D: Season 5
Available June 17
Agent Phil is doing his best and keeping us safe.
---
Complete List of New Titles Added This Week
New Movies
My Daddy is in Heaven (2017)
Cutie and the Boxer (2013)
Chronicle of an Escape (2006)
The Imaginarium of Doctor Parnassus (2009)
La hora final (2017)
Lust Stories Netflix Original
Maktub (2018)
Pacificum: Return to the Ocean (2017)
Set It Up Netflix Original
A Star Is Born (1976)
Step Up 2: The Streets (2008)
Sunday's Illness Netflix Original
New Series
Wynonna Earp (Season 2)
Portlandia (Season 8)
The Ranch (Part 5) Netflix Original
The Hairy Bikers' Asian Adventure (Season 1)
Marlon (Season 1)
I Own Britain's Best Home (Season 1)
I Own Australia's Best Home (Season 1)
House Doctor Collection (Season 1)
Grand Designs: Australia (Season 4)
Hollywood Weapons: Fact or Fiction? (Season 1)
The Horn (Season 1)
Liquid Science (Season 1)
Queer Eye (Season 2) Netflix Original 
The Road Trick (Season 1)
Screenland (Season 1)
Social Fabric (Season 1)
True: Magical Friends (Season 1)
True: Wonderful Wishes (Season 1)
Voltron: Legendary Defender (Season 6)
New Documentaries
A New Capitalism (2017)
After the Raves (2016)
Karl Meltzer: Made to Be Broken (2017)
LEGO House – Home of the Brick (2018)
*Barbra Streisand Concerts: See above
---
There are so many choices this weekend! What will you be watching? Let us know in the comments!