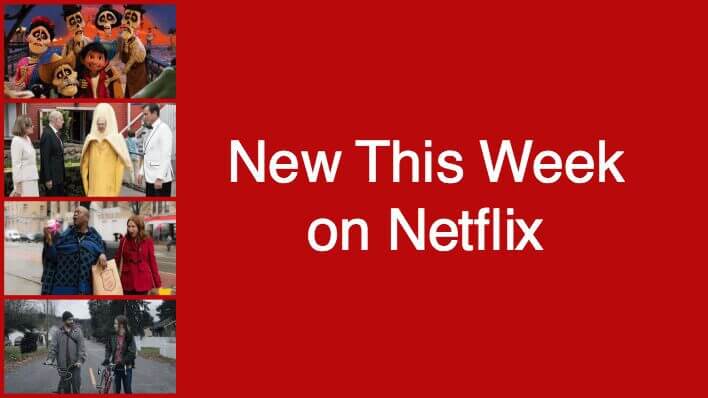 Summertime means streaming time. Lucky you, oodles of great titles hit Netflix this week!
Happy Friday and happy June! It's the first day of the month which means in addition to the usual titles hitting Netflix there's also a number of renewed and returning titles as well. To get you started we have a June 1st Highlights list to help you navigate through the many listings.
Looking ahead, June is going to be a busy month and is already off to a great start. Quite a few excellent titles have been added this week to get you warmed up for all the streaming you have to look forward to this summer!
Below are my picks for the week. As with each list, I have seen them all and would personally recommend them. For your convenience, a full list of the titles added this week is at the end of this article. To keep up with additions be sure to follow our What's New page, updated daily.
---
Coco (2017)
Miguel Rivera (Anthony Gonzalez) is a 12-year-old boy in Mexico who comes from a family of prosperous shoemakers who has banned music from their lives. But Miguel's greatest desire in life is to be a musician like his idol, the legendary Ernesto de la Cruz (Benjamin Bratt). His family is determined to have him follow in their cobbler footsteps and keep him from his dream. Desperate to prove his talent, Miguel finds himself in the stunning and colorful Land of the Dead. After meeting a charming trickster named Héctor, the two new friends embark on an extraordinary journey to unlock the real story behind Miguel's family history.
This is one of Pixar's best movies in some time. It's warm, funny, and absolutely vibrant. The colors in the film are remarkable and the textures look almost real. It has won many awards, including an Oscar and a Golden Globe, and deserves a spot on your weekend watchlist for sure.
---
Bombshell: The Hedy Lamarr Story (2017)
When Nazi U-Boats torpedo a ship carrying 83 school children during World War II, Hollywood movie star, Hedy Lamarr, decides to exact revenge. At night, after shooting her scenes on set, she works on a secret radio system that will allow the Allies to torpedo Nazi U-Boats with deadly accuracy. Her sketches remain ideas until a chance encounter with an eccentric composer enables her to transform them into useful technology. The secret communication system she creates is groundbreaking and eventually changes the course of history.
---
Unbreakable Kimmy Schmidt: Season 4: Part 1
Netflix Original
This show really has it all. It manages to tackle weighty issues but in the most hilarious way. Kimmy is, after all, a kidnapping and cult survivor. This season addresses some very timely issues and Kimmy is also going to have to address some painful subjects. The magic of it all is that it's never preachy. The wackiness, the pop culture references, the sensational back and forth between the characters is all there. It's a show that's aware of itself in the best way possible.
---
Arrested Development: Season 5
Netflix Original
The Bluth family is back and as corrupt and narcissistic as ever—just the way we like them. The big question is does the series hold up? It does. It jumps right in where the debacle season four left off, with the characters still working some of those storylines out. But this season sees them coming together again for a very important campaign. And what happens to Lucille 2?! You'll have to watch to find out. A couple of clunky moments aside, this is a solid return for the series and would make an excellent weekend binge.
---
Outside In (2017)
Jay Duplass stars in this compelling drama about a man jailed for a crime he didn't commit who is granted early parole thanks largely to the tireless advocacy of his former high-school teacher (Edie Falco). As he struggles with adjusting to the outside world he develops a complicated relationship with the teacher and a friendship with her daughter. Duplass and Falco really become these characters. It's a quiet and deep film worth a spot in your queue.
---
Complete List of New Titles Added This Week
New Movies
Sara's Notebook

Netflix Original

Colours of Passion
Coco (2017)
Would You Rather (2012)
The Prince & Me 4: The Elephant Adventure (2010)
The Nutcracker (1993)
The New Age (1994)
The Departed (2006)
The Covenant (2006)
The Boy (2016)
That Night (1992)
Taking Lives (2004)
Singularity (2017)
Rumor Has It (2005)
Righteous Kill (2008)
Outside In (2017)
Nick and Norah's Infinite Playlist (2008)
Natsamrat (2016)
National Treasure (2004)
Miracle (2004)
Just Friends (2005)
Carpool (1996)
Blue Jasmine (2013)
Bad Genius (2017)
B.A. Pass 2 (2017)
Assassination Games (2011)
101 Dalmatians (1996)
New TV Series
The Break with Michelle Wolf (S1 – E1)

Netflix Original

Something in the Rain (Season 1)
Lockup: Raw (1 Season)
Good Witch (Season 3)
Arrested Development (Season 5)

Netflix Original

Unbreakable Kimmy Schmidt(Season 4 – Part 1)

Netflix Original

The Flash (Season 4)
My Next Guest Needs No Introduction With David Letterman (Season 1 – Episode 6): Howard Stern

Netflix Original

Whisker Wars (Season 1)
The Sniffer (Season 3)
November 13: Attack on Paris (Limited Series)

Netflix Original

Hairy Bikers Chicken and Egg (Season 1)
Gabru: Hip Hop Revolution (Season 1)
Escape to the Continent (Season 1)
100% Hotter (Season 1)
New Documentaries
Bombshell: The Hedy Lamarr Story (2017)
Terms and Conditions May Apply (2013)
Pedal the World (2015)
He Named Me Malala (2015)
Bobbi Jene (2017)
Beyond JFK (1992)
---
What will you be watching this weekend? Let us know in the comments!