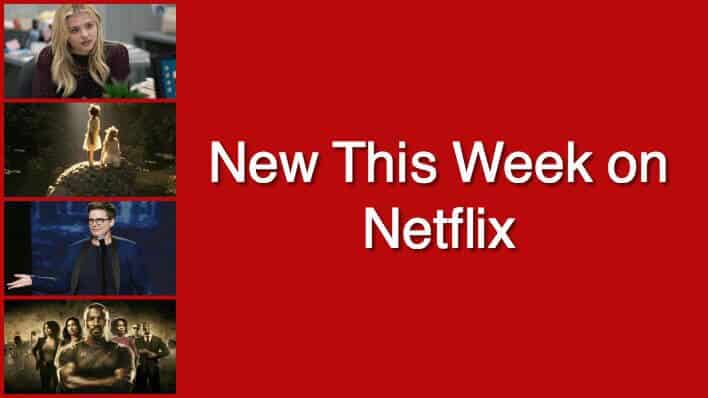 What this week lacks in quantity it makes up for in quality. You have plenty of great watching ahead this weekend on Netflix.
Happy summer! We've officially reached the time where you need an excuse to stay indoors. Sun is for suckers. You want to binge! Your savior Netflix is here with lots of screen time worthy of your eyeballs. It wasn't an especially big week for new titles, but what got added is worth a look.
Below are my picks for the week. As with each list, I have seen them all and would personally recommend them. For your convenience, a full list of the titles added this week is at the end of this article. To keep up with additions be sure to follow our What's New page, updated daily.
---
Brain On Fire
Netflix Original
Chloë Grace Moretz stars in this film based on the true story of journalist Susannah Cahalan. A promising young writer for The New York Post, her life is suddenly turned upside down when she begins to experience strange voices in her head and seizures. She becomes violent and eventually catatonic as doctors are baffled as to her condition. Finally, with the help of one dedicated doctor, she has hope for a new lease on life. While I do wish we got more time with the diagnosis part of the story in this film, it's still a good watch. Tyler Perry and Jenny Slate are worthy additions to this movie. If you like medical dramas then this one is for you.
---
Luke Cage: Season 2
Netflix Original
The second season of the hit Netflix series is finally here. This season brings a lot of internal conflict for Luke as well as two new villains to deal with. Alfre Woodard is outstanding in her role this season as Mariah Dillard. After being ousted as a politician she has turned to a life of crime and she is determined to make her mark.
We also have the new villain named Bushmaster (The Deuce's Mustafa Shakir). A seemingly indestructible Jamaican gangster with a power comparable to Luke's, he wants to take over Mariah's neighborhood.
Although I personally feel Marvel needs to let go of that 13 episode run (it could be told in fewer episodes and tightened up) it's still fun and has good action. It will definitely keep you occupied this weekend.
---
Hannah Gadsby: Nanette
Netflix Original
You may not be familiar with her name, but Hannah Gadsby has been in the comedy business for over a decade. Now she brings her critically acclaimed and award-winning special to Netflix. The special is made of serious stuff but delivered in such an innovative way you may not even notice. Gadsby is funny, acerbic, and smart. It's comedy that ends up breaking comedy down. And it's worth every minute.
---
A Little Princess (1995)
This family movie is based on the novel by Frances Hodgson Burnet, author of The Secret Garden. This enchanting film centers on a young girl taken from a rich life in India and placed in a boarding school in the United States when her father must leave her to fight in the war. Headstrong, she clashes with the headmistress and soon finds herself in a position of servitude. Her imagination and ability to embrace her friends help her along the way. This is a movie aimed at children, but it turns out to be a wonderful adventure for adults. It's a triumph and pleasure to watch. This definitely deserves a spot in your list this weekend.
---
Bonus:
Queer Eye in Yass, Australia!
Netflix Dropped A Bonus Queer Eye Episode On YouTube. The gang heads to a town named Yass (Yup. That's for real.) to spread their joy and knowledge. Check out the bonus episode below.
---
Complete List of New Titles Added This Week
Movies
The Elevator: Three Minutes Can Change Your Life (2013)
A Little Princess (1995)
The Many Faces of Ito
Derren Brown: Miracle (Special) Netflix Original
Brain on Fire Netflix Original
Series
Marvel's Agents of S.H.I.E.L.D.(Season 5)
Grey's Anatomy (Season 14)
Love Rhythms – Accidental Daddy (Season 1)
Club Friday (Seasons 1 to 7)
Club de Cuervos Presents: The Ballad of Hugo Sánchez (Season 1)
Luke Cage: Season 2 Netflix Original
Heavy Rescue 401: Season 2
Cooking on High (Season 1) Netflix Original
Documentaries
The Vietnam War (2017)
Standup
Hannah Gadsby: Nanette Netflix Original
---
What will you be watching this weekend? Let us know in the comments!