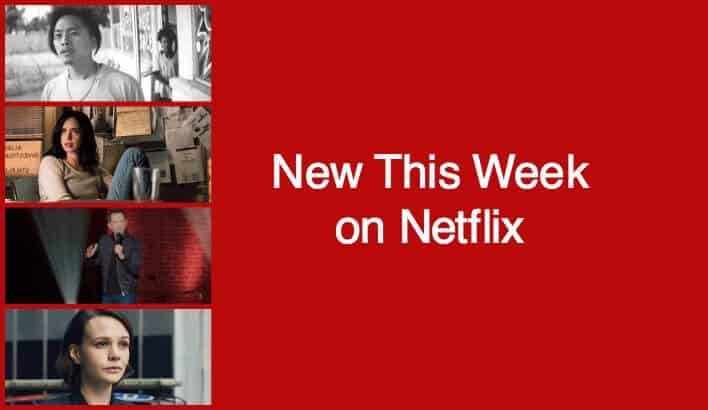 There are so many great Original titles to choose from this weekend on Netflix!
It's finally Friday! You deserve to relax and Netflix has plenty to offer this weekend. If you're in the mood for something light with the kids, three adorable Benji movies were added this week. Back for its third and final season is the Netflix Original series, Love. It's a look dating from both sides of the relationship.
It's time put your feet up and check out these highlights from the week. You have binging to do.
Article Continues Below...
Jessica Jones Season 2
Netflix Original Series
Easily the most anticipated addition of the week, the second season of Jessica Jones was released on March 8 in celebration of International Women's Day. Krysten Ritter is dynamic as the anti-hero Superlady and gives a compelling performance, as expected. This season proves to be more of a slow burn than the first, but still worthy of your time.
---
My Next Guest Needs No Introduction
Netflix Original Series 
David Letterman is back with a new episode of his interview show and another top echelon guest, perfect for Women's History Month.
At a young age, Malala Yousafzai was already making history by speaking out for female education in northwest Pakistan. She rose in prominence, giving interviews in print and on television, and she was nominated for the International Children's Peace Prize.
On 9 October 2012, Yousafzai was shot by a Taliban gunman in an assassination attempt in retaliation for her activism.
I urge you to watch Dave's wonderful interview with this incredible young woman. I also recommend the movie He Named Me Malala, available now from Netflix.
---
Gook
This ambitious, sharp-eyed film looks at bigotry through the eyes of two Korean brothers in L.A.'s South Central in 1992. Eli and Daniel, two Korean American brothers who own a struggling women's shoe store, have an unlikely friendship with 11-year-old Kamilla. On the first day of the L.A. riots, the trio must defend the store while contemplating the meaning of family and thinking about personal dreams and the future.
---
Collateral
Netflix Original Limited Series
A co-production between the BBC and Netflix, Carey Mulligan stars in this crime drama directed by S.J. Clarkson (Jessica Jones) and written by Oscar-nominated David Hare (The Hours). Consisting of four episodes, the story takes place over four days in London. Mulligan plays DI Glaspie, a detective tracking an elusive killer who stumbles into a conspiracy fueled by xenophobia, intrigue and cold-blooded murder.
---
Worth A Look:
Gad Elmaleh: American Dream, Netflix Original Comedy
Borderliner, Netflix Original Series
Looking for titles to watch for Women's History Month? Check out Netflix Originals with strong female leads.
What will you be watching this weekend? Let us know in the comments!