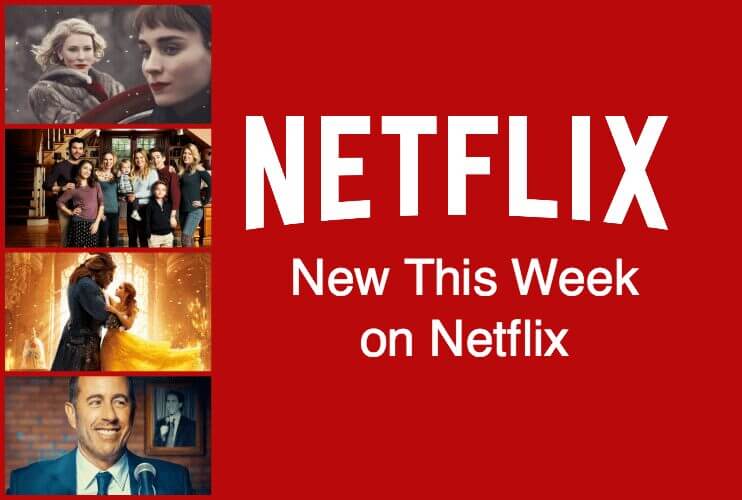 New week, new titles. Netflix has been getting some great additions lately and this week was no exception. Frankly, it was kind of hard narrowing the choices down. Now that's a dilemma I'll take any day. Enjoy the first weekend of Autumn with some of these choices.
GaGa: Five Foot Two 
Netflix Original
Even if you aren't a big fan of Lady Gaga (like myself) there is so much in this documentary to be enjoyed and respected. Unlike the self-promoting docs we've seen of late put out by pop stars, this film really goes beyond the endless shots of adoring fans and concert highlights to really get down to the lady herself. It's up close and personal and inspired a new respect from me for this woman. She isn't a pop star. She really is an artist.
---
Jerry Before Seinfeld 

Netflix Original 
This greatest hits collection allows us a look at the man and his beginnings in the comedy world. For fans, revisiting these jokes is like a cup of cocoa and a blanket—so comforting. A reminder of what made us love him in the first place. It's a fun trip down memory lane.
---
Carol
The recipient of five Golden Globe Award nominations and six Academy Award nominations, this film about a forbidden affair is quite incredible. Detailing the love between an aspiring female photographer and an older woman going through a difficult divorce, stars Cate Blanchett, Rooney Mara, Sarah Paulson, Jake Lacy, and Kyle Chandler are all fantastic. This one deserves to be placed at the top of your queue.
---
Call the Midwife Season 6
Adapted from the best-selling memoirs of Jennifer Worth, this drama series is a moving, funny, colorful look at midwifery and family in 1950s East End London. It follows newly qualified midwife Jenny, who joins an eccentric, lovable community of nuns who are nurses. Initially disheartened by her surroundings, Jenny gradually begins to find her way and develops incredible friendships among the nurses, as they are drawn into the lives and homes of the women and families they treat.
---
Beauty and the Beast
This live-action re-telling of the animated classic stars Emma Watson (Harry Potter) as Belle, a bright, beautiful, and independent young woman who is taken prisoner by a beast in his castle. Despite her fears, she befriends the castle's enchanted staff and learns to look beyond the Beast's hideous exterior and into the kind heart and soul of the true Prince within.
---
Fuller House Season 3 
Netflix Original
Your favorite family is back and just as troubled with after-school special problems as ever. From relationship woes to wacky situations, there is no shortage of saccharine-laced drama and syrupy endings. Some things never change and this airy show will make you feel just as heartened as ever.
---
Manhunt Season 1
This Discovery Channel show depicts a fictionalized account of the true story of the FBI's hunt for the man known as the Unabomber. It follows Jim Fitzgerald, the FBI agent who tracked down Ted Kaczynksi, aka the "Unabomber," and brought him to justice through his expertise in profiling and linguistics. Featuring a sensational cast, including Sam Worthington and Chris Noth, it's a compelling binge.
Did I miss anything? What are you looking forward to watching this weekend? Let me know in the comments! Happy weekend and happy streaming.