Listen up Netflixers in the UK, we've got your May 2016 new releases coming up. As always, there'll be more titles to be added and you can check back here every Friday for a full list of what's new on Netflix UK. In the meantime, it's time to take a look at the titles that are set to fill up your queue's in May and it's a mixed bag.
Highlights
Movies

When we said mixed bag above, we were mainly referring to the movies scheduled to come to Netflix UK in May. Let's kick off with the 2000 movie, Gladiator. The massive movie starring Russell Crowe is a real gem and still remains a fantastic movie even after 16 years, doesn't that make you feel old. Rewinding back to the Rome empire, it's a story of how one shamed military commander rises in the gladiator fighting arenas.
Just in time for the release of its sequel, Bad Neighbours joins Netflix midway through the month but probably not for long so get streaming it as soon as it arrives. The comedy from 2014 tells the story of a couple with a newborn has their life thrown upside down when a frat college club moves in next door. It stars Seth Rogan and Zac Efron and genuinely laugh out loud moments and add to that how popular the movie was, it's a great score for Netflix and a perfect way to prepare for the sequel.
Finally this month, we'd recommend go checking out the animated movie for The Hulk called Planet Hulk, it's far better than the handful of mediocre live action movies and is also the perfect way to prepare for the release of Captain America : Civil War.
Article Continues Below...
TV Series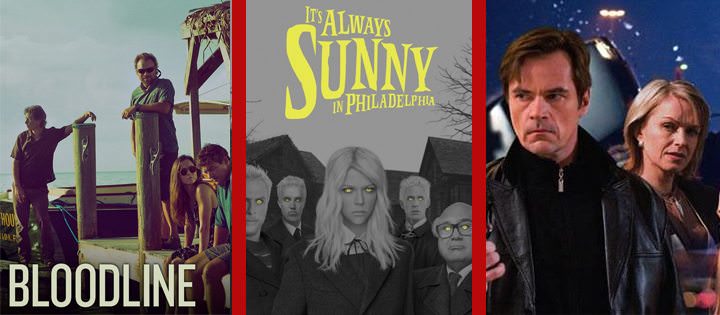 Things look a bit better on the new series joining Netflix with some great Netflix Originals getting their second series and an early release of Always Sunny in Philadelphia. Bloodlines is the first of the two big Netflix Originals coming in May. In the show, we'll be heading back to the Florida Keys once again to join up with the Rayburn family who continue to fight off their illusive past and keep Danny from revealing their secrets. Season 1 was a little slow in my opinion so hopefully season 2 ups a gear. Grace and Frankie, the comedy original will also be returning in May.
Always Sunny in Philadelphia season 11 will be joining Netflix in May which is months before we'd expect the show to release but we're not complaining. The show continues to go from strength to strength even after a channel change in the states which usually spells the beginning of the end for a TV show. Lastly this month we thought we'd highlight an excellent international TV series. Coming from Finland, we're getting all three seasons of the crime drama Easy Living. It's one of the best rated shows in Finland right now should definitely be on your watch list.
Complete List of Titles Coming to Netflix UK in May
1st May
12 Years Promise (Season 1)
Ava's Possessions (2015)
Black Friday (2007)
The Black Stallion (1979)
The Champions (All seasons – 1968 to 1969)
The Confessions of Thomas Quick (2015)
Dark Horse (2015)
Deadly Impact (2010)
Easy Living (Seasons 1–3)
An Education (2009)
Full Out (2015)
The Hooligan Factory (2014)
I Am Road Comic (2014)
Kevin Hart Presents Keith Robinson: Back of the Bus Funny (2014)
Kevin Hart Presents Lil Rel: RELevent (2015)
Kevin Hart Presents: Plastic Cup Boyz (2014)
Last (Season 1)
Leprechaun (1993)
LoliRock (Season 1)
A Matter of Faith (2014)
My Last Day Without You (2011)
Palm Trees in the Snow (2015)
Paradox (2010)
Planet Hulk (2010)
The Return of the Living Dead (1985)
Sammy J & Randy in Ricketts Lane (Season 1)
She's Beautiful When She's Angry (2014)
Somm: Into the Bottle (2015)
Soul Mates (Season 1)
Species IV: The Awakening (2007)
Starboard Light (2014)
The Substitute (1996)
Terra (2007)
That Gal … Who Was in That Thing: That Guy 2 (2015)
Tom Petty & the Heartbreakers: Runnin' Down a Dream (2007)
Traitor (2008)
Triumph of the Spirit (1989)
Welcome to Leith (2015)
Who's Driving Doug (2016)
X-Men (2000)
3rd May
Bikes vs Cars (2015)
Julius Jr. (Season 2)
4th May
Marseille (Season 1)
Once Upon a Time (Season 5) – Complete Season
5th May
6th May
Ali Wong: Baby Cobra (2016)
Grace and Frankie (Season 2)
7th May
No Filter The Film (2015)
Red Army (2014)
8th May
Bad Neighbours (2014)
The Chosen Ones (2015)
It's Always Sunny in Philadelphia (Season 11)
9th May
13th May
All Hail King Julien (Season 3)
Asthma (2014)
15th May
Invizimals: Dimensional Battles
Redfern Now (Season 1 & 2)
Redfern Now: Promise Me (2015)
The Road to El Dorado (2000)
Sinbad: Legend of the Seven Seas (2003)
You Carry Me (2015)
18th May
A Girl Like Her (2015)
Gladiator (2000)
Funny Girl (1968)
Kung Fu Hustle (2004)
Mind Hunters (2004)
To Rome with Love (2012)
20th May
Finders Keepers (2014)
Momentum (2015)
27th May