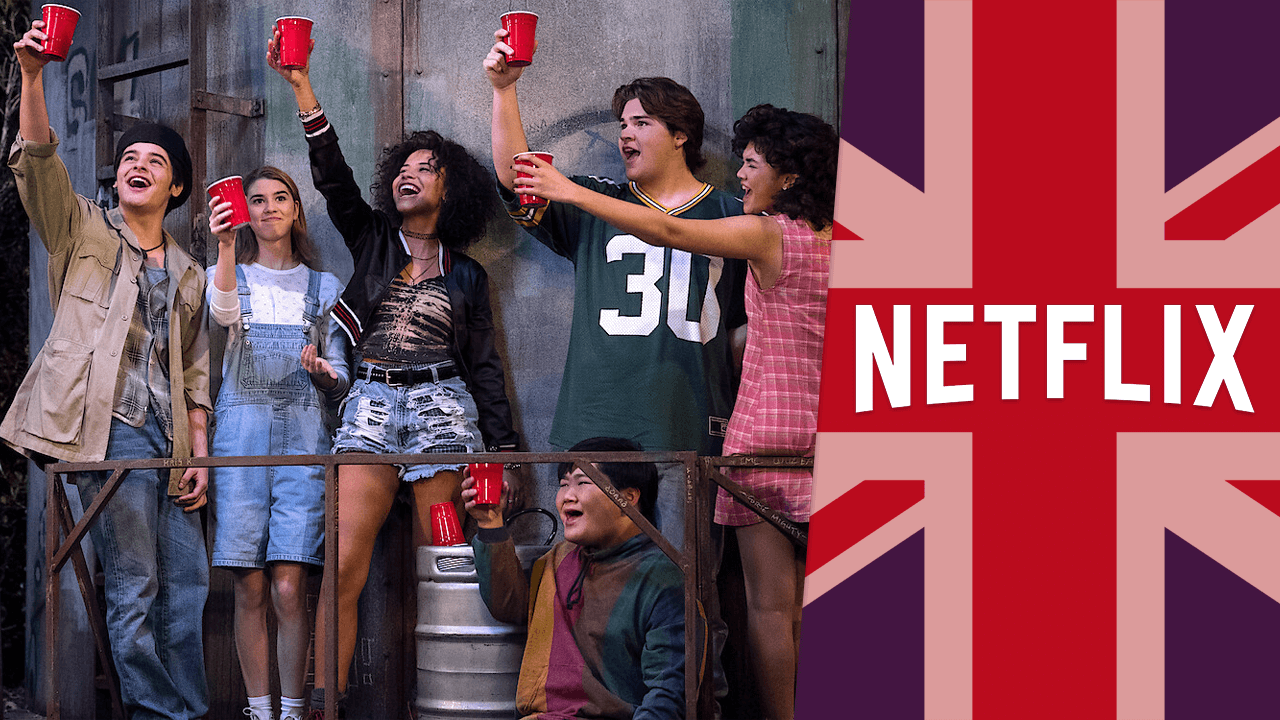 There are certainly fewer titles this week than in recent weeks, however, the 36 new movies and TV shows added to Netflix UK are packed full of exciting new originals.
First of all, here are the week's top highlights:
---
That '90s Show (Season 1)
N
Seasons: 1 | Episodes: 10
Genre: Comedy | Runtime: 25 Minutes
Cast: Debra Jo Rupp, Kurtwood Smith, Callie Haverda, Ashley Aufderheide, Mace Coronel,
Article Continues Below...
Just over 15 years ago, That '70s Show came to an end. And, not to make anyone feel old but there's a decade gap between a show made in the 2020s about the '90s than there is a show made in the late '90s about the '70s… Food for thought as millennials contemplate that the '90s is the equivalent of the '60s for kids growing up today.
Set in Wisconsin in 1995, Follows Leia Forman, daughter of Eric (Topher Grace) and Donna (Laura Prepon), who is visiting her grandparents for the summer and bonds with a new generation of Point Place kids under the watchful eye of Kitty and the stern glare of Red. Sex, drugs, and rock 'n' roll never dies, it just changes clothes.
https://www.youtube.com/watch?v=F36HBFGxWkg
---
JUNG_E (2023)
N
Director: Yeon Sang-ho
Genre: Action, Sci-Fi | Runtime: 99 Minutes
Cast:  Kang Soo Yoon, Kim Hyun Joo, Ryu Kyung Soo
Fans of Train to Busan will be excited to see Yeon Sang Ho back in the director's seat for another Netflix project. However, JUNG_E is the last performance for South Korea's award-winning actress Kang Soo Yoon who sadly passed away in May 2022.
Set in the 22nd century, climate change has caused the planet to become uninhabitable and humans live within a man-made shelter. A war takes place within the shelter. Jung Yi is the elite leader of the allied forces. She becomes the subject of a brain cloning experiment. The cloning experiment is a potential key to winning the war.
---
Kevin & Perry Go Large (2000)
Director: Ed Bye
Genre: Comedy | Runtime: 82 Minutes
Cast: Harry Enfield, Kathy Burke, Rhys Ifans, Laura Fraser, James Fleet
Kevin and Perry, two 15-year-old teenage boys that are desperate to lose their virginity manage to stop a bank robbery, earning them enough money to afford a trip to Ibiza, the party capital of Europe. Kevin dreams of being a singer, Perry aspires to be a DJ, and in Ibiza, the island of their dreams where they might just lose their virginities and become superstars.
---
Here are the Latest Additions to Netflix UK This Week
21 New Movies Added to Netflix UK This Week: January 20th, 2023
13 Hours: The Secret Soldiers of Benghazi (2016)
Ali (2001)
Alkhallat+ (2023)

N

Bank of Dave (2023)

N

Christmas Wedding Planner (2017)
Don't Say a Word (2001)
Ghodwa (2021)
Going to Heaven (2015)
In Line (2017)
JFK (1991)
JUNG_E (2023)

N

Kaapa (2022)
Kevin & Perry Go Large (2000)
Mission Majnu (2023)

N

Ritsa: Three Colors of Love (2021)
Runaway Jury (2003)
The Client (1994)
The Devil to Pay (2019)
The Last Full Measure (2019)
Under Siege (1992)
Varalaru Mukkiyam (2022)
12 New TV Shows Added to Netflix UK This Week: January 20th, 2022
Awaken (Season 1)
Baptiste (Season 2)
Booba (Season 5)
Crash Course in Romance (Season 1)

N

Fauda (Season 4)

N

Junji Ito Maniac: Japanese Tales of the Macabre (Season 1)

N

MIU404 (Season 1)
Quartet (Season 1)
Represent (Season 1)

N

Shanty Town (Season 1)

N

That '90s Show (Season 1)

N

Women at War (Limited Series)

N
2 New Reality Shows Added to Netflix UK This Week: January 20th, 2022
Bake Squad (Season 2)

N

Bling Empire: New York (Season 1)

N
1 New Documentary Added to Netflix UK This Week: January 20th, 2022
---
What will you be watching on Netflix UK this week? Let us know in the comments below!