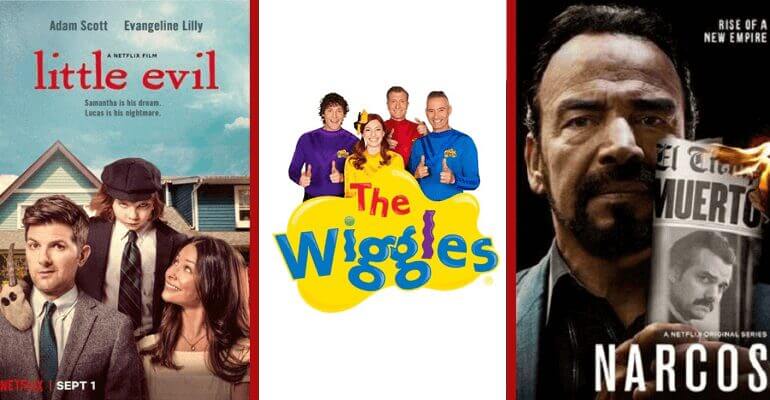 A new month and a whole new load of entertainment. We're now at the beginning of the month and this week, September 1st 2017, a total of 85 new titles were added to Netflix UK. That includes 55 new movies, 19 new TV series, 10 new documentaries and one new stand-up special. We're here to tell you all about our top three picks out of the lot, though this week it's a close call.
First up is one of the most popular foreign Netflix Original series Narcos. This series welcomed its third series this week and many will have been waiting for its arrival. One man, Pablo Escobar, has the power in his hands. It seems that controlling him is something that's proven difficult in Colombia. Narcos follows the real life stories of the drug lords of the 80s but the real question is: What happens now that Escobar is dead? Find out in season three.
Our next pick is another Netflix Original called Little Evil (2017). This movie is about a man named Gary who has just married the woman of his dreams. He can't believe his luck. However, the more time he spends with his new step-son Lucas, the more he realises there's something very dark and strange about him. Once Gary gets to know Lucas a bit better and understands his past, he realises that he might actually be a demon. He could be the antichrist. This movie might sound like a horror and you're right however, it's also a comedy. It's a dark comedy full of surprises.
Lastly, we have a few titles for the kids. A few movies and TV shows have been added including The Wiggles (Season 1), The Wiggles: Dial E for Emma (2016), The Wiggles: Go, Santa Go! (2013) and Wiggle Town! (2016). Your kids can watch their favourite preschoolers entertain them with songs, choreography and adventures. The movies and series follows different stories with the same entertainment, so there's plenty to enjoy and keep them out of mischief!
85 New Titles on Netflix UK This Week
55 New Movies on Netflix UK
Aakhri Adaalat (1998)
American Ninja 4: The Annihilation (1991)
Bleed for This (2016)
Boyz n the Hood (1991)
Buster's Mal Heart (2016)
Captive (2015)
Chadi Jawani Budhe Nu (1976)
Ek Jaan Hain Hum (1983)
Everybody Loves Somebody (2017)
Fame (2009)
Fantastic Four (2015)
Greenberg (2010)
IP Man: The Final Fight (2013)
Khoon Khoon (1973)
Kill Bill: Vol 1 (2003)
Kill Bill: Vol 2 (2004)
Killing Me Softly (2002)
Lions for Lambs (2007)
Little Evil (2017) Netflix Original
Lorai: Play to Live (2015)
Lunch Time Heroes (2015)
Madre (2016)
Mandela: Long Walk to Freedom (2013)
Manoranjan (1974)
Masquerade (1988)
Men in Black (1997)
Miracle Beach (1992)
Murjrim (1989)
No Estamos Solos (2016)
Oddbods (2016)
Offline – Das leben ist kein bonuslevel (2016)
Papa: Hemingway in Cuba (2015)
Resident Evil: Apocalypse (2004)
Resident Evil: Extinction (2007)
She's Gotta Have It (1986)
Ski School (1990)
Sohni Mahiwal (1984)
The Adventures of Priscilla, Queen of the Desert (1994)
The Chase (1966)
The Distinguished Citizen (2016)
The Drowning (2017)
The Electric Horseman (1979)
The Expendables 3 (2014)
The Gaurdian Brothers (2016)
The Greatest Story Ever Told (1965)
The Hippopotamus (2017)
The Last Brother (2017)
The Other Boleyn Girl (2008)
The Squid and the Whale (2005)
The Walk (2015)
The Wiggles: Dial E for Emma (2016)
The Wiggles: Go, Santa Go! (2013)
When Love Happens (2014)
Wiggle Town! (2016)
Zone Troopers (1985)
19 New TV Series on Netflix UK
A Boy Name Flora A (Season 1)
A House of Blcoks (Season 1)
All About Love (Season 1)
FINAL FANTASY XIV Dad of Light (Season 1) Netflix Original
Gotham (Season 3)
Keep the Marriage as Jade (Season 1)
LEGO Elves: Secrets of Elvendale (Season 1)

Netflix Original

Love Through A Millennium 2 (Season 1)
Narcos (Season 3) Netflix Original
Prisoner Zero (Season 1)
Shameless (Season 6)
The Royals (Season 1)
The Story of Diana (2017)
The Wiggles (Season 1)
Transformers: Robots in Disguise (Season 1)
West Coast Customs (Season 5)
Wissper (Season 1)
Wynonna Earp (Season 1)
YooHoo & Friends (Season 2)
10 New Documentaries on Netflix UK
Born to Be Free (2016)
Concrete Football (2016)
Dying to Know: Ram Dass & Timothy Leary (2016)
New Documentaries
Resurface (2017)
Rocco (2016)
Sex: My British Job (2013)
The B-Side: Elsa Dorfman's Portrait Photography (2016)
The Last Shaman (2016)
Todo Sobre El Asado (2016)
Who the F**K is that Guy (2017)
1 New Stand-up Special
Ryan Hamilton: Happy Face (2017) Netflix Original