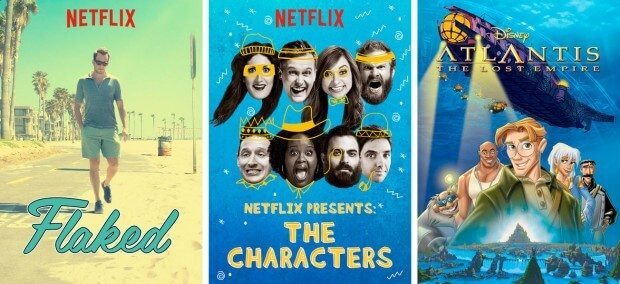 Netflix Originals are the order of the week with not one, but two new ones arriving. First up we have Will Arnett's "Flaked" where he stars as a self-help guru who requires rather a lot of help himself. All 8 episodes are available now. The second Netflix Original this week is the comedy/improv show "Netflix Presents: The Characters". Starring eight up-and-coming comedians, the series is a mixture of comedy sketches and improvisation with each comedian creating their own episode of the show. All 8 episodes are available now.
Following on from the recent addition of (another) Netflix Original, "Fuller House", this week we have been given the show that it was based on – "Full House". All 8 original seasons from 1987-1994 are now available and give you the chance to see where it all began. D.J., Stephanie and Michelle are sisters who live with their widowed dad, uncle and their dad's best friend. When their uncle gets married and has twins of their own, they end up with a rather full house.
A slightly obscure addition this week is "Hell and Back" – a stop motion adventure through the underworld. When Curt gets dragged into hell, his two best friends Remy and Augi must rescue him by facing the devil himself. With an all-star cast of comedians and voice artists this film is full of crude and sexual lines – probably one to watch once the kids are in bed…
Speaking of kids, Disney's "Atlantis: The Lost Empire" has been made available again on Netflix UK. This animated adventure from 2001 follows a team of explorers as they head under the sea in search of the fabled lost city of Atlantis.
Read on for the full list of this week's additions:
New Movies Streaming on Netflix UK:
Atlantis: The Lost Empire (2001) – Streaming Again
The Falcon and the Snowman (1985)
Halo: The Fall of Reach (2015)
Hell and Back (2015)
Janoskians: Untold and Untrue (2016)
Men of Honor (2000) – Streaming Again
The New Girlfriend (2014)
Pirates of the Caribbean: The Curse of the Black Pearl (2003) – Streaming Again
New Documentaries Streaming on Netflix UK:
Jumbo Wild (2015)
New TV Series Streaming on Netflix UK:
Cuckoo (2014) [Series 1-2 Added]
Flaked (2016) [Season 1 Added]
Full House (1994) [All 8 Seasons Added]
Netflix Presents: The Characters (2016) [Season 1 Added]