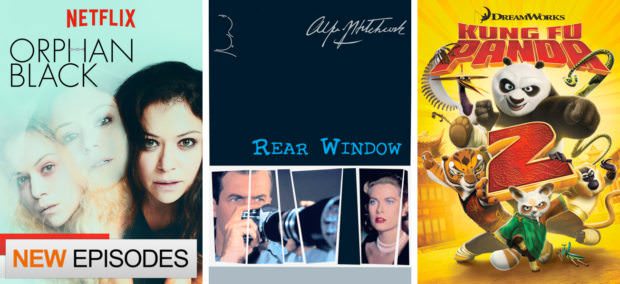 Hitchcock fans will be pleased this week with the arrival of both "Rear Window" and "Vertigo". "Rear Window" is the 1954 film about a photographer who breaks his leg getting an action shot. Now wheelchair-bound and recovering he likes to spend his time looking out his bedroom window but becomes convinced that his neighbour has murdered his wife. He enlists the help of his girlfriend and nurse to do his investigation for them… You may recognise the storyline from a Simpsons episode, "Bart of Darkness".
"Vertigo", from 1954, is the other Hitchcock addition this week. Scottie is a retired police detective with an extreme fear of heights who get asks to follow a client's wife, Madeleine. Madeleine thinks she is posessed by a dead ancestor, her husband thinks she's suicidal and Scottie thinks she's beautiful and will go to great heights to be with her…
We've been given a good set of TV updates this week too with season 2 of "Unbreakable Kimmy Schmidt" arriving today with all 13 episodes available right now. Season 4 of "Orphan Black" has landed and will have each new episode added weekly. Also, the zombie series "Z Nation" has been added too.
The younger viewers have been given a lot of DreamWorks Animation films too. These include all three "Madagascar" films, "How to Train Your Dragon", the first two "Kung Fu Panda" films and "Monsters vs. Aliens".
So what's your favourite new addition this week? Feel free to let us know in the comments.
Read on for the full list of this week's additions:
New Movies Streaming on Netflix UK:
23 Blast (2014)
Band of Robbers (2015)
Belgica (2016)
Blunt Force Trauma (2015)
Cold Deck (2015)
Echo Park (2014)
The Games Maker (2014)
How to Train Your Dragon (2010)
Kung Fu Panda (2008)
Kung Fu Panda 2 (2011)
Look Who's Back (2015)
Love in a Cold Climate (2001)
Madagascar (2005)
Madagascar: Escape 2 Africa (2008)
Madagascar 3: Europe's Most Wanted (2012)
Manhattan (1979) – Streaming Again
Monsters vs. Aliens (2009)
The Numbers Station (2013) – Streaming Again
Rear Window (1954)
Rising Sun (1993) – Streaming Again
Vertigo (1958)
We're Back! A Dinosaur's Story (1993) – Streaming Again
New Documentaries Streaming on Netflix UK:
Miss Representation (2011) – Streaming Again
People of Tomorrow (2014)
Prescription Thugs (2015)
Ronaldo (2015)
New TV Series Streaming on Netflix UK:
AJIN: Demi-Human (2016) [Season 1 Added]
Him & Her (2013) [Series 4 Added]
Kong: King of the Apes (2016) [Season 1 Added]
Land Girls (2011) [Series 1 & 2 Added]
Mock the Week (2014) [Series 13 Added]
Orphan Black (2016) [Season 4 Added – new episodes every Friday]
Unbreakable Kimmy Schmidt (2016) [Season 2 Added]
Whitechapel (2013) [Series 4 Added]
Z Nation (2014) [Season 1 Added]