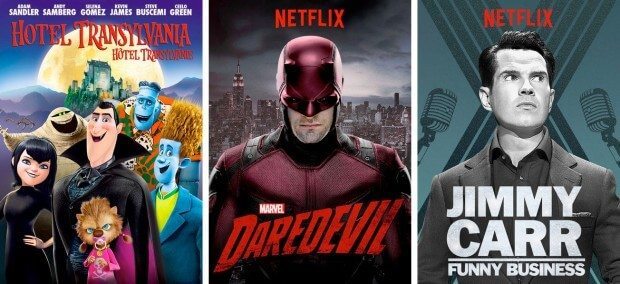 I think it's safe to say that this has been a very good week for Netflix UK subscribers; whether you're a fan of Marvel comics, British TV, stand up comedy, animation, documentaries or movies in general, there's a good set of additions for you.
The obvious big addition this week is season 2 of "Marvel's Daredevil" – all 13 episodes are available right now and, if you haven't seen it already, you should watch season 1 first. Series 2 picks up with Matt Murdoch (Daredevil) and Foggy Nelson running their lawyers firm but also having to deal with a new vigilante, Frank Castle (Punisher). Along the way, Murdoch's old girlfriend Elektra comes onto the scene too. It will be interesting to see where they go with season 2 as the first one was, to say the least, intense. If you've watched it already then let us know what you think – but no spoilers!
My favourite Marvel movie has also arrived this week. "Captain America: The Winter Soldier" from 2014 sees Cap working with Black Widow and SHIELD on an undercover operation. When Cap finds out a number of secrets about the organisation he works for, his world is turned upside-down as he tries to fight for his American ideal. A pivotal film in the Marvel cinematic universe, this is a great action and espionage movie – with a few super-heroes thrown in for good measure.
Article Continues Below...
"Fantastic Four" (the 2005 version and not the 2015 reworking) came this week as well. After a space experiment goes wrong a team of four scientists gain super powers that they use in order to protect the world.
As for comedy, we have a new Netflix Original show – "Jimmy Carr: Funny Business". This special show was recorded in late 2015 and sees deadpan comic Jimmy Carr with his trademark one-liners and a mixture of old and new jokes.
Following on we have two live shows from Jack Whitehall and, in my personal opinion, his stand-up shows are where he excels – yes, he's good in Bad Education, but these are far better. The 2 shows are "Jack Whitehall: Live" (from 2012) and "Jack Whitehall Gets Around: Live from Wembley Arena" (from 2014).
Other highlights this week include series 2 of "Peaky Blinders", "He Never Died", "The Wipers Times" and children's favourite "Hotel Transylvania"
Read on for the full list of this week's additions:
New Movies Streaming on Netflix UK:
3rd World Cops 2 (2015)
8MM (1999) – Streaming Again
Atlantis: Milo's Return (2003)
Beyond the Reach (2014)
Captain America: The Winter Soldier (2014)
Cinema Paradiso (1988) – Streaming Again
The Conspiracy (2012) – Streaming Again
The End of the Affair (1999)
Fantastic Four (2005)
He Never Died (2015)
Hotel Transylvania (2012)
Jack Whitehall Gets Around: Live from Wembley Arena (2014)
Jack Whitehall: Live (2012)
Jimmy Carr: Funny Business (2016)
La Bamba (1987)
National Security (2003) – Streaming Again
Pee-wee's Big Holiday (2016)
Sidetracked (2014)
Sins of the Father: A Very British Gangster 2 (2011) – Streaming Again
Street Fighter (1994) – Streaming Again
The Wipers Times (2012) – Streaming Again
New Documentaries Streaming on Netflix UK:
My Beautiful Broken Brain (2016)
Tricked (2013)
New TV Series Streaming on Netflix UK:
9 Seconds – Eternal Time (2015)
Marvel's Daredevil (2016) [Season 2 Added]
Peaky Blinders (2014) [Series 2 Added]
Rurouni Kenshin (1998) [Season 2 Added]