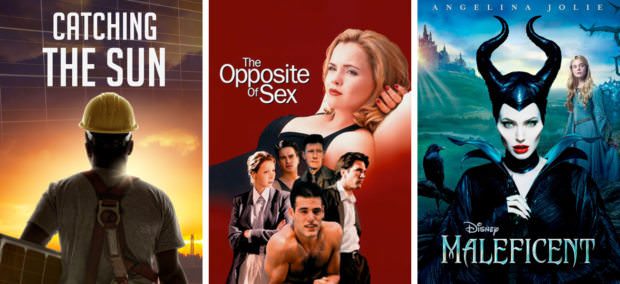 Welcome back to this week's round-up of what's new on Netflix in the UK and just as the sun starts to come out we've been given an appropriately themed documentary, "Catching the Sun". This film delves into America's up-and-coming use of solar panels as a means for electricity. In the UK we're used to seeing houses adorned with the cells along with various government-backed incentive schemes, but the USA is behind on this. The documentary gives a hopeful outlook to both the technology as well as training unemployed workers to install them.
"The Opposite of Sex" has made a welcome return too. The film, starring Christina Ricci, sees her as a 16-year old girl who likes to cause havoc. In particular, she seduces her gay brother's boyfriend and finds out she's pregnant. As the scandal grows, more people are involved and the unborn child's father becomes more of an unknown…
The baseball-themed drama "Moneyball", starring Brad Pitt, see's him star as Oakland A's manager. With a hugely restricted budget, he turns to using computer-generated statistical analysis in order to get the best players for his team.
The younger ones have been given Disney's "Maleficent" this week. This modern retelling of the classic Sleeping Beauty tells the story from the evil queen's side of things. Maleficient grows up in a peaceful forest and lives a pure life but when her forest is invaded by an evil king things start to change. Her pure heart turns to stone and she places a curse on the attacker's daughter – Aurora.
Read on for the full list of this week's additions:
New Movies Streaming on Netflix UK:
3 Ninjas: Kick Back (1994) – Streaming Again
Booty Call (1997)
Entertainment (2015)
Heavyweights (1995)
Here Comes the Boom (2012)
Jakob the Liar (1999)
The Last Days on Mars (2013)
Maleficent (2014)
Mark & Russell's Wild Ride (2015) – Streaming Again
Moneyball (2011)
Navy SEALs: The Battle for New Orleans [Navy Seals vs. Zombies] (2015)
The Opposite of Sex (1998) – Streaming Again
Patton Oswalt (2016)
The Seventh Sign (1988)
New Documentaries Streaming on Netflix UK:
Catching the Sun (2015)
New TV Series Streaming on Netflix UK:
Rake (2014) [Season 3 Added]