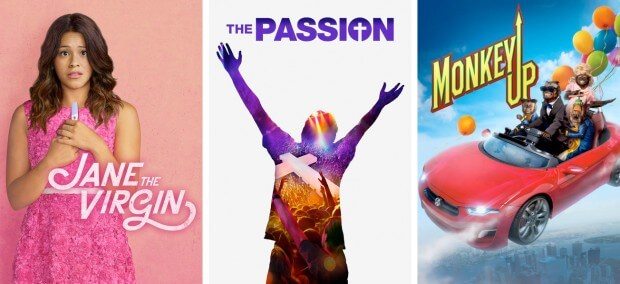 As we head towards the end of March we've had a fairly quiet week on Netflix UK; which makes writing this quite difficult…!
The most popular addition this week has been season 1 of  "Jane the Virgin". This American comedy series revolves around a devout young Catholic, Jane, who gets artificially inseminated during a check-up. She decides to keep the baby and it turns out that the biological father is the owner of the hotel where Jane works.
As we're coming up to the Easter Weekend I thought I would point out "The Passion" – this musical version of Jesus' final days was recorded live across New Orleans.
A fun film for the young ones this week is "Monkey Up", it's a bit silly, to say the least! Monty is a talking monkey made famous for his energy drink adverts. Getting fed up of advertising, he decides he wants to become a Hollywood actor but ends up having to help out a brother and sister who accidentally take him into their home.
Read on for the full list of this week's additions:
New Movies Streaming on Netflix UK:
Caribbean (1952)
The Dish (2000)
Flubber (1997) – Streaming Again
Jeff Dunham: Minding the Monsters (2012) – Streaming Again
Monkey Up (2016)
The Mountain (1956)
My Favorite Spy (1951)
The Passion (2016)
Tears of Steel (2012) – Streaming Again
New TV Series Streaming on Netflix UK:
Henning Mankell's Wallander (2009) – Streaming Again
Hi-5 House (2016)
Jane the Virgin (2015)
Never Die (2015)
Siblings (2014)
VeggieTales in the House (2016) [Season 3 Added]