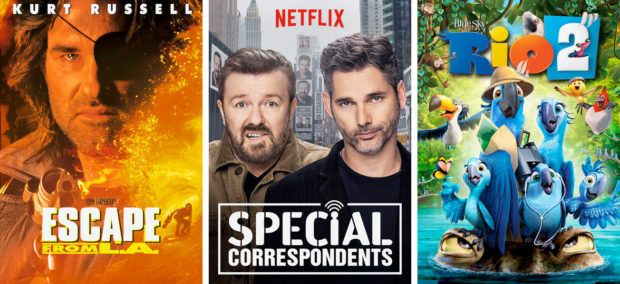 Another week, another Netflix Original movie! This week sees the addition of Ricky Gervais's "Special Correspondents", a remake of a French film "Envoyes Tres Speciaux". When a radio news reporter and his sound technician lose their passports, they decide to stay in New York instead of covering the rebel uprising in South America – using various special effects to add realism to their fake news. Things eventually get rather complicated when teams are dispatched to try and locate the missing journalists.
"Escape From L.A." is John Carpenter's cult 1996 action sequel to "Escape From New York". Los Angeles has physically broken away from the United States after a major earthquake and is now being used as an island-based penal colony. When the President's daughter runs away to LA with a lethal doomsday weapon, Snake Plissken is brought in to retrieve it.
Younger viewers will enjoy "Rio 2", the wonderful CGI sequel. Blu and Jewel, now happily married with 3 children, leave Rio de Janeiro to visit the Amazon. Coming face to face with their old enemy, Nigel, they also visit Jewel's family. Blu struggles to fit in in the wild and soon discovers that his biggest challenge will be his father-in-law.
Finishing off this week's round up is "Dara Ó Briain's Science Club". Two series of the show have been added to Netflix UK and see comedian Ó Briain hosting this BBC science show. With various scientists as guests, each episode looks at a number of scientific theories as well as how science is changing the world we live in.
Read on for the full list of this week's additions:
New Movies Streaming on Netflix UK:
A Mighty Heart (2007) – Streaming Again
Eden (2014)
Escape from L.A. (1996)
Fading Gigolo (2013)
Kronk's New Groove (2005) – Streaming Again
Lay the Favorite (2012)
My Six Loves (1963)
Nashville (1975)
The Pirate Fairy (2014)
Red Garters (1954)
Rio 2 (2014)
Special Correspondents (2016)
New Documentaries Streaming on Netflix UK:
Enter the Battlefield (2016)
Kim Philby: His Most Intimate Betrayal (2014)
Restaurant Australia (2015)
Team Foxcatcher (2016)
Valley Uprising (2014)
We Are Twisted F***ing Sister! (2014)
Yindi the Last Koala (1996)
New TV Series Streaming on Netflix UK:
Dara Ó Briain's Science Club (2012) [Series 1-2 Added]
Dinosaur King (2008) [Seasons 1-2 Added]
The Michael McIntyre Chat Show (2014)
Only Fools and Horses (2003) [New Episodes]
The Tudors (2010) [Seasons 3-4 Returned]