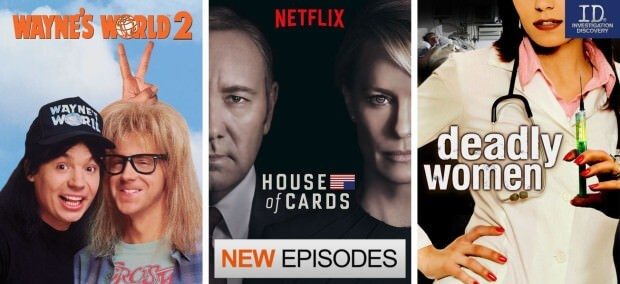 Welcome back to What's New On Netflix UK for the first week of March! Let's get straight into it this week with the latest instalment of "House Of Cards" – season 4 arrived today. Of course, it's too early to know the synopsis for the season but all 13 episodes (Chapters 40-52) are available right now.
Fans of documentaries and murder may enjoy "Deadly Women", a series which looks at the murders committed by women. With a range of themes covering mothers who kill their children to get even at ex-husbands, women killing for the thrill and even teenaged killers. As a 'true-crime' style series it makes a change to see one dedicated to female murderers.
Peter Sellers stars in the classic, British comedy film "The Return of the Pink Panther". When the famous diamond is stolen, yet again, Inspector Clouseau is called in again to investigate. The only clue is a glove and Clouseau is convinced it belongs to The Phantom – the only problem is that Clouseau is a bit of a bumbling idiot…
"Wayne's World 2" has been added (the first film is also on Netflix UK) where Wayne has a series of dreams featuring Jim Morrison. Wayne and Garth set about booking bands to have their own music festival, Waynestock, while trying to stop a music producer from stealing his girlfriend.
And, finally, for the younger viewers we have two new, Netflix exclusives from Lego. Both "LEGO Bionicle: The Journey to One" and "LEGO Friends: The Power of Friendship" have arrived this week.
Read on for the full list of this week's additions:
New Movies Streaming on Netflix UK:
A Dog's Breakfast (2007)
Amal (2007)
Annie Hall (1977) – Streaming Again
Audrey Rose (1977)
Blue Mountain State: The Rise of Thadland (2016)
The Boyfriend School (1990)
The Bright Day (2015)
Cooley High (1975)
Copying Beethoven (2006)
Creature (1985) – Streaming Again
De-Lovely (2004)
Desperately Seeking Susan (1985)
Diary of a Mad Black Woman (2005)
family party (2015)
Galaxy of Terror (1981) – Streaming Again
The Girl Is in Trouble (2015)
Good Night Good Morning (2010)
Gor (1987)
Green Street Hooligans 2 (2009)
Hot Bot (2016)
India's Daughter (2015)
It's Now or Never (2015)
La Cage aux Folles II (1980)
Labor Day (2013)
Legally Blondes (2009)
The Lives of Others (2006) – Streaming Again
Loreak (2014)
Mark & Russell's Wild Ride (2015)
Midnight Madness (1980)
Ninja Vengeance (1988)
Noah (2014)
Pope Joan (2009)
Prem Ratan Dhan Payo (2015)
Queen of Carthage (2015)
Retribution (2015)
The Return of the Pink Panther (1975)
Ride Along (2014)
The Secret of NIMH (1982) – Streaming Again
Sibling Rivalry (1990)
Something Wild (1986)
Wayne's World 2 (1993)
Why Did I Get Married? (2007)
New Documentaries Streaming on Netflix UK:
Deadly Women (2011)
For Grace (2015)
Gored (2015)
The Real Miyagi (2014)
World's Heaviest Man Gets Married (2009)
New TV Series Streaming on Netflix UK:
Aldnoah.Zero (2015) [Season 2 Added]
Arthur & George (2015)
Bates Motel (2015) [Season 3 Added]
Better Man (2013)
Comedy Bang! Bang! (2014)
Episodes (2014) [Season 3 Added]
Garfunkel and Oates (2014)
Hell's Kitchen (2015) [Season 13 Added]
House of Cards (2016) [Season 4 Added]
Housos (2013)
LEGO Bionicle: The Journey to One (2016)
LEGO Friends: The Power of Friendship (2016)
Masterpiece Mystery!: Endeavour (2014)
Skinwalkers: The Navajo Mysteries (2004)
Wilfred (AU) (2010) – Streaming Again
Your Lie in April [Shigatsu wa Kimi no Uso] (2014)