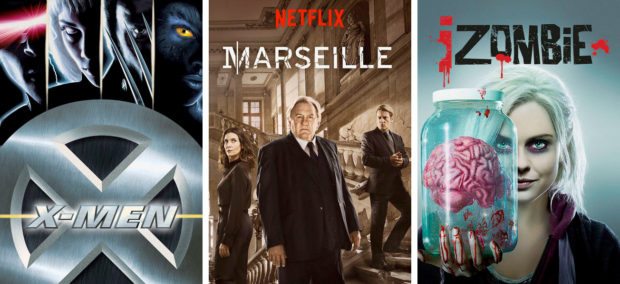 May is definitely a month of Netflix Originals so let's get those out of the way first. "Marseille" is a new series set in the French port city of Marseille. When the mayor is preparing to hand over control to his successor, there is a sudden power-struggle as to who will control the city. It's a tale of power and corruption – all 8 episodes of Season 1 are available now. The comedy series "Grace and Frankie" has returned with Season 2 added today and there is also comedian Ali Wong's live standup show "Ali Wong: Baby Cobra".
If action films are your thing then there are two recommended additions this week. Firstly, "RED" – which stands for Retired & Extremely Dangerous. When an ex-CIA agent finds out there's an assassin who has put a mark on him, he comes out retirement – along with his old team – and hunts him down. Second is the 2000 mutant/superhero film, "X-Men". Set in a world where mutants and humans fear each other the film revolves around Xavier's School for Mutants and how he, and his students, try to keep the world safe. However, Magneto has other plans and causes havoc in the city.
"Leprechaun" has arrived this week: when a father and daughter move to a new home they're unaware that it's previous owner locked an evil leprechaun in the basement after stealing it's gold. The leprechaun escapes and goes on a rampage trying to find his gold in this cult, horror/comedy movie.
Noam Chomsky discusses how the wealth of America ended up in the hands of a few in his documentary "Requiem for the American Dream". Through interviews filmed over 4 years, Chomsky uses his incredible intellect to explain how policies and politics have favoured the wealthy.
Last but not least for this week is  "iZombie" and, no, this isn't a new nickname for those people who stare endlessly at their iPhone instead of watching where they're walking… Instead, it's a series about a medical student, who is actually a zombie. Instead of killing for brains she eats the brains of people in the morgue and find that she has a new found talent for solving crimes. 2 Seasons have been added.
Those are my picks for Netflix UK this week – what are yours? Let us know in the comments.
Read on for the full list of this week's additions:
New Movies Streaming on Netflix UK:
4th Man Out (2015)
A Matter of Faith (2014)
A Prayer for the Dying (1987) – Streaming Again
Ali Wong: Baby Cobra (2016)
An Education (2009)
Atomic Falafel (2015)
Ava's Possessions (2015)
Besharam (2013) – Streaming Again
Black Friday (2004)
The Black Stallion (1979)
Bodyguard (2011) – Streaming Again
The Confessions of Thomas Quick (2016)
Deadly Impact (2010)
Flesh + Blood (1985) – Streaming Again
Foxy Brown (1974) – Streaming Again
Gary Gulman: It's About Time (2016)
The Hooligan Factory (2014)
Humanoids from the Deep (1980)
I Am Slave (2010) – Streaming Again
I'm Gonna Git You Sucka (1988) – Streaming Again
I, Me aur Main (2013) – Streaming Again
Innocence (2013)
Kevin Hart Presents Keith Robinson: Back of the Bus Funny (2015)
Kevin Hart Presents Lil Rel: RELevent (2015)
Kevin Hart Presents: Plastic Cup Boyz (2015)
Leprechaun (1993)
My Last Day Without You (2011)
Palm Trees in the Snow (2015)
Paradox (2016)
RED (2010)
The Return of the Living Dead (1985)
Singham (2011) – Streaming Again
Species IV: The Awakening (2007)
The Substitute (1996)
Traitor (2008)
Triumph of the Spirit (1989)
The Whistleblower (2011) – Streaming Again
Who's Driving Doug (2016)
X-Men (2000)
New Documentaries Streaming on Netflix UK:
Bikes vs Cars (2015)
The Champions (2015)
Dark Horse: The Incredible True Story Of Dream Alliance (2015)
I Am Road Comic (2014)
Requiem for the American Dream (2015)
She's Beautiful When She's Angry (2014)
Somm: Into The Bottle (2015)
Starboard Light (2013)
Terra (2015)
That Gal… Who Was in That Thing: That Guy 2 (2015)
Tom Petty and the Heartbreakers: Runnin' Down a Dream (2007)
Welcome to Leith (2015)
New TV Series Streaming on Netflix UK:
12 Years Promise (2014)
Easy Living (2011)
Grace and Frankie (2016) [Season 2 Added]
Gurren Lagann (2007) – Streaming Again
iZombie (2015)
The Jamz (2016)
Julius Jr. (2015) [New Episodes]
Kill la Kill (2014) – Streaming Again
Last (2015)
LoliRock (2014)
Marseille (2016) [Season 1 Added]
Planet Hulk (2010)
Sammy J & Randy in Ricketts Lane (2015)
Soul Mates (2014)