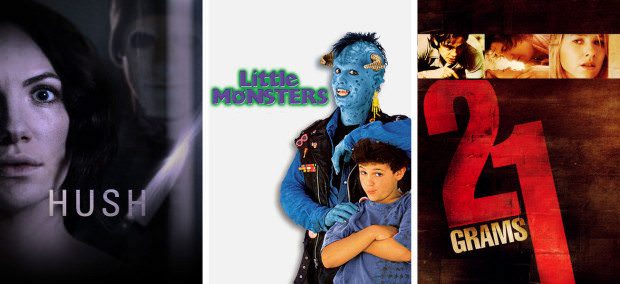 Welcome back to another episode of What's On Netflix UK and what a mixed bag we have this week. First up we have the return of "21 Grams". A fatal car accident pulls together three strangers: a mathematician, a born-again ex-con and a housewife and changes their lives forever. The film follows how their lives interact and their stories are weaved together. It's difficult to go into much more detail without including spoilers – so I'll leave it to you to fill the blanks!
"Hush" is a brand new film that was only recently premièred at the South by South West festival and Netflix bought the rights straight away. It's a horror-thriller about a deaf writer who lives a solitary life in the woods. However, she finds herself fighting for her life when a masked killer appears at her window.
The 6th and final season of "Republic of Doyle" was added this week. The show follows a Father-and-Son Private Investigation firm and is set in Newfoundland, Canada. The show is more about the 'interesting' relationships between family members, ex-wives and new loves and the difficulties that come along with them rather than being an all-out crime show.
For the younger viewers the lovely "Thomas and the Magic Railroad" has returned. The film has a nasty diesel engine causing trouble for the residents of Sodor and their magic gold-dust is also running out, bringing about it's own problems. It's up to Thomas to save the day.
If your children have outgrown Thomas then they could give "Little Monsters" a try. Brian discovers a world of monsters that live under his bed and he spends more and more time with them, playing pranks on other kids as well as other monsters. But when his younger brother is kidnapped by two evil monsters, Brian must rescue him before his brother is turned into a monster forever.
Read on for the full list of this week's additions:
New Movies Streaming on Netflix UK:
21 Grams (2003)
A Single Man (2009)
Alpha Dog (2006) – Streaming Again
Basic (2003)
Buried (2010)
Criminal Activities (2015)
Damage (1992)
Dan in Real Life (2007) – Streaming Again
The Devil's Double (2011) – Streaming Again
Furry Vengeance (2010)
Hannibal Takes Edinburgh (2016)
Harold & Kumar Get the Munchies (2004) – Streaming Again
Hate Story 3 (2015)
Honey, I Shrunk the Kids (1989) – Streaming Again
Hush (2016)
Jackrabbit (2015)
Let Me In (2010)
Little Monsters (1989)
The Little Vampire (2000) – Streaming Again
Match Point (2005)
Next Day Air (2009)
Pandorum (2009) – Streaming Again
Plastic (2014)
Smart People (2008)
Thomas and the Magic Railroad (2000) – Streaming Again
Walt Before Mickey [AKA 'The Dreamer'] (2015)
New Documentaries Streaming on Netflix UK:
Respectable: The Mary Millington Story (2016)
Ukraine Is Not a Brothel (2013)
New TV Series Streaming on Netflix UK:
Falling Skies (2014) [Seasons 1-4 Added]
Rebellion (2016) [Season 1 Added]
Republic of Doyle (2014) [Season 6 Added]