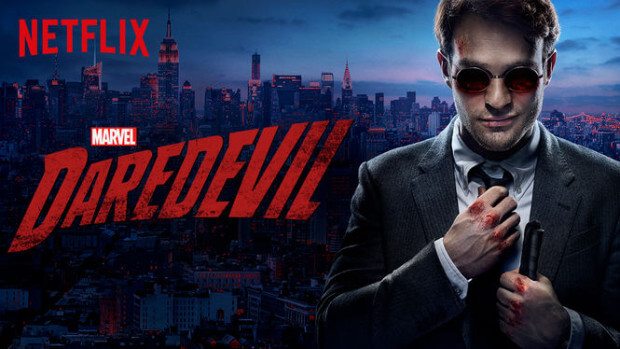 You will not believe just how excited I am this morning. Not only is it my birthday today, and I'm also going away for the weekend with the kids but Marvel's Daredevil series has just been added to Netflix! I'm a massive comic book fan (particularly the Marvel ones) and I've been eagerly awaiting the arrival.
"Marvel's Daredevil" is the story of Matt Murdock who was blinded as a boy but gained incredible senses. As he grew up he became a lawyer but by night he keeps Hell's Kitchen, New York, safe as the masked vigilante Daredevil. All 13 episodes (around 11 hours) are available to stream right now. Let us know what you think of it in the comments (but NO spoilers!)
Another recent Netflix exclusive was "Better Call Saul" where episodes were added each week after they aired in America. The whole of season 1 is now complete and available on Netflix.
Also added this week is the classic 1990 horror flick "Tremors". Set in a small, American town, a worm-like creature starts sucking it's human prey underground to eat them. When a local seismologist notices the strange tremors the residents realise they are trapped in their town with no escape.
That's all for this week – see you soon!
Read on for the full list of this week's additions:
New Movies Streaming on Netflix UK:
Afflicted (2013)
The Awakening (2013)
Broken (2013)
Burning Bridges (2014)
Confusion Na Wa (2013)
The Crucible (1996)
Faster (2003)
Finding Mercy [Finding Mercy 2] (2013)
Finding Mercy (2013)
Flower Girl (2013)
Forgetting June (2013)
The Great Outdoors (1988)
Hot Lead & Cold Feet (1978)
Keeping My Man (2013)
Knocking on Heaven's Door (2014)
Lagos Cougars (2013)
Lies Men Tell (2013)
Mad Couple (2014)
Mad Couple 2 (2014)
The Man with One Red Shoe (1985)
Matters Arising (2014)
Norbit (2007)
October 1 (2014)
The One I Love (2014)
Onye Ozi (2013)
Prelude to a Kiss (1992)
The Sentinel (1977)
Ties That Bind (2011)
Tremors (1990)
New TV Series Streaming on Netflix UK:
Marvel's Daredevil (2015) [Season 1 Added]
Top Gear (2007-2014) [Season 21 Added]