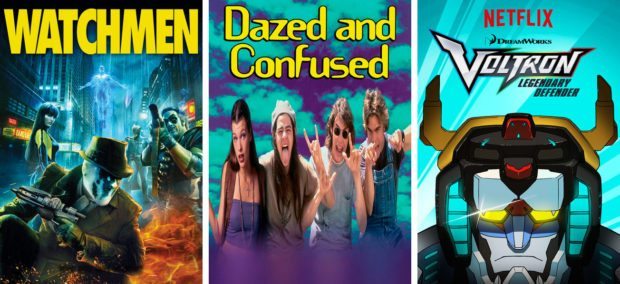 Wow, what a week for new additions on Netflix UK with a great selection of films added this week. It's a tough selection, but here are my picks for this week:
First up is "Watchmen", an epic film based on the cult graphic novel. Set in the mid 80's in an alternate universe and where costumed superheroes were outlawed by the government. But when one of the veterans is brutally murdered the remaining heroes reunite to find his killer and, in the process, uncover a deep and sinister plot.
"Dazed and Confused" is a coming-of-age comedy set in the late 70's. It's the last day of school and the older students are welcoming the freshmen and everyone is trying to get stoned, drunk or laid. The film follows a mixed group of teenagers – stoners, jocks and nerds and has a great soundtrack of 70's pop and rock hits.
Those who like horror and 'found-footage' films will like "Paranormal Activity" from 2007. When a young family move into a new house, they quickly realise there are some strange goings on each night. They set up a camera to record the strange goings on and soon realise it's something demonic causing the disturbances… With the addition of the first film, there are now five Paranormal Activity films available on Netflix UK.
And, finally, for the young ones we have a new Dreamwork's Animation with "Voltron: Legendary Defender". Like a cross between Power Rangers and Transformers, the series follows five unlikely heroes and their flying robot lions that join together to form 'Voltron' – the most powerful weapon ever made.
Read on for the full list of this week's additions:
New Movies Streaming on Netflix UK:
21 & Over (2013) – Streaming Again
A Million Ways to Die in the West (2014)
Awake (2007) – Streaming Again
Bad Hurt (2015)
Darkweb (2016)
The Darwin Awards (2005)
Dazed and Confused (1993)
Double Indemnity (1944) – Streaming Again
Extraction (2013)
The Grudge 3 (2009)
Gun (2010)
I Know Who Killed Me (2007)
Lake Placid vs. Anaconda (2015)
No Filter (2016)
Paraíso (2013)
Paranormal Activity (2007)
The Rules of Attraction (2002)
Synchronicity (2015)
Watchmen (2009)
Woman on Top (2000) – Streaming Again
New Documentaries Streaming on Netflix UK:
Alien Autopsy: Fact or Fiction? (1995)
New TV Series Streaming on Netflix UK:
Breaking the Magician's Code: Magic's Biggest Secrets Finally Revealed (2009) [Season 2 Added]
LEGO Friends: The Power of Friendship (2016) [Season 2 Added]
Voltron: Legendary Defender (2016) [Season 1 Added]