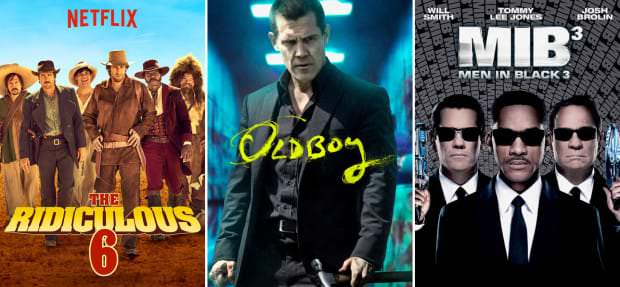 Today we have been given the first of four Adam Sandler films that are exclusive to Netflix. "The Ridiculous 6" is a comedy western with Sandler playing an outlaw Tommy 'White Knife' Stockburn who was raised by native American Indians. On discovering that he has five half-brothers, the six of them head off to find their father who, it turns out, has been kidnapped. It has an all-star cast and, if their TV series are anything to go by, this Netflix original film should be a corker.
The 2013 remake of "Oldboy" has been added this week too – originally a South Korean film from 2003, the remake is directed by Spike Lee. Joe Doucett is held captive for 20 years for no apparent reason and then suddenly released. Determined to find those involved in his capture he sets out on a violent mission only to find that he's still trapped in a web of conspiracies. Although not as good as the original Korean film, the "Oldboy" remake is still a good watch – although it is rather violent.
"Men In Black 3" is a time-travelling, sci-fi comedy starring Will Smith and Tommy Lee Jones. When bad guy Boris the Animal travels back in time to kill Agent K, Agent J realises that things have changed. J also travels back in time to hunt out Boris and ends up working alongside a much younger K. The pair need to work together to track Boris down and restore their original timelines.
And, for the younger viewers, we have season 2 of the Shrek spin-off, "The Adventures of Puss in Boots".
Read on for the full list of this week's additions:
New Movies Streaming on Netflix UK:
Aloha (2015)
Kaanchi (2014)
Kung Pow: Enter the Fist (2002)
Men in Black 3 (2012)
National Treasure (2004) – Streaming Again
Oldboy (2013)
The Parent Trap (1961) – Streaming Again
The Ridiculous 6 (2015)
Trailer Park Boys: Drunk, High and Unemployed: Live In Austin (2015)
Vice (2015)
New Documentaries Streaming on Netflix UK:
Beltracchi: Die Kunst der Fälschung (2014)
Tibetan Warrior (2015)
New TV Series Streaming on Netflix UK:
The Adventures of Puss in Boots (2015) [Season 2 Added]
Crime Patrol (2014)