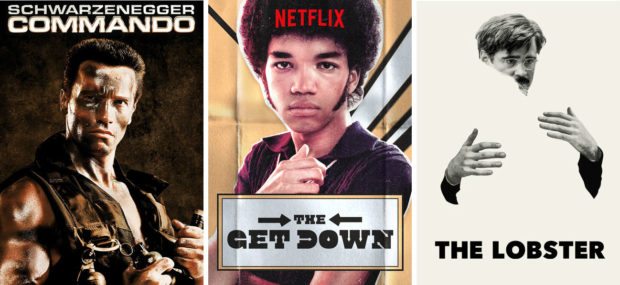 Another mixed bag this week which means there's likely to be something for everyone. The big new addition today is part 1 of "The Get Down". This new Original Series has been highly anticipated and is set in 1970's New York. The Bronx is in disarray, poverty and brokenness abounds. There's not much left to do other than grab your spray paint, improvise some dance steps and play some verbal games. Oh, and invent hip-hop, punk and disco too. The 6 episodes that make up part one are available now and if you want an idea of the amazing soundtrack then keep following our song-listing post here.
Last year's rather weird "The Lobster" has been likened to an episode of Black Mirror… David, a recently widowed man, has been sent to The Hotel in Ireland where he has 45 days to find a new mate; failure will mean he is turned into an animal and sent into the forest. During his time in The Hotel there are forced dances and various events to try get people together but David's time has started to run out. "The Lobster" is a surreal and deadpan dark comedy and well worth a watch.
Classic 80's Arnie has arrived in the form of "Commando". John Matrix is a retired special op's team leader who gets drawn back into action when his daughter is kidnapped. When it transpires that the kidnapper is wanting Matrix to assassinate a political leader in order to stage a coup, Matrix reluctantly agrees in order to save his daughter's life.
And, finally for this week, if you have a passion about British castles and their history then go ahead and watch "Secrets of Great British Castles". The 6-episode series hosted by Dan Jones visits various castles around Britain delving into their histories and those of the people who lived there.
Read on for the full list of this week's additions:
New Movies Streaming on Netflix UK:
Brooklyn (2015)
Commando (1985)
Dawn of the Planet of the Apes (2014)
Gemma Bovery (2014)
Jim Gaffigan: Beyond the Pale (2005) – Streaming Again
Jim Gaffigan: King Baby (2009)
Jim Gaffigan: Obsessed (2014)
The Lobster (2015)
Saala Khadoos (2016)
New Documentaries Streaming on Netflix UK:
The President vs. the Pirates (2013)
Secrets of Great British Castles (2015)
T-Rex (2015)
New TV Series Streaming on Netflix UK:
Ask the StoryBots (2016) [Season 1 Added]
The Get Down (2016) [Part 1 Added]
The Originals (2016) [Season 3 Added]