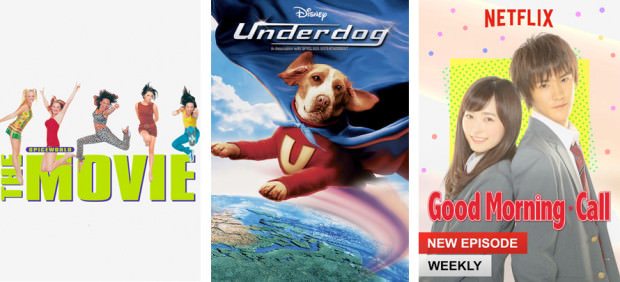 Colours of the world: Spice up your life
Every boy and girl: Spice up your life
People of the world: Spice up your life
Aaahh!
"Spice World", the Spice Girls movie, has arrived this week on Netflix UK. Social media went into overdrive and, scarier than Scary Spice herself, it seemed to be without a hint of irony… Join the five spices on their Union Jack tour bus in a tongue in cheek movie that really, really doesn't take itself seriously at all. There's alien encounters, performances on maternity wards and a night in a haunted castle. So, "spice up your life" and get watching… or not!
Japanese manga comic "Good Morning Call" has been made into a live-action series with each new episode being added weekly. The story follows high school student Yoshikawa as she moves into her own apartment after her parents move away. When she finds out that the rent is more than agreed she ends up sharing the apartment with the hottest boy in school, Uehara.
American TV has had a wicker update this week too. The 9th, and final, season of "How I Met Your Mother" has been added leaving many people wondering why it wasn't included when the rest was added recently. Still, it means the whole show is now available. Season 7 of "The League" has arrived too.
Article Continues Below...
And this week's top kids addition is Disney's "Underdog". When a dog is fired from his job as a police sniffer dog he ends up in the hands of a mad scientist and the subject of one of his experiments. The dog escapes and is looked after by a new family who name him Shoeshine – but he soon realises that he now has super powers and that he can talk. Together, Shoeshine and his new human friends must save the world from the dastardly schemes of the mad scientist.
Read on for the full list of this week's additions:
New Movies Streaming on Netflix UK:
Bloody Sunday (2002) – Streaming Again
High Plains Drifter (1973)
Last Vegas (2013)
Lila & Eve (2015)
Lone Survivor (2013)
Northmen – A Viking Saga (2014)
The Object of My Affection (1998) – Streaming Again
Spice World (1998)
Trespass (1992)
Tuck Everlasting (2002) – Streaming Again
Underdog (2007) – Streaming Again
New Documentaries Streaming on Netflix UK:
Democrats (2014)
The Pyramid Code (2009) – Streaming Again
New TV Series Streaming on Netflix UK:
A Man Called God (2010)
Birdie Buddy (2011)
Cain and Abel (2009)
Good Morning Call (2016) [New Episode Added Every Friday]
How I Met Your Mother (2014) [Season 9 Added]
The League (2015) [Season 7 Added]
Playful Kiss (2010)
Tamra, The Island (2009)
Tomorrow's Cantabile (Nodame Cantabile Korean Ver.) (2014)