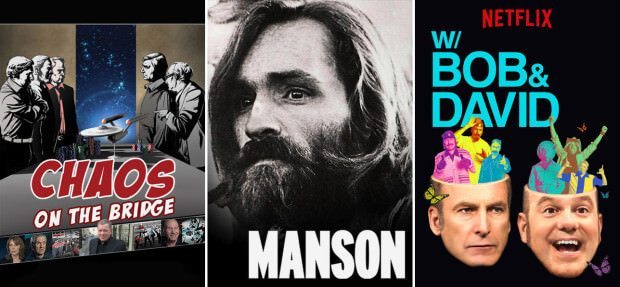 Trekkies, murderous cult-leaders and sketch shows; it must be another week of What's New on Netflix UK!
Ths week we've been graced with not one but two documentaries about Star Trek hosted by William Shatner. Firstly there is "Chaos on the Bridge" which goes behind the scenes of the creation of "Star Trek: The Next Generation". The second is "The Captains" where Shatner interviews the other 'captains' of Starfleet Command including Patrick Stewart, Scott Bakula and Kate Mulgrew.
For those who prefer cultish murder over family-friendly sci-fi then we also have two documentaries about Charles Manson. "Manson's Missing Victims" (directed by William Shatner – spotting a theme here?!) interviews investigators looking into missing person cases. Not just any cases, but those that may be members of the Manson Family cult who were murdered for trying to leave. The other Manson documentary is simply called "Manson" and uses re-enactments as well as interviews with Linda Kasabian, a member of the Manson Family and a key witness in Charles Manson's incarceration.
And, finally, what's a Netflix update without a new Original Series? This week we have "W/ Bob & David" a re-imagining of an old HBO show from the late 90's called "Mr. Show with Bob & David". Obviously with HBO being a rival to Netflix they had to change the name slightly! The show, consisting of four half-hour episodes and a making-of, is a comedy sketch show starring Bob Odenkirk (Better Call Saul, Breaking Bad) and David Cross (Arrested Development, Alvin & The Chipmunks).
Read on for the full list of this week's additions:
New Movies Streaming on Netflix UK:
Big Eden (2000)
The French Connection (1971)
John Mulaney: The Comeback Kid (2015)
The Jungle Book 2 (2003)
The Siege (1998) – Streaming Again
That Thing You Do! (1996)
New Documentaries Streaming on Netflix UK:
Call Me Lucky (2015)
The Captains (2011)
Chaos on the Bridge (2014)
Ken Burns: The Roosevelts: An Intimate History (2014)
Manson (2009)
Manson's Missing Victims (2008)
New TV Series Streaming on Netflix UK:
W/ Bob & David (2015) [Season 1 Added]
Yuki Yuna Is a Hero (2014)