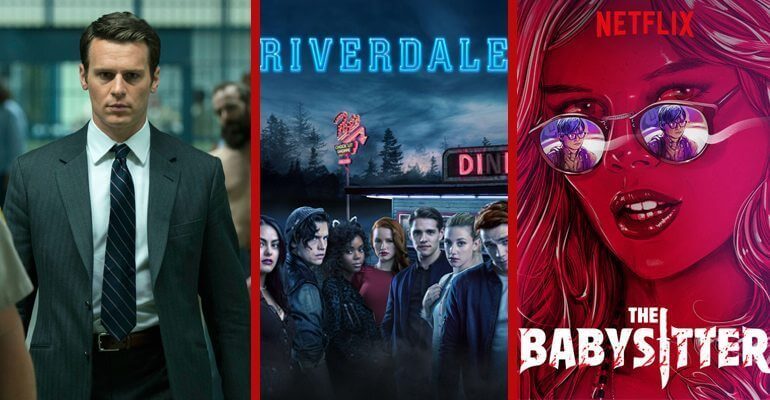 It may be Friday 13th but that doesn't mean your day has to be spooky. As always, we're going to give you the full list of titles added to Netflix UK this week and let you in on our favourites. There's a total of 32 new releases this week which includes 17 new movies, two new documentaries, 11 new TV series and two new stand-up shows. We're here to pick our top three out of the lot so no matter how unlucky your day has been, we've got some titles to cheer you up.
Our first pick is the popular show Riverdale (2017) which welcomed its second series to Netflix this week. A show full of mystery, surprises and unknown endings. Teenagers trying to live their normal lives while exploring all that life has to offer – they find themselves wrapped up in a mystery that they weren't expecting. With a new episode coming every Thursday, you'll have something to look forward to every week. October is the month of Halloween, so if you want a head start and get a feel for darkness and murder, Riverdale is a good place to start. If you enjoyed Pretty Little Liars, you'll love Riverdale.
Our second pick is the new series Mindhunter (2017), which is another show around murder and criminals. This 10-episode series is based on a true crime book called Mind Hunter: Inside The FBI's Elite Serial Crime Unit written by Mark Olshaker and John E. Douglas. This isn't just any series, though. It's to do with the psychology of murder. Two FBI agents get up close and personal with serial killers to try to work out their motives, how they think and what they would do. They then use this information to solve other cases. This series has got to be good considering that it's already been renewed for its second season, so if you're into crime dramas, this isn't one to be missed.
The third and final pick of the week is not one for the squeamish. The Netflix Original The Babysitter (2017) is not as happy and dandy as you might expect from the title. It seems that a young boy named Cole one day takes a peek at what his babysitter gets up to once he's gone to bed. To his surprise, it's not watching TV… This horror-comedy involves a babysitter who is part of a weird cult, a scared young boy who cannot believe what he's seen and 'cops' who end up dead. This is definitely a film for Halloween.
Read on for the full list of all 32 new releases.
17 New Movies Streaming to Netflix UK
Scouts Guide to the Zombie Apocalypse (2015)
The Secret Reunion (2010)
The Scam (2009)
Spring Breakers (2012)
Running Turtle (2009)
My Wife Is a Gangster 3: HK Edition (2006)
Bomb Scared (2017)
Barakah Meets Barakah (2016)
The Meyerowitz Stories (New and Selected) Netflix Original
The Babysitter (2017) Netflix Original
My 11th Mother (2007)
Happy Together (2008)
Evelyn (2002)
Clair Obscur (2016)
Blessed Benefit (2016)
A Tale of Legendary Libido (2008)
A Barefoot Dream (2010)
2 New Documentary Streaming to Netflix UK
Chris Brown: Welcome to My Life (2017)
Kingdom of Us (2017)
11 New TV Series Streaming to Netflix UK
Secret Healer – Season 1 (2016)
Once Upon a Time – Season 7 (2016)
Paquita Salas – Season 1 (2016)
Riverdale – Season 2 (2017) Netflix Original
Dynasty – Season 1 (2017) Netflix Original
Voltron: Legendary Defender – Season 4 (2016) Netflix Original
The Adventures of Figaro Pho – Season 1 (2015)
Super Monsters – Season 1 (2017)
MINDHUNTER – Season 1 (2017)
High: How Drugs Work – Season 1 (2011)
Ajaibnya Cinta – Season 1 (2015)
2 New Standup Shows Streaming on Netflix UK
Christina P: Mother Inferior (2017)
El Especial de Alex Fernández, el Especial (2017) Netflix Original