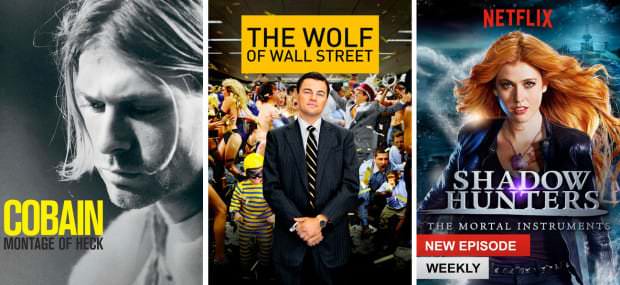 Another interesting mix of new additions this week on Netflix UK – from Hollywood to the BBC and from music to comedy.
The big title this week is "The Wolf of Wall Street" from Martin Scorsese and based on the book of memoirs of the same name. Following the exploits of Jordan Belfort, a stockbroker in New York City, who's firm carried out a lot of fraud and corruption at Wall Street which ultimately landed him in prison. With copious amounts of drugs, sex, booze and parties it's little wonder this has an 18 rating.
I've been a fan of Nirvana for a couple of decades now so I was pleased when "Kurt Cobain: Montage of Heck" arrived this week (it means I don't have to open a cupboard and get a DVD out to watch it again!). The only authorised documentary about the late Kurt Cobain features his own home recordings (both musical and spoken word) and interviews with friends and family too. While a lot of it is audio only, the makers get around this by adding animated shorts that 're-enact' what Kurt is talking about as well as being pleasing eye-candy during the musical moments. It's an interesting documentary and gives a good insight into his life and short-lived carerr as Nirvana frontman.
The brand new series of "Shadowhunters: The Mortal Instruments" aired in the USA on Snday night and was on UK Netflix the following day (new episodes will be added weekly). Clary is a human-angel hybrid who, after her mother gets kidnapped by a demon, sets out to avenge her. Along the way she joins a group of demon hunters, known as Shadowhunters, and learns all about her previously unknown powers along the way.
Fans of the BBC's "Sherlock" will be pleased to see that series 3 has been added. After the apparent death of Sherlock, Watson is still in mourning and unsure of the future. But will the titular Sherlock be back? Well – I assume so because it's not called "Watson"… is it?
Read on for the full list of this week's additions:
New Movies Streaming on Netflix UK:
Meet the Small Potatoes (2013)
Paranoia (2013) – Streaming Again
The Rescuers (1977) – Streaming Again
Semi-Tough (1977)
svengali (2013)
Timbuktu (2014)
Tony Hinchcliffe: One Shot (2016)
Turbo: A Power Rangers Movie (1997)
Ulee's Gold (1997)
The Wolf of Wall Street (2013)
Zookeeper (2011) – Streaming Again
New Documentaries Streaming on Netflix UK:
9 Muses of Star Empire (2012)
Being Ginger (2013)
Ken Burns: The Roosevelts: An Intimate History (2014) – Streaming Again
Kurt Cobain: Montage of Heck (2015)
The Testimony (2015)
New TV Series Streaming on Netflix UK:
Degrassi: Next Class (2016) [Season 1 Added]
Gavin & Stacey (2008) [Series 1 Streaming Again]
The Koala Brothers (2003)
The Koala Brothers: Outback Christmas (2006)
Shadowhunters (2016) [New Episode Every Week]
Sherlock (2014) [Series 3 Added]