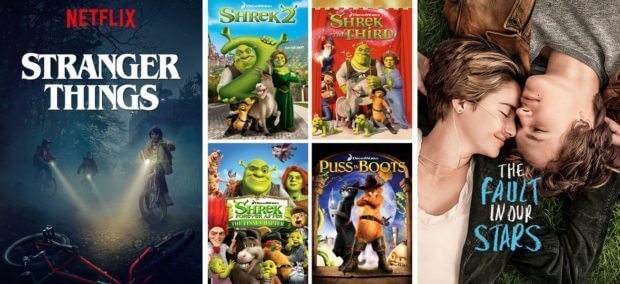 Welcome back to another What's On Netflix UK roundup. First up we have the Netflix Original movie "Rebirth", a psychological thriller where Kyle is persuaded to attend a rebirth seminar. On arriving, he hands over his keys, wallet and phone in order to be fully immersed in the experience only to find that the promise of his perfect lifestyle comes with a significant price – he can't actually leave.
Following on with the Netflix Originals is a new series "Stranger Things". Set in late 70's/early 80's America, Stranger Things sees a young boy vanish one night. As the small town goes on the hunt for clues they discover a rather sinister, supernatural story along with secretive experiments. But just why does the US Government want to get involved and will the boy ever be found?
Another popular addition is "The Fault in Our Stars" – a drama about two teens who fall in love and head on a journey to Amsterdam. The interesting part is that the pair meet at a cancer support group and head off on their travels with an oxygen tank and prosthetic leg. It's a touching and emotional tale based on the 2012 novel by John Green.
With the launch of the new Ghostbusters reboot this week the world seems to be going Ghostbusters-crazy; I've even seen Stay Puft marshmallow's in Pound World… The documentary "Ghostheads" revolves around fans of the original 80's film and follows numerous super-fans around different conventions and finds out just what makes them tick.
Article Continues Below...
Shrek and Puss in Boots fans will be pleased with the addition of a number of new films and series. The 2nd, 3rd and 4th Shrek films have been added  with "Shrek 2", "Shrek the Third" and "Shrek Forever After" have all been added (although we still don't have the original). "Puss In Boots" has arrived this week too along with season 3 of the Netflix series "Puss In Boots".
Read on for the full list of this week's additions:
New Movies Streaming on Netflix UK:
A Good Rain Knows (2009)
Dragon Blade (2015)
The Fault in Our Stars (2014)
Gridlocked (2015)
Holidays (2016)
International Street Art (2014)
Jellies (2013)
Lusers (2015)
Night Owls (2015)
Ocean Wonders (2013)
Puss in Boots (2011)
Rebirth (2016)
Rudhramadevi (2015)
Shrek 2 (2004)
Shrek Forever After (2010)
Shrek the Third (2007)
Six Degrees of Separation (1993) – Streaming Again
Summer of '92 (2015)
New Documentaries Streaming on Netflix UK:
Ghostheads (2016)
Mateo (2015)
Sky Line (2015)
Small Is Beautiful (2014)
Stealing History (2006)
Tony Robbins: I Am Not Your Guru (2016)
New TV Series Streaming on Netflix UK:
The Adventures of Puss in Boots (2016) [Season 3 Added]
Fargo (2015) [Season 2 Added]
The Lava Field (2014)
Magi: Adventure of Sinbad (2016) [Season 1 Added]
PAW Patrol (2014) [New Episodes]
The Planets (1999)
The Returned (2015) [Season 2 Added]
Roba (2016) [New Episodes]
Stranger Things (2016)
The Wiggles (2015)