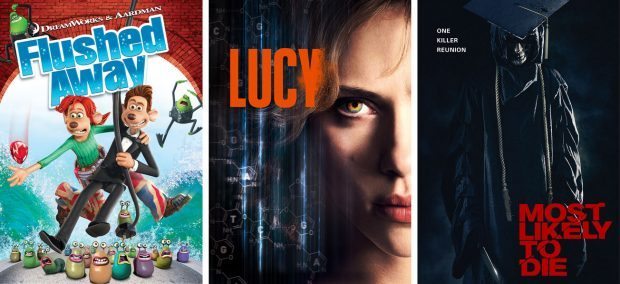 Another week has flown by with some more great additions to UK Netflix. So, without further ado, here are my picks for this week.
First up we have "Lucy" from 2014. This futuristic thriller follows Lucy as she gets captured in order to smuggle a new mind-altering drug. But when things go wrong and the drugs leak into her body, she becomes more and more intelligent and the drugs unlock her mind. With the help of a professor she harnesses her new abilities to exact revenge on her captors.
Regardless of what you think of Michael Bay's reptilian reboot, I personally really enjoyed "Teenage Mutant Ninja Turtles" when it came out. This week it's arrived on Netflix UK so I'm looking forward to watching it again. Set in New York the film follow the rise of the Teenage Mutant Ninja Turtles as they fight crime on the streets. It's a fun, family-friendly action film. Just don't take it too seriously!
A couple of slasher movies have arrived this week with "Most Likely to Die" and "#Horror". "Most Likely To Die" is set just before a 10-year high school reunion when a group of friends meet up for a pre-party. As the nights goes on each member of the group is murdered by a cap-and-gown wearing killer who takes them out according to their yearbook description. "#Horror" is a psychological thriller where a bunch of privileged teenage girls get sent to an expensive mansion retreat. One night, however, things take a turn after they cyberbully one of the girls in the group and they become victims in a game of 'slashtag'…
For the younger viewers this week we have both "Flushed Away" and "Alexander and the Terrible, Horrible, No Good, Very Bad Day". "Alexander…" is a great family Disney film about a 12 year old boy who has nothing but bad luck, along with his family. "Flushed Away" is a DreamWorks Animations movie based in the sewers and aiming to bridge the class divide between the rat species. A posh rat gets flushed down the toilet and ends up in the sewers of London where he has to adapt to whole new way of life.
Read on for the full list of this week's additions:
16 New Movies Streaming on Netflix UK:
Alexander and the Terrible, Horrible, No Good, Very Bad Day (2014)
ARQ (2016)
Bald Mountain (2013)
Brotherly Love (2015)
Cedric the Entertainer: Live from the Ville (2016)
Fair Game (2010)
Flushed Away (2006)
#Horror (2015)
Louis C.K.: Hilarious (2010)
Lovelace (2013)
Lucy (2014)
Most Likely to Die (2016)
Oh My God! (2007)
Rookie of the Year (1993) – Streaming Again
Saneamento Básico, O Filme (2007)
Teenage Mutant Ninja Turtles (2014)
Those People (2015)
8 New Documentaries Streaming on Netflix UK:
City of God: 10 Years Later (2013)
The Dwarvenaut (2016)
East Jerusalem West Jerusalem (2014)
Extremis (2016)
FROM FAT TO FINISH LINE (2015)
Raiders!: The Story of the Greatest Fan Film Ever Made (2015)
Sample This (2012)
Wartime Portraits (2014)
The White Helmets (2016)
6 New TV Series Streaming on Netflix UK:
Dream Knight (2015)
Hot Wheels: Battle Force 5 (2010) [Season 2 Added]
Mischievous Kiss 1 (2013)
Mischievous Kiss 2 (2014)
Only Fools and Horses (2003) [Series 3 & 4 Added]
Real GOT7 (2015)