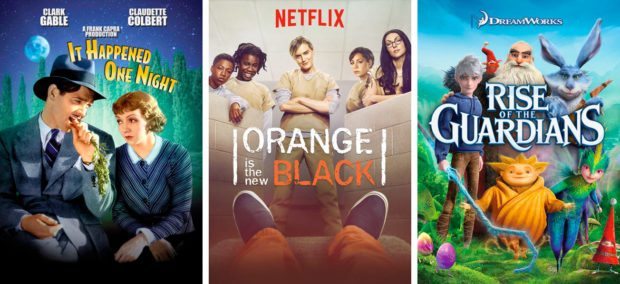 Another great week this week on Netflix UK with a wide range of additions that should have something for everyone. So, here are my picks for the week:
First up is season 4 of "Orange Is the New Black" – the brutal, but often comedic, drama set in a women's prison. With a huge cast of characters (although not quite as many as Game of Thrones) the new series starts with the arrival of even more inmates. Alliances will change, new friendships will be formed and the line between staff and inmates will likely be crossed numerous times again. All 13 episodes are available now.
Back in 1990, Arnie starred in the fairly OK sci-fi action thriller, "Total Recall" – it was a film I grew up with (although don't tell my parents!) and, while possibly not quite a classic, it wasn't something I expected would get remade. Well, they did do a remake in 2012 and the new version has now been added to Netflix. Douglas Quaid opts for a fake memory implant so he can think he used to be a super-spy. However, the procedure goes wrong and he finds himself a wanted man… While not as highly rated as the original at IMDB, the remake isn't actually too bad.
"It Happened One Night" is a classic romantic comedy from 1934 starring Clark Gable. A spoiled heiress runs away from her father to elope and ends up teaming up with an undercover reporter. Throughout somewhat crazy adventures, the reporter starts to fall in love with the heiress but she's actually still heading back to her husband.
Article Continues Below...
"The Road to Freedom Peak" is a documentary following a former child soldier and an international model and journalist. As they cross two African countries to reach Mount Kilimanjaro, they discuss how a country full of former child-soldiers can move on from their horrific early years.
For the younger viewers we have "Rise of the Guardians", an animated adventure with characters that most kids will relate to. Santa Claus, the Easter Bunny, the Tooth Fairy and the other Immortal Guardians unite for the first time. Their aim is to try and stop an evil spirit from stopping children believing in them and help them keep their innocence.
Read on for the full list of this week's additions:
New Movies Streaming on Netflix UK:
28 Days (2000) – Streaming Again
Cleaner (2007) – Streaming Again
It Happened One Night (1934)
The Lost Honour of Christopher Jefferies (2014)
Pete Johansson: You Might Also Enjoy Pete Johansson (2016)
Random Hearts (1999)
Rise of the Guardians (2012)
See No Evil, Hear No Evil (1989) – Streaming Again
Shark Tale (2004)
The Swan Princess (1994) – Streaming Again
That's My Boy (2012)
Three Kingdoms: Resurrection of the Dragon (2008)
Total Recall (2012)
Transformers: Age of Extinction (2014)
New Documentaries Streaming on Netflix UK:
Blood, Sweat and Sequins (2013)
Boom Bust Boom (2015)
Gayby Baby (2016)
Matt Shepard Is a Friend of Mine (2014)
The Road to Freedom Peak (2013)
Top Spin (2014)
The Vasectomist (2013)
New TV Series Streaming on Netflix UK:
Jungle Book Safari (2014)
Orange Is the New Black (2016) [Season 4 Added]
Swift and Shift Couriers (2011)